This fresh pomegranate walnut relish makes a great topping for a mezze style dish of roasted cauliflower dip topped with Goodlife falafel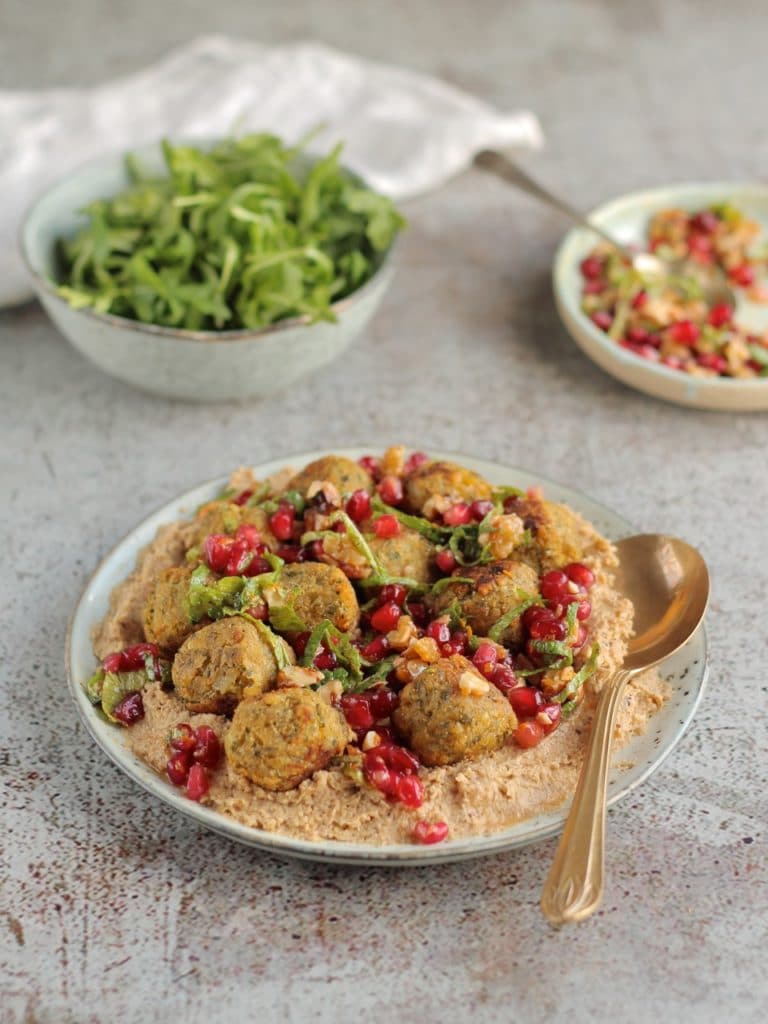 This dish has me written all over it, perhaps the pomegranates and tahini give it away.  I'm not sure what is is about these two food stuffs that I love so much, but lets roll with it!
There are so many ways to serve falafel, a street food favourite of mine being stuffed into a wrap with tahini sauce and shredded cabbage, served as a starter, served as a main alongside tabbouleh or in a mezze platter.  But today I am serving with my latest favourite obsession; pomegranate walnut relish.  A recipe I was inspired to recreate after having something similar over a brunch dish a few weeks ago.  It's gone down a storm at a cooking class and a lunch event I've catered so far, and since I was asked to share the recipe I thought it would be good to pair it with some falafel, and a creamy cauliflower dip to keep it seasonal (I'm resisting to call it hummus…).  This dish is great as a light meal alongside some leafy greens or can be served as part of a mezze.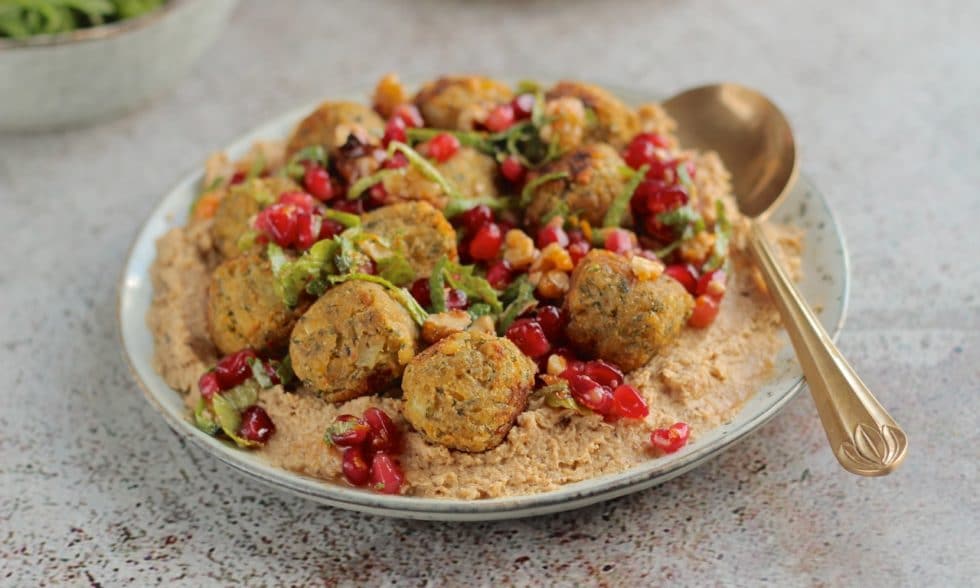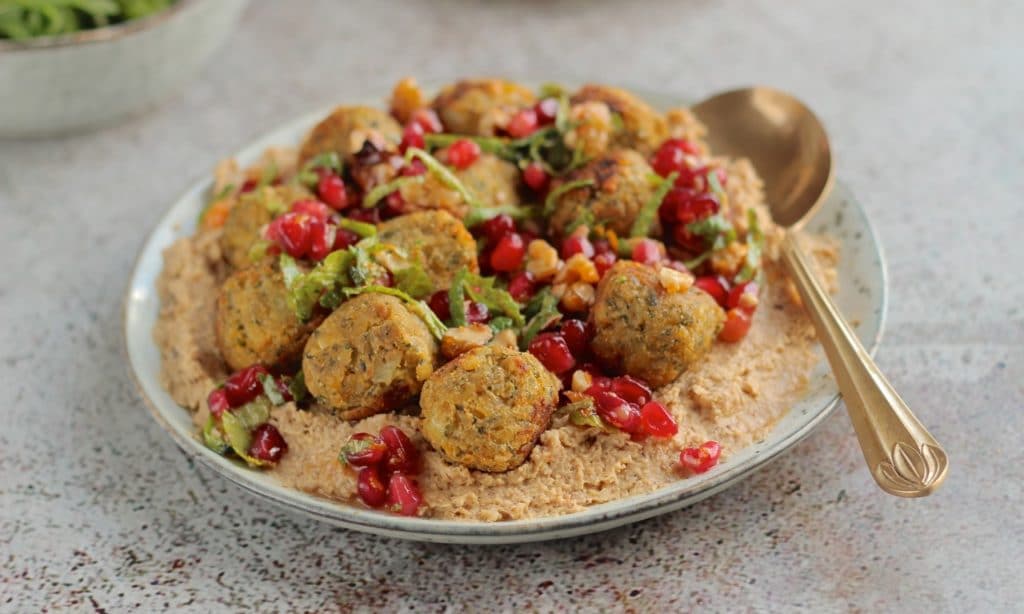 The falafel I'm serving today, are not homemade (!) but made by a company called Goodlife.  I recently discovered this company who make a range of frozen products that put vegetables as the star of the show (we love this ethos at Natural Kitchen Adventures!).  I can of course make my own falafel, but we all know time is precious and any pre-made product that delivers on nutrition and taste that solves the time conundrum can be great for busy days.  They bake in the oven from frozen in 15 minutes and what's more they taste really good, with a pleasing amount of texture from the chickpeas and onions, and a fragrant whiff of cumin.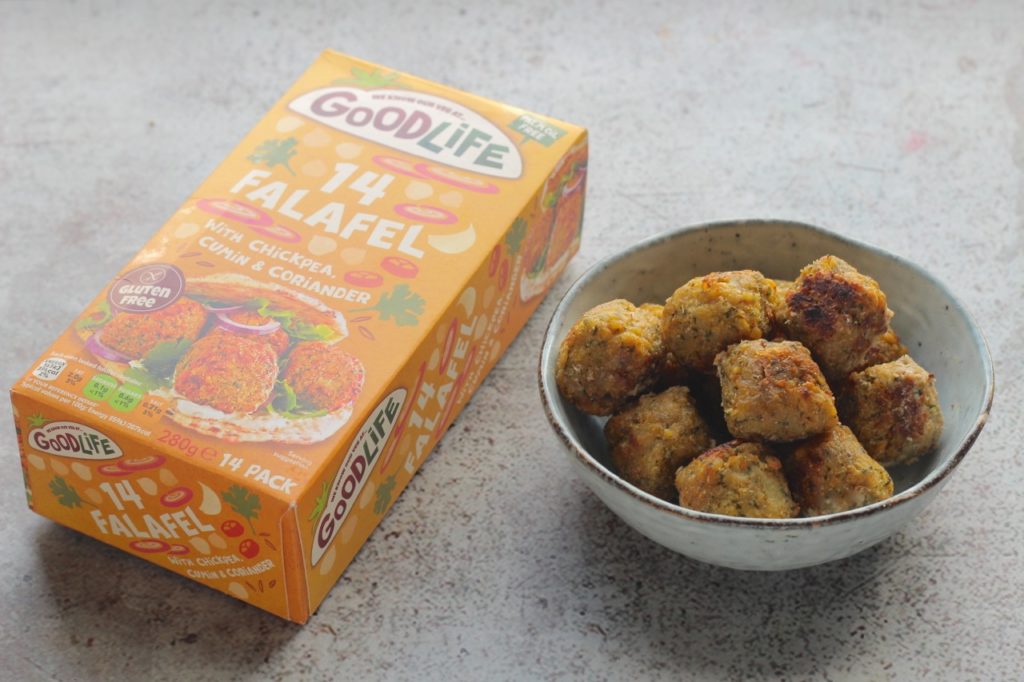 The ingredients list for these Goodlife falafel, is pretty similar to the ones I often make myself; Chickpea, onion, rapeseed oil, parsley, salt, cumin powder, coriander powder, lemon Juice, black pepper, garlic powder, chilli powder.  Chickpeas are a good plant based source of protein, so having these are perfect for meat free Monday. They are also gluten free and vegan.   Goodlife also make a number of other products, such as nut burgers, vegetable kiev and veggie sausages, so do check the ingredients list if you're looking for a vegan or gluten free product.  The parsnip and sweet carrot burgers look really good.
The falafel are priced at £1.99 for 14 and I purchased mine from Ocado.  In addition you may find some goodlife products in Waitrose, and they have just announced that three of their products 'Mushroom and Spinach Kiev', 'French Bean & Spinach Sausages with Wensleydale Cheese' and also these Falafel with Chickpea, Cumin & Coriander will be available in Iceland Warehouse Stores.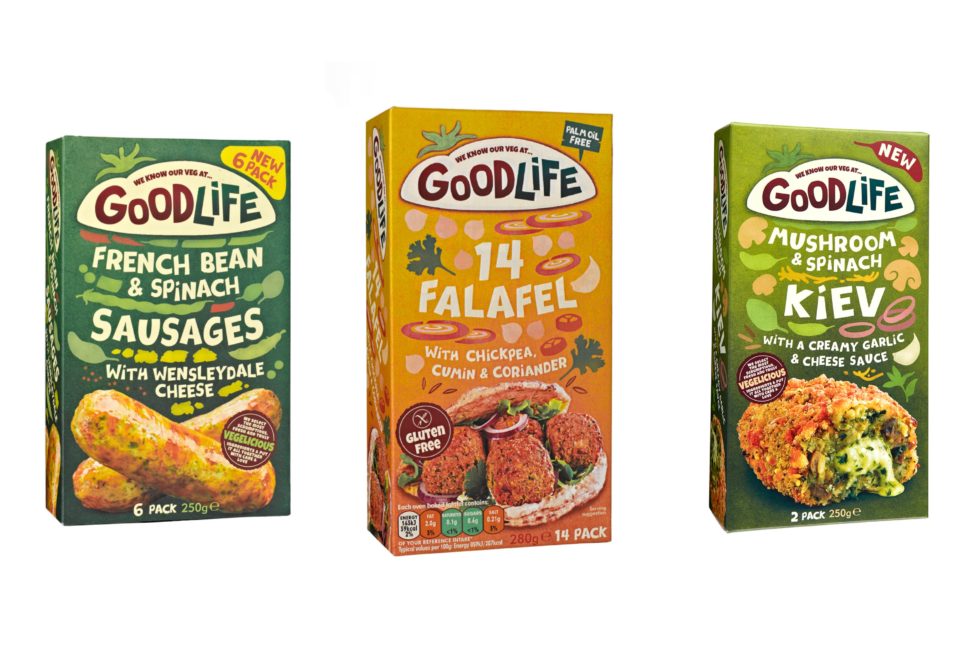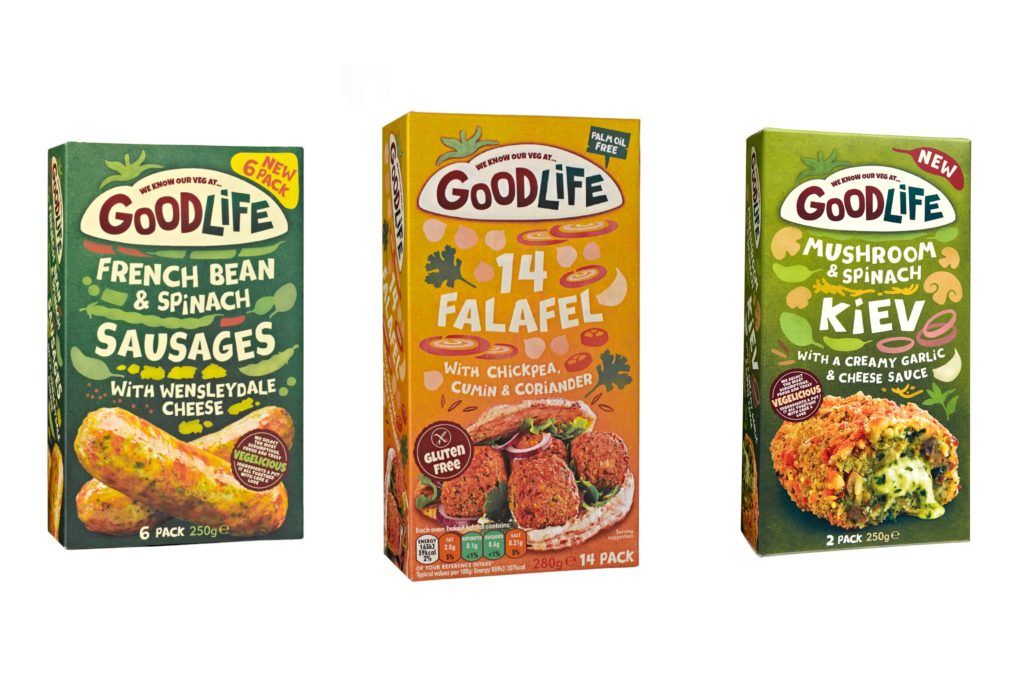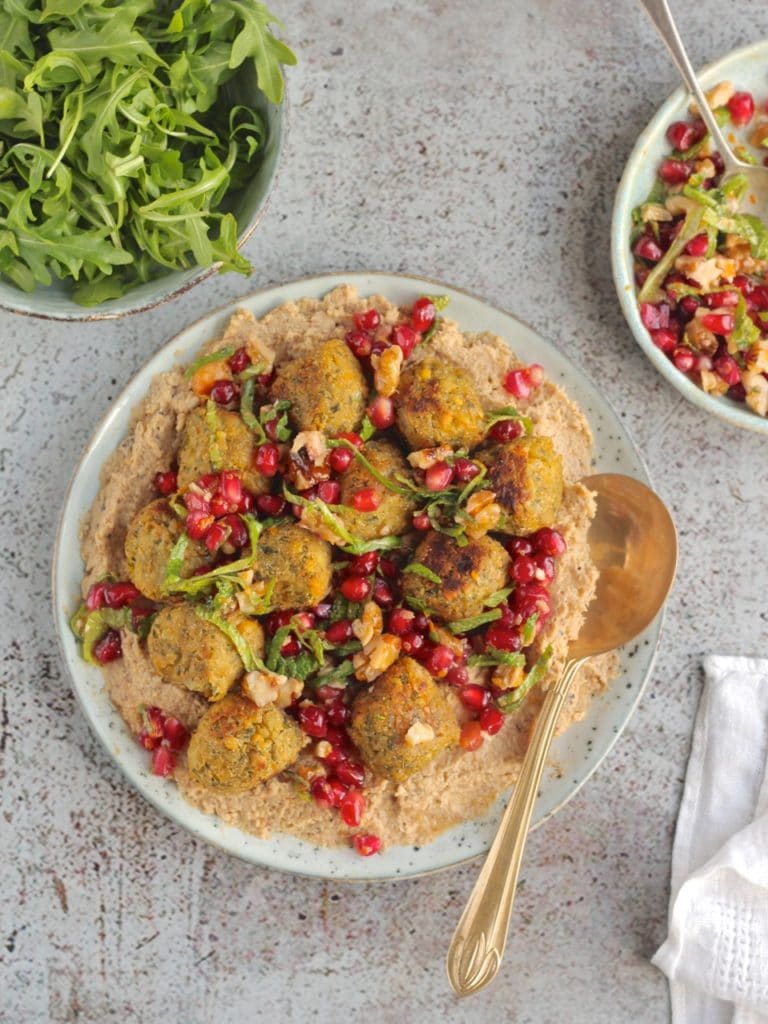 What would you serve with your perfect falafel?

Falafel with Roasted Cauliflower Dip & Pomegranate Walnut Relish
Roasted cauliflower dip & walnut pomegranate relish, topped with Goodlife Falafel, a delicious vegan and vegetarian supper
Ingredients
Cauliflower Dip
1 medium cauliflower
~60mls water or dairy free milk ((I used oat milk, it adds creaminess over water)
1 tablespoon tahini
½ Lemon, juice and zest
1 clove garlic, minced
olive oil
salt, black pepper
Relish
Seeds from 1 small pomegranate
40 grams walnuts, chopped into small pieces,
Grated zest of 1 small orange
2 tablespoons extra-virgin olive oil
1 tablespoon fresh orange juice
Salt
Handful mint, shredded.
Dish
10-12 Goodlife falafel with chickpea, cumin and coriander
Instructions
Pre-heat the oven to 180C
Chop the cauliflower into small pieces, toss in a little olive oil and salt, and roast in the oven for 20 minutes until charred and soft. Allow to cool for 5 minutes before adding to the blender with the milk, 1 Tablespoon tahini, juice and zest of half a lemon and the garlic. Pulse until smooth. Taste and add salt it it needs it.
Toss the pomegranate seeds, walnut pieces, orange zest, olive oil and lemon juice in a large bowl. Fold through the mint. Taste and season with salt.
Meanwhile cook the falafel according to packet instructions.
To serve spread the dip over the plate, sprinkle with black pepper, then add the warm falafel on top and scatter over the relish. Serve as part of a mezze or as a light dish for 2
What would you serve with your perfect falafel?
*Disclaimer:  This post was commissioned by Goodlife. All opinions are my own.  Thanks for supporting the brands that enable me to keep sharing recipes on Natural Kitchen Adventures.