These delicious salted chocolate tahini cookies, can be made in minutes, and are both vegan and gluten free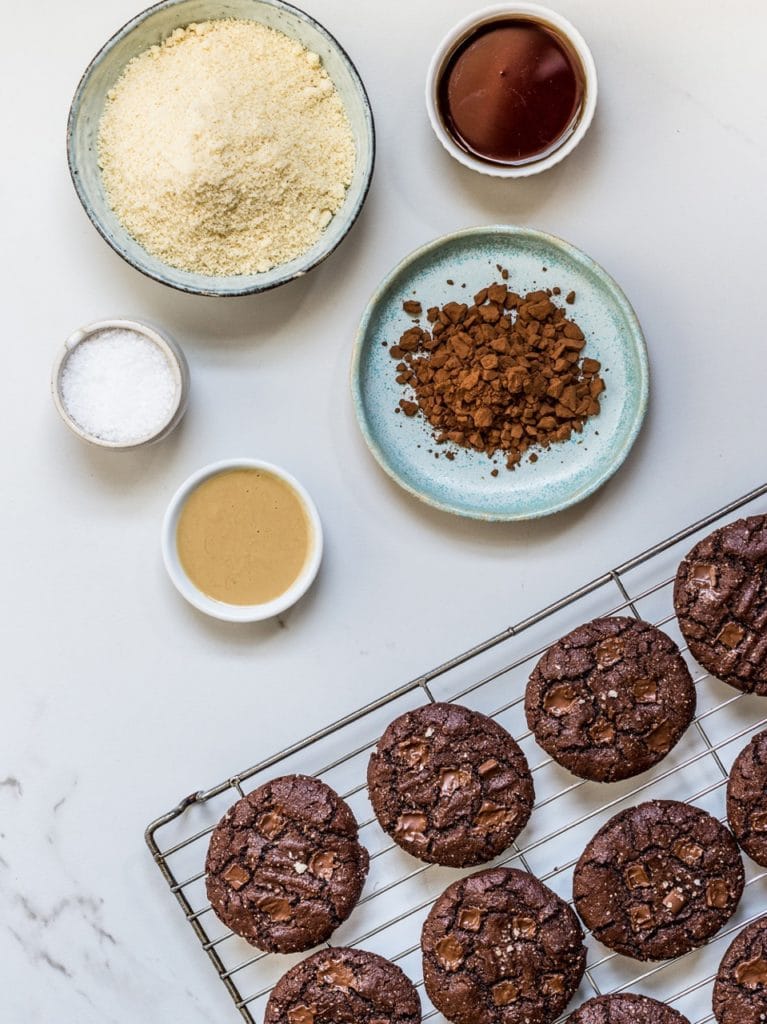 My regular tahini cookies have almost reached legendary cookie status. I've cooked them more times than I can remember in classes and on retreats, and they always seem to win over sceptical people – can a cookie that is both vegan and gluten free taste good?  Yes, yes it can!
For ages I wondered if a chocolate tahini cookie would work a treat.  My Chocolate Tahini Balls which are fairly similar in taste seem to have been the most popular post here on Natural Kitchen Adventures for 2 years running. So, earlier this year I went into the kitchen with all the necessary ingredients and a note book.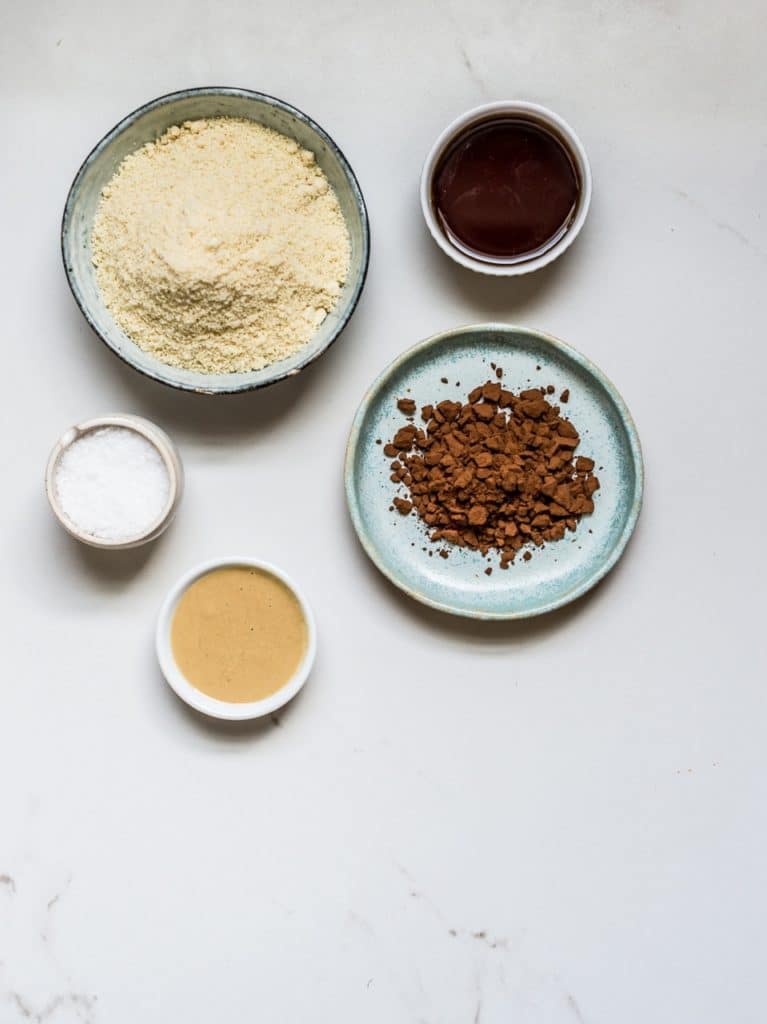 Four versions later and I've finally managed to get the right combo of cocoa powder to almonds, tahini and maple syrup.  I knew that cocoa powder couldn't just be swapped for some of the almonds in the original version, as it has entirely different properties and also adds to the bitterness the tahini already gives.  Instead of adding a heavy flour, I decided that some arrowroot would help sort it out and it did.  Arrowroot is often used as a starch in gluten free recipes and can sometimes be substituted for tapioca flour or cornflour.  They're not quite the same, but in this recipe since only a small quantity required, if you can't get hold of arrowroot (it's often in the baking section at the supermarket in a small pot), then they should do.
It might also be worth saying, that from experience I know that the type of tahini you use makes a difference to how these turn out.  The hard dried out lump at the bottom of a very old tub will make very different cookies to a freshly opened runny stuff.  Use a well stirred new jar if you can.
Whilst these chocolate tahini cookies are made from pretty simple whole ingredients (as well as being vegan, dairy and gluten free), I wouldn't exactly call these a health-food. If I counted calories I'd let you know these cookies probably carry a fairly hefty calorific punch, but I would also let you know they are incredibly simple to knock up, foolproof, and do offer some nutrition in terms of nuts and seeds (tahini has calcium).  They are also delicious, and that's is the most important piece of information you need to know.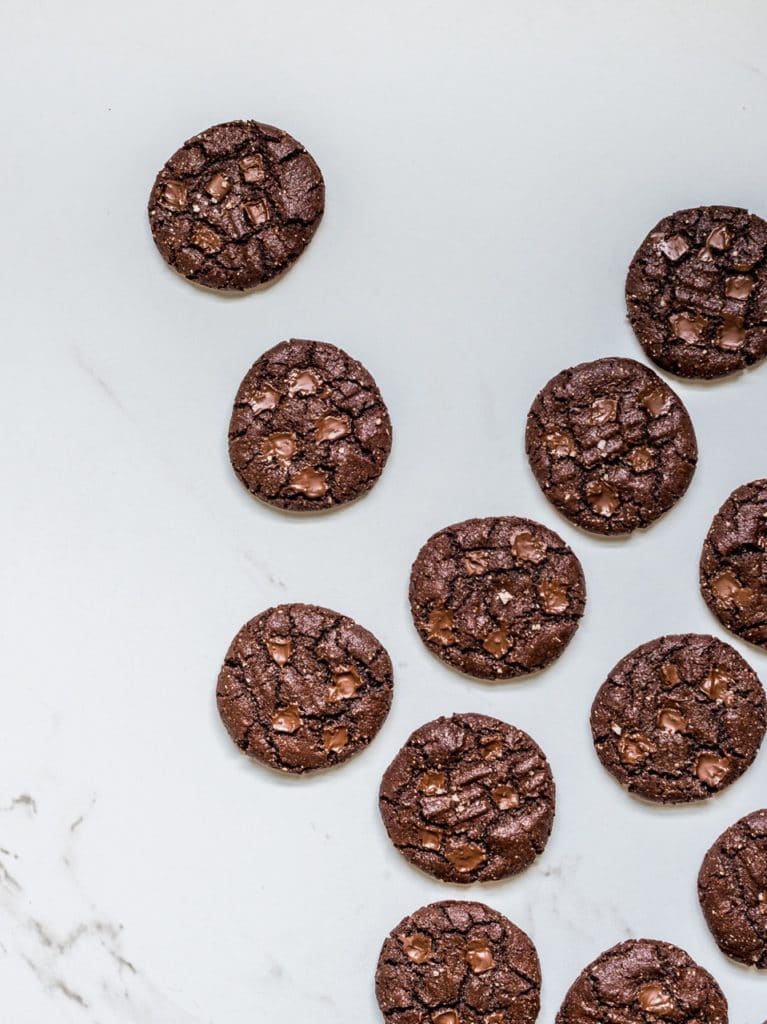 These cookies can be stored in an air-tight container for a few days, but are best eaten fresh or within a day or so. Instead of eating all 14 of this batch of cookies myself before they went soft, I handed them (minus a few obviously) over to my yoga studio the next day. They got the seal of approval there too.
This is my third and final post in my current series of collaborations with Karuna Clayton photography.  We had a lot of fun shooting (and eating!) these alongside my peach and burrata salad, and quinoa with radish top pesto.  Karuna and her team are leading a food and lifestyle photography workshop later this month in London, which I am sure will be a fantastic day for any food photographers wanting to up their game and learn from a professional team including a Times-featured photographer, stylist and lightroom editing expert.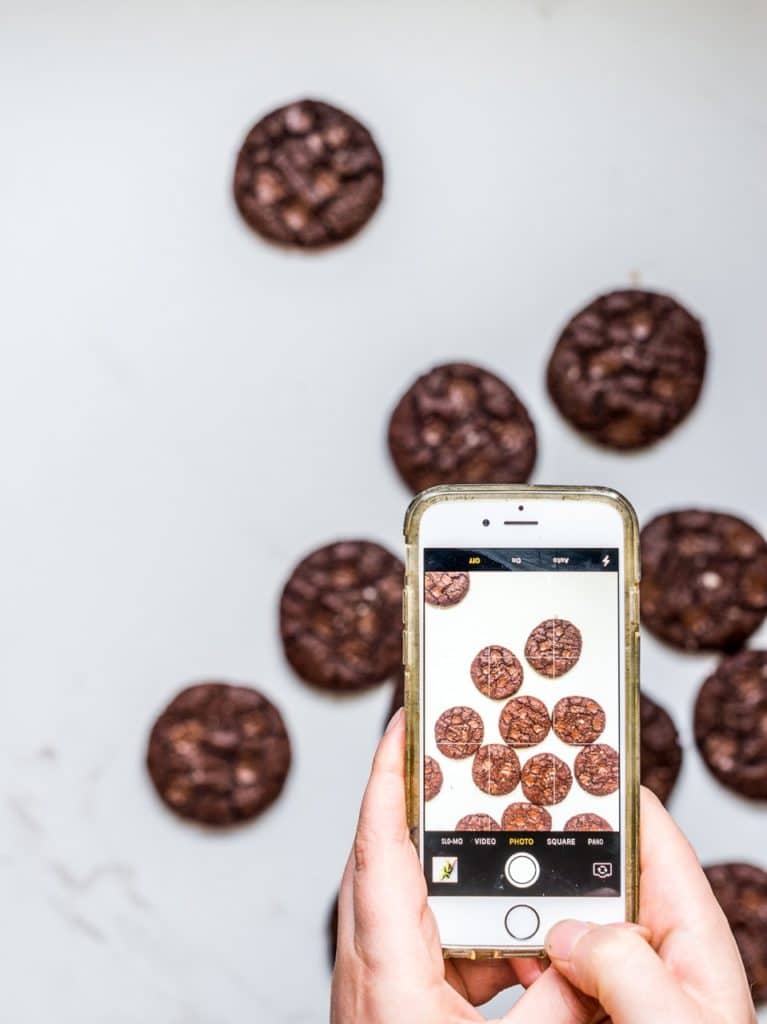 For my regular tahini cookies, check out my iphone App.

Chocolate Tahini Cookies
These delicious salted chocolate tahini cookies, can be made in minutes, and are both vegan and gluten free
Ingredients
100g ground almonds
50g cocoa powder
20g arrowroot (or tapioca flour)
1 teaspoon baking soda
150g maple syrup
120g tahini
1 tablespoon olive oil
1 teaspoon vanilla extract
30g dark choc chunks for topping
+ Rock or sea salt flakes
Instructions
Pre heat oven to 160°C (fan)
In a large bowl, combine ground almonds, cocoa, arrowroot and baking soda, then in a smaller bowl, stir together maple syrup, tahini, oil and vanilla. Pour the wet ingredients into the dry, stir well, then using your hands bring it together into a ball of cookie dough.
Form the dough into 4-5cm inch balls using your fingers and place on parchment lined baking tray. Flatten with a fork and push in 5 chocolate chunks into each and a tiny sprinkle of sea salt flakes (don't go overboard, they won't be edible...).
Bake for 10 minutes until lightly browned. They will still be soft as you pull them out, and they harden as they cool. Leave on the tray for a couple of minutes before transferring to a wire rack to cool fully.
Pin me for later