Chocolate granola with pistachio & quinoa puffs makes a delicious brunch dessert or topping for yoghurt or ice-cream any time of day.  Serve with rhubarb and blood orange for a late winter dish.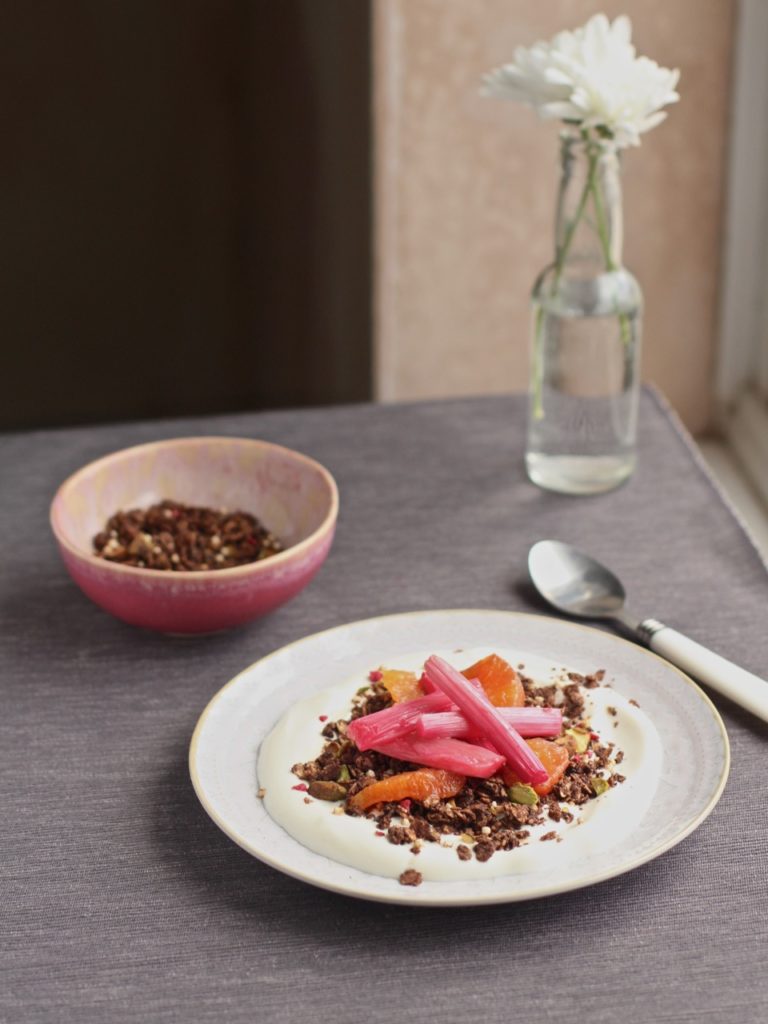 I don't really get the whole chocolate for breakfast thing. Chocolate in porridge, chocolate cereal, and even the classic pain au chocolate pastry, I just can't.
Now this might be a strange way to open a blog post all about a recipe that is traditionally eaten at breakfast time, and is full of chocolate, but hear me out.
I love chocolate, absolutely love the stuff, I eat it everyday (no word of a lie), but Easter Sunday aside, I rarely want to eat it before lunch.  I love to enjoy my chocolate as a mid afternoon pick me up, or to round off my evening dinner. It's just how I feel and let that be it!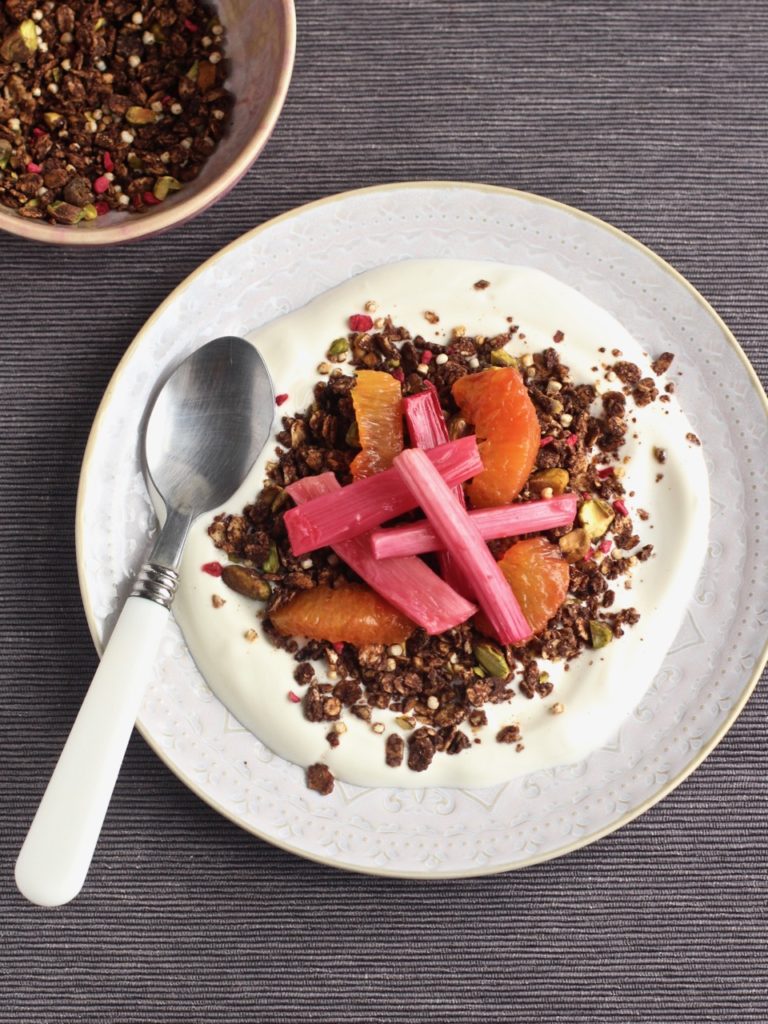 So, I never really entertained the idea of making a chocolate granola, that is until I started catering brunch events with Replenish You and Tally Rye.  A 'brunch dessert' had already become a thing at previous events, this time around (our event was last Saturday) I wanted something to pair with seasonal roasted forced rhubarb and blood oranges. They both go with chocolate, and then the idea for the dish just then took flight.
So brunch dessert is a pretty rare occurrence, normally (there is a fair amount of chocolate and sugar in this one, because go big or go home), but having munched my way through various test batches of this recipe for my mid afternoon chocolate hit, and evening dessert I realised that granola doesn't just have to be for the morning; a sprinkle of this on top some Greek Yoghurt for some crunch, or even on top of some ice cream for a dessert. Why ever not?
I adapted my recipe from Minimalist baker. The pistachios are I think the perfect pairing for both chocolate and the fruit I served with it, and the quinoa puffs whilst optional, do add a lovely texture into the mix. I bought a bag from UK grown brand Hodmedods last year when I did a batch order of yellow pea flour (like gram flour, but better tasting) last summer and needed to get my basket over £30 for free delivery.
If, however you do want a slightly more sensible morning granola, you can try my go to recipe, a retreat catering favourite.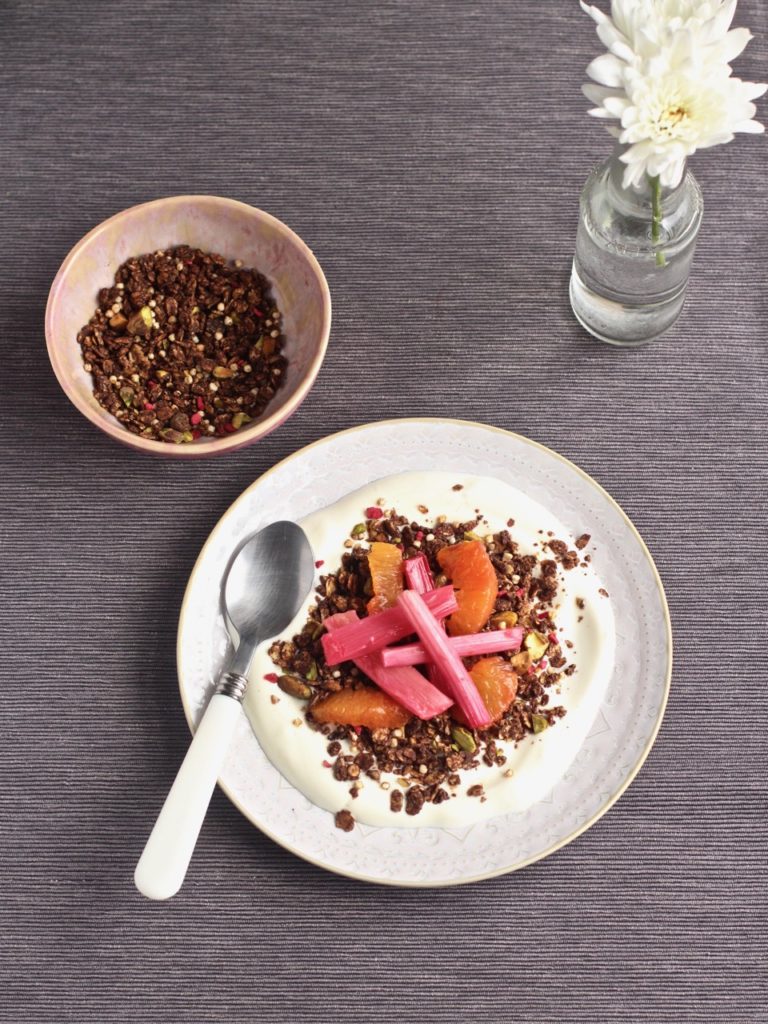 To serve as I have, roast some sticks of rhubarb, roughly 5cm long with a drizzle of maple syrup and if you like some chopped stem ginger, for around 8-10 minutes at 180ºC (fan) – any longer than that they tend to disintegrate, but it will depend on the girth of your rhubarb sticks (also nice with a cheesecake, like last year)
You can also add some segments of orange, blood orange preferably. To segment your orange like so, you can check out my instagram video.  The technique is called suprême by chefs, particularly French ones.
——
Chocolate Granola with Pistachio & Quinoa Puffs
Chocolate, pistachio & quinoa puff granola
Chocolate granola with pistachio & quinoa puffs makes a delicious brunch dessert or topping for yoghurt or ice-cream any time of day.  Serve with rhubarb and blood orange for a late winter dish.
Ingredients
Chocolate Granola
400g rolled oats
45g light muscovado sugar
1 teaspoon sea salt
45g cocoa powder
90mls olive oil
180ml maple syrup
1 teaspoon vanilla extract
150g dark chocolate chips
100g chopped pistachios
25g quinoa puffs
5g freeze dried raspberries
to serve
per person, 120g Greek yoghurt
5 x 5cm sticks of roasted rhubarb
5 blood orange segments (~half an orange)
Instructions
Pre-heat your oven to 170ºC (fan).
Combine the oats, muscovado sugar, cocoa powder and salt in a medium sized bowl. Meanwhile put the maple syrup and olive oil in a small saucepan, heat gently and stir until the maple syrup and oil are well combined. Add the vanilla extract. Pour the wet ingredients over the dry and stir to combine, till all the oats are nicely brown with chocolate.
Line a baking tray and spread out the granola evenly, in a thin layer. Bake in the oven for 18-20 minutes, stirring half way to ensure it cooks evenly, then remove from the oven. The granola will still be soft and a little wet when it comes out of the oven, that's fine as it will harden as it cools.
If you cook it till its dry, chances are it will burn, and its hard to tell when chocolate is burnt because of the brown. Sprinkle over half the chocolate chips whilst still warm, and stir so they melt into the granola, then leave to cool completely.
Finally when fully cooled, sprinkle over the remaining chocolate, pistachios, quinoa pops and freeze-dried raspberry. Keep in an airtight container.
A serving is around 40g of granola
Notes
When selecting your oats for this recipe, you want rolled oats rather than jumbo, however some brands of rolled oats are very powdery, so try and choose those with a little more shape and texture. The very powdery ones don't make a very good granola in my experience.
Tell me, what would be your serving suggestion for chocolate granola?
Pin me for later