Chestnuts are perfect winter fodder and add a sweetness to this hearty lentil based stew rich with flavour from beef stock, bacon and vibrant curly kale. 
Oh stews, impossibly hard to photograph without looking like a bowl of brown sludge.  Even when glorious curly kale and an oh-so-important parsley garnish makes an appearance. This stew is crying out for a dollop of yoghurt on top, and a wedge of toasted sourdough on the side that's for sure.
I have something to confess with you all.  I haven't cooked anything new for the blog since December, so have dug into my unshared archives for this one.  It is totally appropriate for the January chill we are currently facing so I thought would be a good time to share it.
I have a very good reason for not having written any new blog material, because I've been working on a shiny new update of my recipe app which should be available in the next few weeks and there will be 25 new recipes on there. Forgive me now?
I've also been working behind the scenes on an audience survey, to help me shape my 2018 Natural Kitchen Adventures plans (on here, my app, retreats, classes and supper clubs…) because I realised that I didn't really know what you wanted.  Sometimes blogging can be a bit self-centred; I generally cook the food I want to eat, but what if I can cook the food you want to eat too?  Wouldn't that be useful?
You can find a link to my  audience survey here, there are just 10 questions and I would be so thrilled to hear from you! THANK YOU!
Anyway, back to the recipe now that public service announcement is over.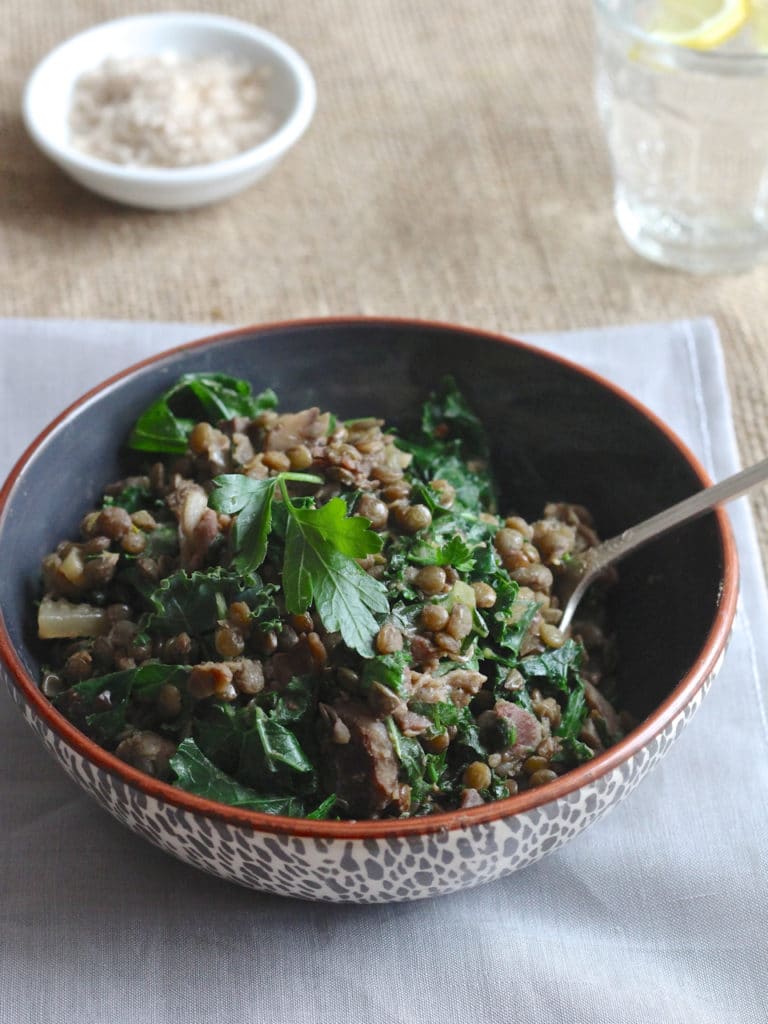 Most stews start with a famous French mirepoix of celery, onions and carrots, and this stew is no different.  I often tell my students (I teach the soups, stocks and stews module on the Natural Chef course at College of Naturopathic Medicine), that if you use these 3 ingredients in the base of any dish you will always get great flavour, and this dish is no different.  I do find celery can be a bit of a pain to use up if I get it in my veg box, so just start thinking of it like an onion rather than a stringy vegetable that infamously takes more calories to chew than is in it (is that actually true??) that dieters tend to think they have to snack on.  Say no to diets, and say yes to using celery how it should be!
Vacuum packed chestnuts are the easiest to use here, so go right ahead, and enjoy their sweet nutty flavour in this stew.

Lentil, Bacon & Chestnut Stew
Chestnuts are perfect winter fodder and add a sweetness to this hearty lentil based stew rich with flavour from beef stock, bacon and vibrant curly kale
Ingredients
4 rashers free-range un-smoked bacon, diced into small pieces
1 onion, finely chopped
1 large carrot, finely diced
2 sticks celery, finely chopped
knob butter
2 cloves garlic, chopped
125g green lentils
200g vacuum packed cooked chestnuts roughly chopped
800mls beef stock
1 bay leaf
sprig rosemary
200g curly kale, chopped into small pieces
1 tablespoon balsamic vinegar
salt and pepper, to taste
handful fresh parsley, finely chopped
Instructions
Fry the chopped bacon in a large saucepan, until it starts to colour – 3-4 minutes. Remove the bacon from the pan, then add the onion, carrot and celery along with a small knob of butter in to the pan and cook till they soften – approx 5 minutes.
Next add the garlic and cook for a minute, then pour in the lentils along with the chestnuts, the browned bacon, stock, bay and rosemary. Stir well, bring to the boil, cover then allow to simmer for approximately 30 minutes until the lentils are soft and have drunk most of the cooking liquid. Remove the bay and the rosemary sprig.
Finally add the curly kale into the pan, re-cover and allow to steam in the heat of the stew, when wilted, stir well.
Add the balsamic vinegar, season to taste and stir through some chopped parsley before serving up.
Pin me for later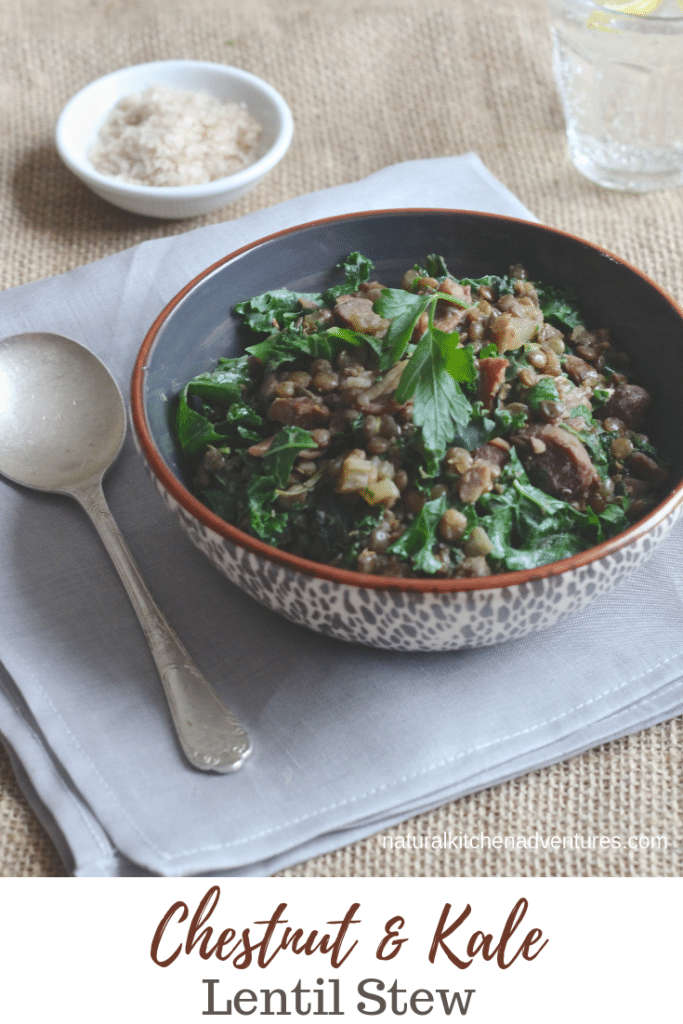 Thanks for reading as always, and if you've got to the end of this post and not yet checked out my feedback survey please do!  THANK YOU!