A fresh summer pearl barley salad recipe, filled with the sweet flavour of Jerte Picota Cherries* a tonne of herbs, then topped with salty halloumi and a homemade sweet cherry balsamic glaze.
*This post has been commissioned by Jerte Picota Cherries.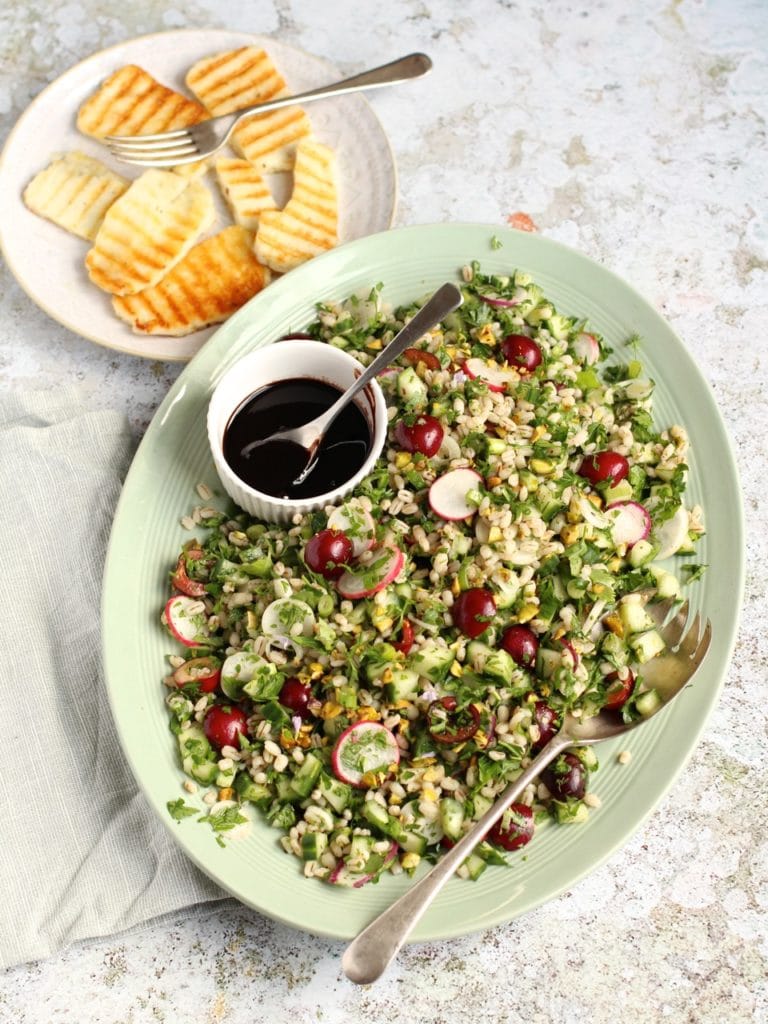 As is often the case, my recipes start with one single, mostly 'in season' ingredient. I wrack my brains trying to find something different to do with said ingredient, work out some flavour combinations, write a recipe, then have a play in the kitchen and see what happens. It almost always significantly changes form in the cooking, as new ideas form, and these are usually the best parts of my recipes. Hello cherry balsamic glaze.
Today's ingredient is the cherry, specifically the Jerte Picota cherry. Whilst cherries are grown all over – and indeed we are producing some fine cherries in England this year – these Jerte Picota cherries are rather special. Picota means 'peaked' and you may notice this in the shape of their base.
The cherries are special as they are grown in a small area in Spain; Extramadura which is 200km West of Madrid. They have a very short growing season of 6 weeks, which usually falls in July and August, though fluctuates a little each year due to changes in climate. These cherries are also a P.D.O. Product (P.D.O. standing for Protected Designation of Origin) which certifies that the fruit has been grown, harvested and packed under rigorous quality-controlled procedures and has come exclusively from the Jerte Valley in Spain.
The cherries are harvested by hand, and the stalks are left behind on the trees, so you will always find them sold without a stalk. They are sweet, and of course, delicious. You can find them in UK supermarkets such as Tesco, Sainsbury's, Morrisons and Aldi.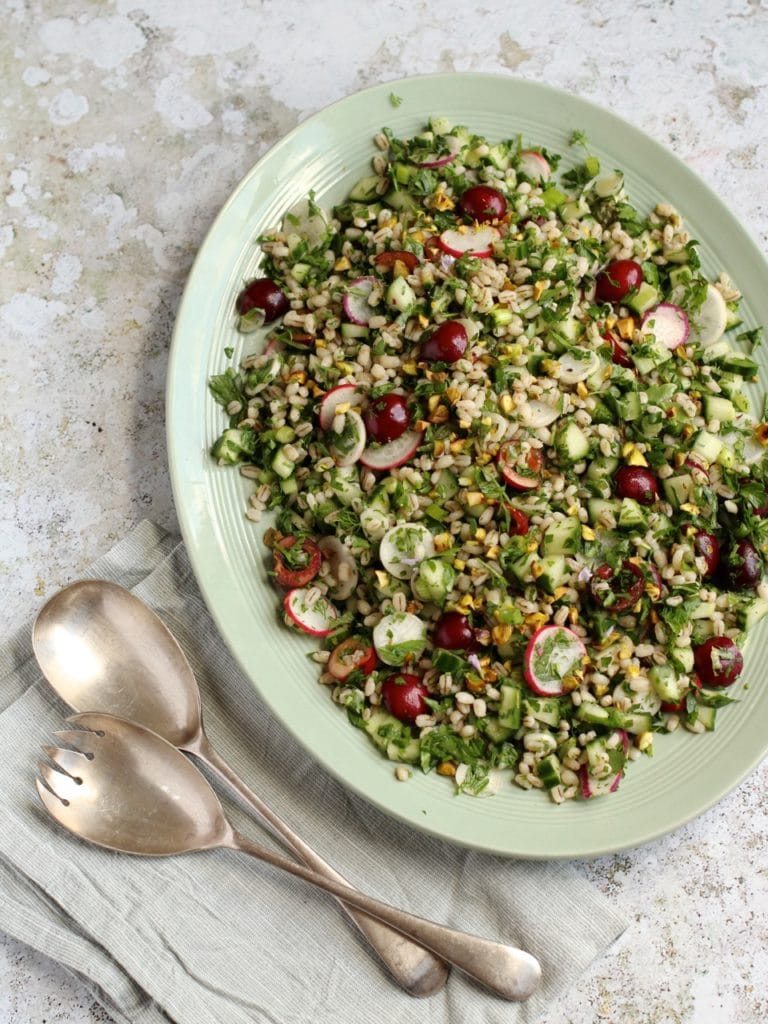 The inspiration for this pearl barley salad recipe and flavour base today came from the tabbouleh I make so often (these days with quinoa or buckwheat). A herb-heavy salad that will always deliver a freshness I adore, and can happily accompany so many different dishes. Though this salad is anything but a tabbouleh. Pearl barley as the base gives a wonderful nutty chew to the salad, and is, I believe much underused in this format; as well as in recipes in general.
Pearl barley is one of the most economical grains we can buy in the UK, and a packet of 500g will always give you change from £1. Whilst quinoa was taking over my (and our?) shopping basket and filled the pages of my expanding collection of recipe books, this humble grain was just simply overlooked.
I do so love the chew that barley brings to this recipe and encourage you to seek it out and give it a try. Other substitutions that would work include quinoa, freekeh, spelt, buckwheat.  Each bringing their own unique texture and nutritional profile into the mix.
To substantiate the herbs, cucumber and barley, the salad is finished off with grilled halloumi and a homemade cherry balsamic glaze; the recipe for which is included below. The day I discovered that the sticky balsamic glazes you buy in the supermarket can be easily made at home by bubbling balsamic vinegar down over a hot flame was a very sweet day indeed. Today's glaze is made even more enticing by blending in some of the Jerte Picota cherries before reducing it down. Sweet.
This dish brings together a whole range of textures and flavours, that sit with each other so comfortably.
This, in my mind is how to do a summer salad properly.
—
Cherry, Herb and Pearl Barley Salad with Halloumi & Cherry Balsamic Glaze
Herby Pearl Barley Salad with Cherries, Cucumber and Halloumi
A fresh summer pearl barley salad recipe, filled with the sweet flavour of Jerte Picota Cherries a tonne of herbs, then topped with salty halloumi and a homemade sweet cherry balsamic glaze.
Ingredients
Salad
150g pearl barley
160g Jerte Picota Cherries, halved and stone removed
1 cucumber, seeded and diced
6 radishes, thinly sliced
4 spring onions, thinly sliced
handful pistachios, toasted and roughly chopped
Large handful mint and parsley + dill if you like finely chopped
1 tbsp extra-virgin olive oil
½ lemon, juice and zest
½ teaspoon sea salt (I like smoked salt in this recipe)
¼ teaspoon allspice
pinch black pepper
To serve
Cherry balsamic glaze
120mls balsamic vinegar
50g cherries, stoned
Instructions
First cook your grains, put the barley in a medium saucepan and cover with water and a pinch of salt. Bring to the boil, and turn to a simmer, cook for 25 minutes, or until the barley is cooked through but still retains some chew. Drain and rinse well under cold water, drain again and spread out on a baking tray to cool and dry off.
Meanwhile make your glaze. In a food processor or blender, bltiz together the cherries and vinegar until well combined. Put in a heavy bottomed saucepan over a medium heat and bring to a bubble. Cook for around 10 minutes, or until the vinegar has reduced to 2 tablespoons. Don't allow to overcook as it will caramelize and go hard. Keep an eye on it! Transfer to a ramekin to cool and wash your saucepan immediately.
Put he cooled pearl barley in a large mixing bowl and pile in the chopped cherries, cucumber, radish and herbs. Pour in the olive oil, lemon juice and zest. Add allspice, salt and pepper, mix well and taste and adjust seasoning or oil/lemon if needed. Pile onto a serving plate and top with the pistachios.
Using a cast-iron griddle pan cook the halloumi for 2-3 minutes on each side until ready. Serve with the salad and drizzle over the cherry glaze.
Pin me for later
Disclaimer:  This post and recipe was commissioned by Jerte Picota Cherries PDO. Thank you for supporting the brands who help make it possible for me to continue developing and sharing recipes on Natural Kitchen Adventures.