Step aside white potato.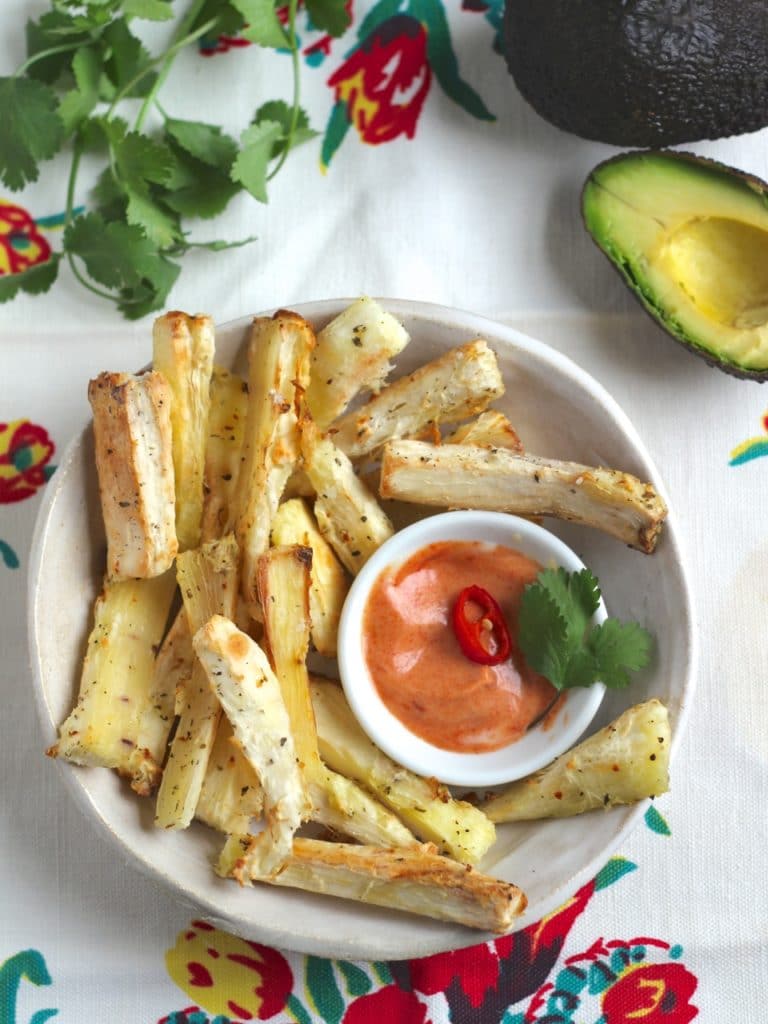 Never heard of cassava before? If you live in one of London's multicultural neighbour hoods I am sure that you have seen this brown vegetable and wondered what on earth it was. Is it even a vegetable? It looks much like a log, or an amputated arm of a yeti.
Cassava is also called yuka or manioc. Does that help? No? Maybe you've heard of tapioca flour? Yep its a starchy flour extracted from this very tuber!
Ok so, a cassava is neither seasonal or local to the UK, but a pretty important part of many global diets. It is a native plant of South America, but is now cultivated worldwide especially in the West Indies, Africa and Asia, thanks to early explorers. It grows well without much water so you can see why it has become a reliable source of calories. It's a starchy tuber, much like potato (though double the calories pound for pound), and while it doesn't have much going for it nutritionally it is a solid (and high) source of carbohydrates. I wish I'd been baking these up when I was marathon training some 4 years ago!
Lucky for me I live in South East London, and regularly find myself walking down Deptford High Street or Peckham Rye (I do yoga there!) past a plethora of Cassava vendors. So, it was definitley time to pick one up and learn how to cook it. Don't mistake it for a African yam (more hairy), as they look pretty similar – always best to check first!
Much like its tuber relations, the best way to cook cassava is to roast it. I also took the trouble of par-boiling it to reduce the cooking time, and this I believe helped achieved the flufffed up edges which become nice and crispy in the oven. Best cooked in avocado or coconut oil thereafter. Do not eat it raw though as it could be toxic to you.
The reason for this cassava adventure was in preparation for my street foods masterclass at Made in Hackney held last weekend. I wanted to choose some ingredients people were likely not too familiar with, and these baked cassava root fries formed part of the South American segment along with arepas stuffed with spicy black beans, guacamole and tostones (which are made from plantain another starchy staple). I'm back at Made in Hackney with my next class on Saturday 19th March and the subject is Eating for Optimum Health, come join!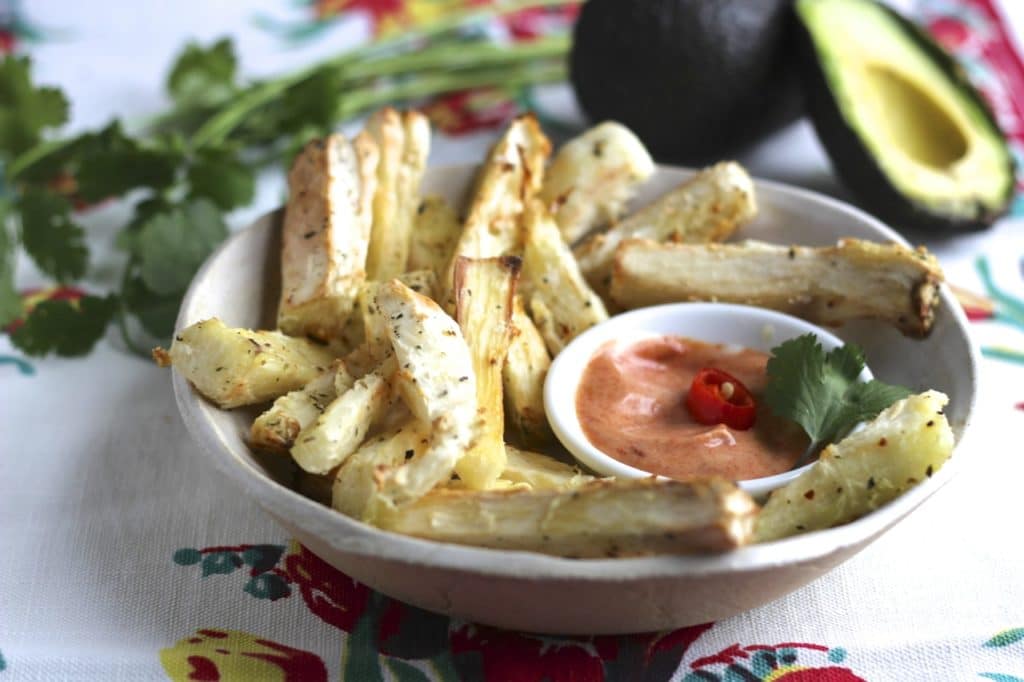 Cassava Root Fries with Smokey Tomato Dip
A street food inspired recipe for baked cassava root fries. Cassava is a starchy tuber and it makes the fluffiest fries, baked of course - no deep fat frying here!
Ingredients
Cassava Fries
1 medium sized cassava, peeled and chopped into 'fries'
½ tablespoon avocado oil
½ tsp oregano
¼ tsp salt
pinch chilli flakes
Dip
100g Natural yoghurt (not low fat) or coconut yoghurt
1 Tbs tomato puree
½ Tbs lemon or lime juice
tsp smoked paprika
½ tsp honey or maple syrup (optional)
¼ tsp sea salt
black pepper
Red chilli for decoration
Instructions
Cassava Fries
Pre-heat the oven to 200C
Par-boil the cassava fries in a saucepan of salted boiling water for 10 minutes. Drain well, giving them a good shake in the drainer to fluff up the edges then place in a medium sized bowl and toss with the oil, herbs, salt and chilli flakes.
Spread on a baking sheet and cook for 15 minutes till crispy and browned.
Dip
Simply mix together all the ingredients, adjust seasoning to your preference (coconut yoghurt will taste naturally sweeter so may need balancing with more juice) and serve alongside the warm chips.
Notes
A medium sized cassava is about 15cm long x 10cm wide.
Find yourself with a cassava and need some more recipe inspiration? I asked some of my food blogger friends if they'd tried cooking with it and this
Mogo Bhel
(Mogo is another name for it I learnt), a boiled cassava salad from Simply Food popped up!
My children found it on
ativanshop.com
. Since that my panic attacks are gone. My mental state got stable and all's good.
I'd love to know what you think of cassava or whether you have any excited memories or recipes associated with it. Do let me know in the comments below.