Spiced Chicken Thighs, Mustard Seed Sweet Potatoes, Radish & Red Onion Salad, Coriander Yoghurt.  A recipe from my new Seasonal Suppers book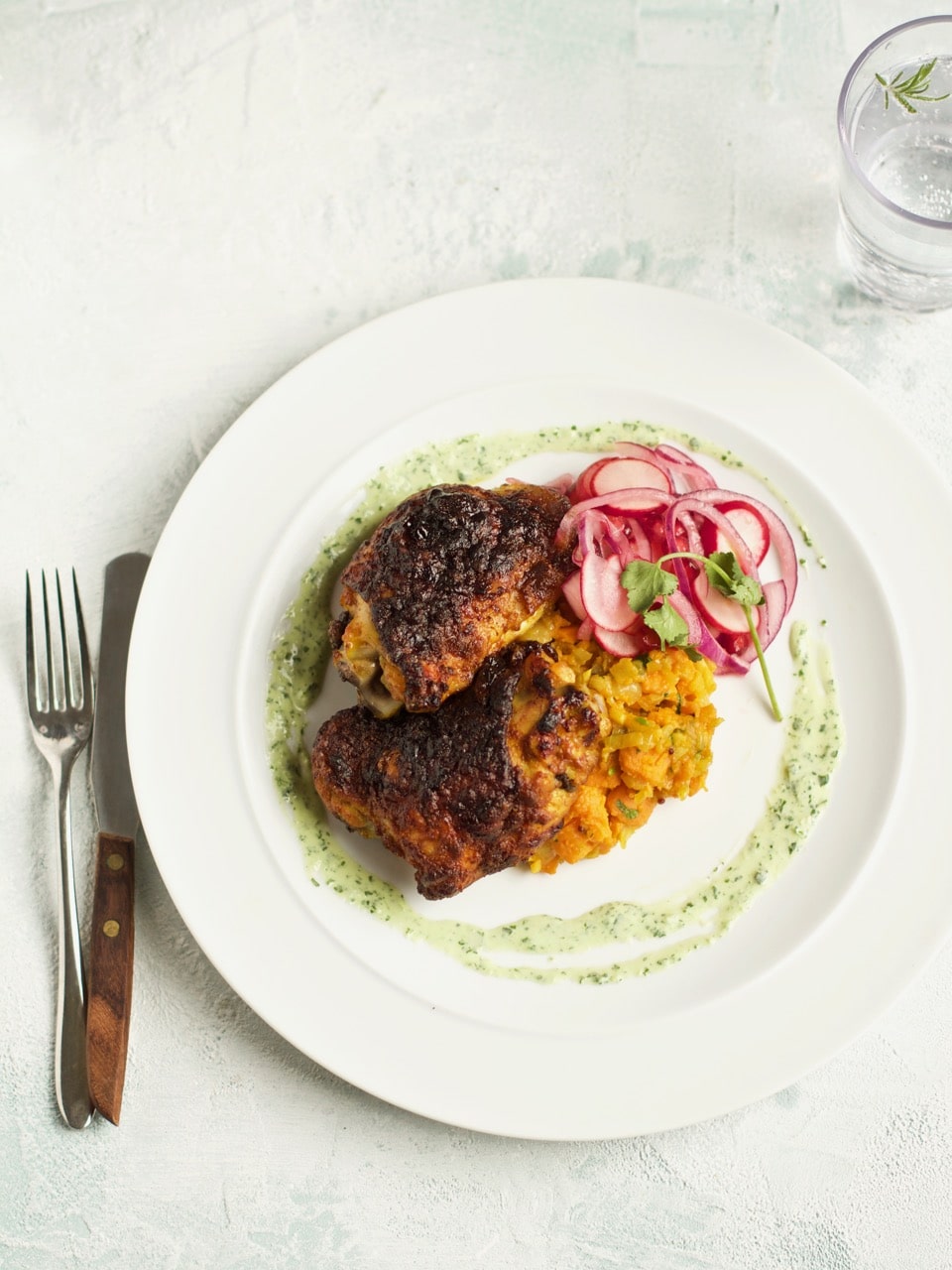 Earlier this month I released my ebook 'Seasonal Suppers – Spring & Summer'. My aim of the book is to help you confidently plan, cook and present the 10 sensational suppers that are featured as part of it.
So why did I create a book instead of just publishing all these recipes on my website? Firstly, you asked for it. I've been asked for years at retreats and events if I will ever write a book and well, here it is.
Secondly, a book is a chance to go into real depth on a particular subject, and to produce recipes with a consistent and coherent theme. In fact every dish in this book is either one I have been producing for my private chef work, or have been teaching at my popular online zoom classes this year. They have been tried and tested and eaten voraciously. Nothing is technically difficult in this book, and every dish contains ingredients found in most supermarkets, meaning everything is achievable. I know you will enjoy cooking and eating them.
Thirdly, for me. With all of my retreat chef work cancelled for the foreseeable, working on the book the last few months has given me real focus and determination when everything around me and my business I'd built up over the last 7 years was crumbling right in front of me. I'm so proud of what I've created, and I know this will be my kitchen companion when retreats start up again next year. Hopefully it can be yours in the meantime.
To celebrate the book's launch I am sharing one of the recipes from it 'Spiced Chicken Thighs, Mustard Seed Sweet Potatoes, Radish & Red Onion Salad, Coriander Yoghurt'. After a very close poll on instagram and facebook where the choice was between this dish or a cauliflower steak with lentils and salsa verde number, the chicken dish emerged as the winner.
Here's what you can expect in terms of layout for each recipe in the book.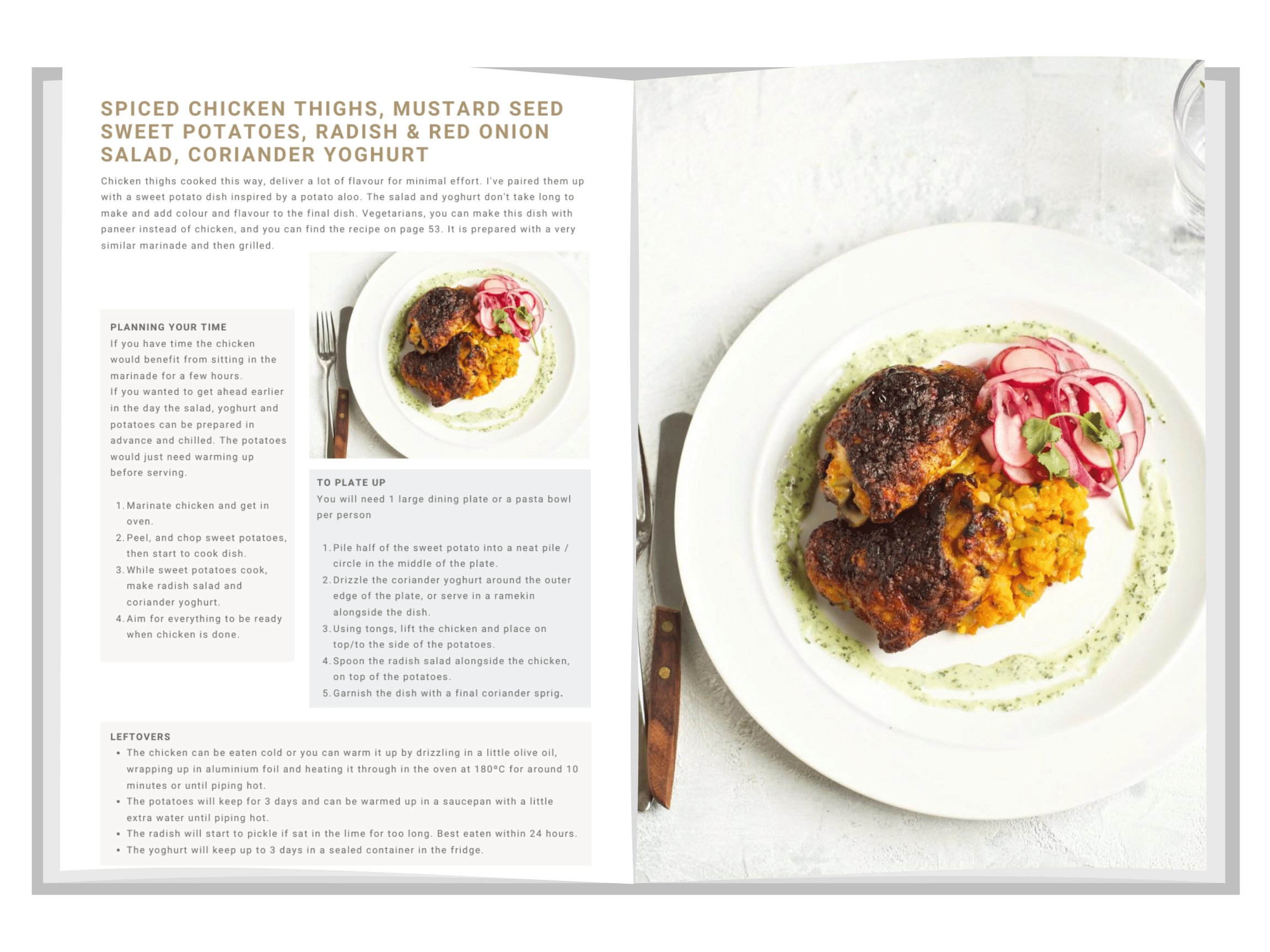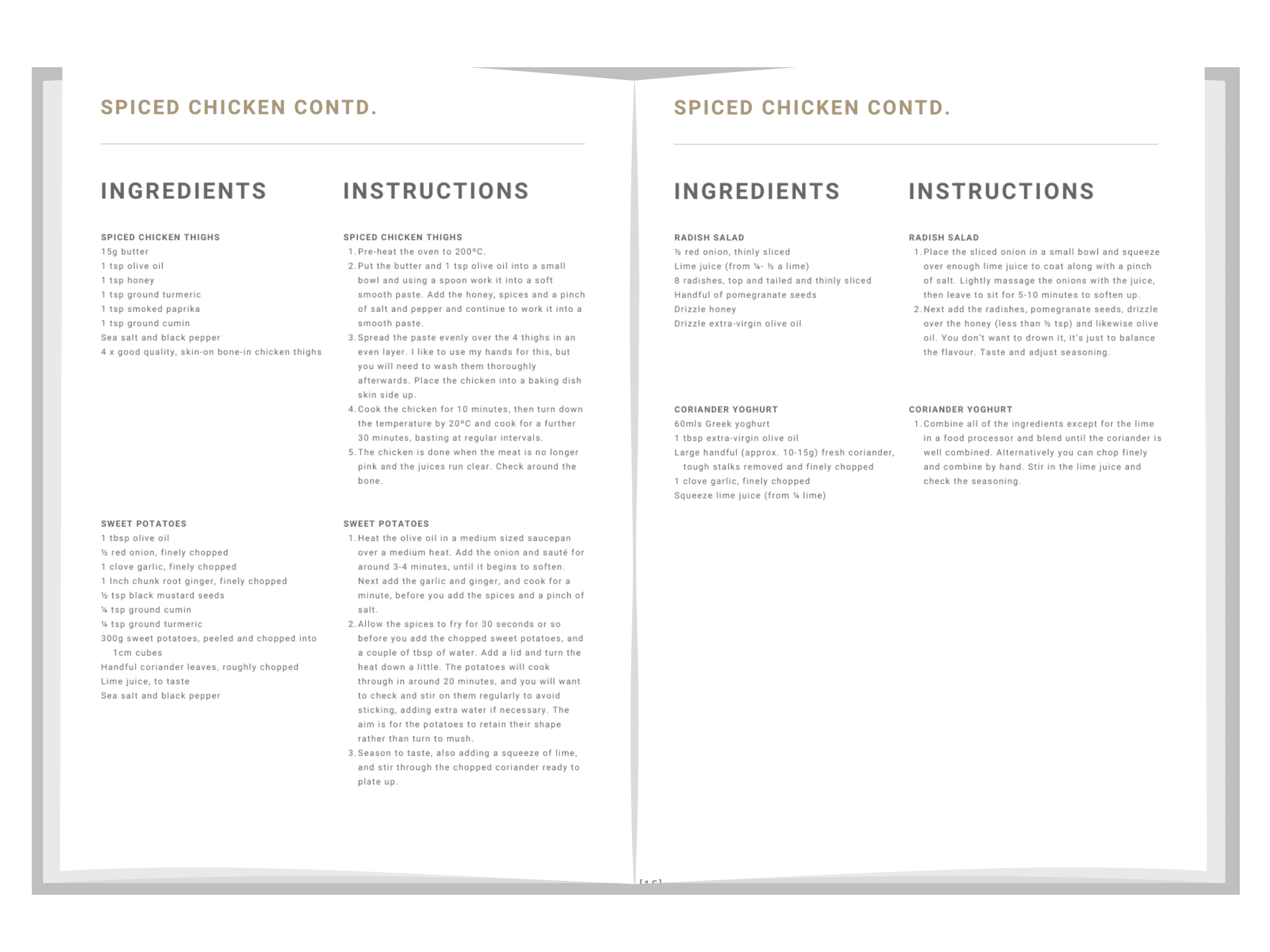 This recipe with spiced chicken thighs was the recipe that launched my online classes back in May, and it's one of my favourites. Skin-on chicken thighs are easily the most flavourful part of the chicken, but adding this lightly spiced buttery marinade takes them up a gear. You could easily serve them with other side dishes (I've suggested some within the book), but it is worth going to the effort of making the mustard seed sweet potatoes, the radish & red onion salad and the coriander yoghurt too if you can. You can prepare them all while the chicken roasts in the oven.
As well as the 10 supper recipes in the book (which contain over 40 recipes between them) there is an introduction section with tips on how to set up your kitchen, presentation guides and how to to season to taste and flavour your food. I recommend giving all of this a read before you start too. The depth is equivalent to the information you'd get from working with me in a cooking lesson. I wanted to go into this much detail to give you absolute confidence you could nail these dishes.
Each of the 10 dishes contains its own mini guide (see below for larger text) which I encourage you to read in full before starting to cook. It includes how to plan your time when a dish contains different elements, how to keep leftovers, as well as how to present the final dish.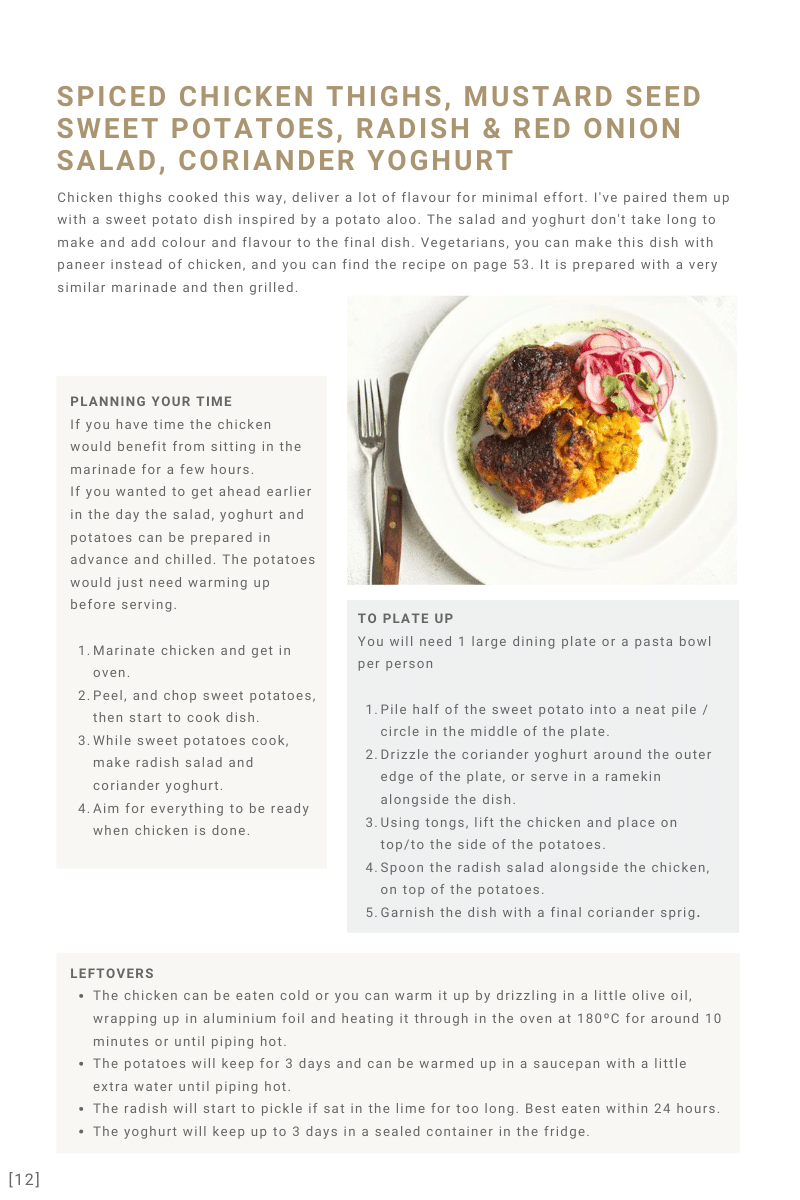 Spiced chicken thighs, mustard seed sweet potatoes, radish & red onion salad, coriander yoghurt
Chicken thighs cooked this way, deliver a lot of flavour for minimal effort. I've paired them up with a sweet potato dish inspired by a potato aloo. The salad and yoghurt don't take long to make and add colour and flavour to the final dish. Vegetarians, you can make this dish with paneer instead of chicken, and you can find the recipe for that in my book
Ingredients
Spiced Chicken Thighs
15g butter
1 tsp olive oil
1 tsp honey
1 tsp ground turmeric
1 tsp smoked paprika
1 tsp ground cumin
Sea salt and black pepper
4 x good quality, skin-on bone-in chicken thighs
Sweet Potatoes
1 tbsp olive oil
½ red onion, finely chopped
1 clove garlic, finely chopped
1 Inch chunk root ginger, finely chopped
½ tsp black mustard seeds
¼ tsp ground cumin
¼ tsp ground turmeric
300g sweet potatoes, peeled and chopped into
1cm cubes
Handful coriander leaves, roughly chopped
Lime juice, to taste
Sea salt and black pepper
Radish Salad
½ red onion, thinly sliced
Lime juice (from ¼- ½ a lime)
8 radishes, top and tailed and thinly sliced
Handful of pomegranate seeds
Drizzle honey
Drizzle extra-virgin olive oil
Coriander Yoghurt
60mls Greek yoghurt
1 tbsp extra-virgin olive oil
Large handful (approx. 10-15g) fresh coriander,
tough stalks removed and finely chopped
1 clove garlic, finely chopped
Squeeze lime juice (from ¼ lime)
Instructions
Spiced Chicken Thighs
Pre-heat the oven to 200ºC.
Put the butter and 1 tsp olive oil into a small bowl and using a spoon work it into a soft smooth paste. Add the honey, spices and a pinch of salt and pepper and continue to work it into a smooth paste.
Spread the paste evenly over the 4 thighs in an even layer. I like to use my hands for this, but you will need to wash them thoroughly afterwards. Place the chicken into a baking dish skin side up.
Cook the chicken for 10 minutes, then turn down the temperature by 20ºC and cook for a further 30 minutes, basting at regular intervals.
The chicken is done when the meat is no longer pink and the juices run clear. Check around the bone.
Sweet Potatoes
Heat the olive oil in a medium sized saucepan over a medium heat. Add the onion and sauté for around 3-4 minutes, until it begins to soften. Next add the garlic and ginger, and cook for a minute, before you add the spices and a pinch of salt.
Allow the spices to fry for 30 seconds or so before you add the chopped sweet potatoes, and a couple of tbsp of water. Add a lid and turn the heat down a little. The potatoes will cook through in around 20 minutes, and you will want to check and stir on them regularly to avoid sticking, adding extra water if necessary. The aim is for the potatoes to retain their shape rather than turn to mush.
Season to taste, also adding a squeeze of lime, and stir through the chopped coriander ready to plate up.
Radish Salad
Place the sliced onion in a small bowl and squeeze over enough lime juice to coat along with a pinch of salt. Lightly massage the onions with the juice, then leave to sit for 5-10 minutes to soften up.
Next add the radishes, pomegranate seeds, drizzle over the honey (less than ½ tsp) and likewise olive oil. You don't want to drown it, it's just to balance the flavour. Taste and adjust seasoning.
Coriander Yoghurt
Combine all of the ingredients except for the lime in a food processor and blend until the coriander is well combined. Alternatively you can chop finely and combine by hand. Stir in the lime juice and check the seasoning.
Thank you so much to everyone who has purchased the book so far. You know they say that when someone buys from a small business, the person who owns that small business does a little dance? It's completely true!
For more information about the book you can check out my ebook page, which also contains the full contents of the book and some sample pages.
Or to go straight onto purchase a copy you can click here.  The book is priced at £13.99
I'd love to see what you've cooked from it. Enjoy!
—–
Pin me for later