Making cheese more interesting.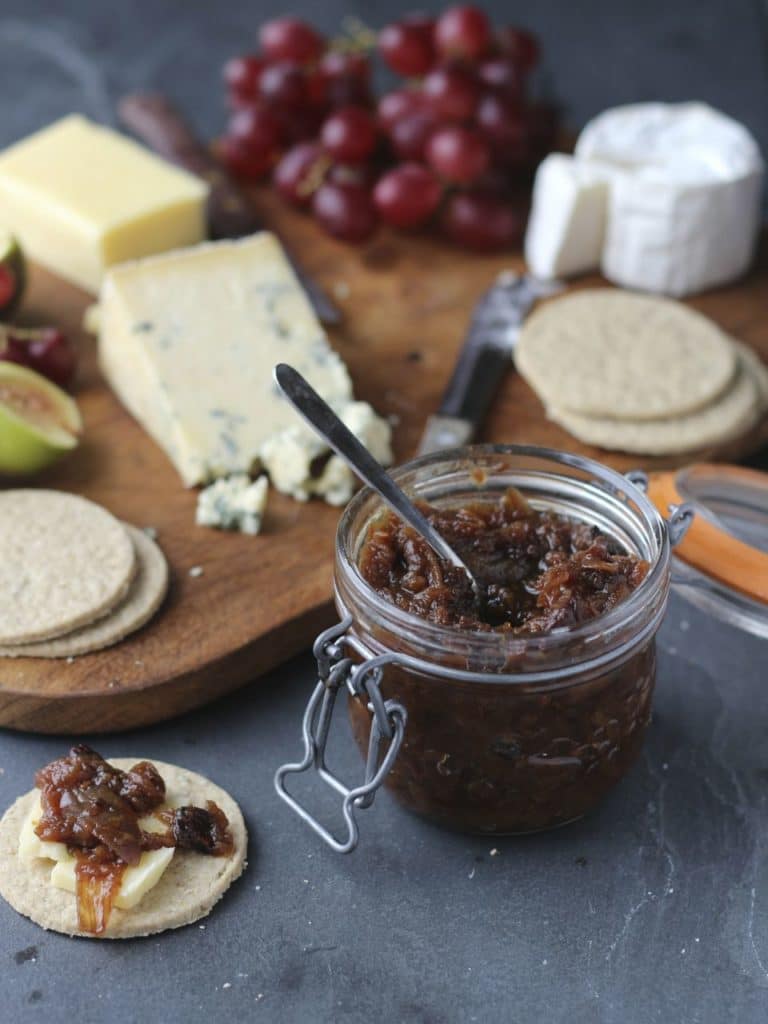 A festive cheeseboard isn't a cheese board without its accompaniments.  Handful of grapes, a selection of hard, soft & blue cheeses, rustic oat cakes or crackers, and then that something extra; chutney.
I've friends that squee at the sheer delight of a cheeseboard, pick wine bars that only serve cheese with their finest selection of grapes (wine) and those that would choose cheese over chocolate any day.  I can't say I would go that far, but I have certainly learned to embrace the delights of a cheese board in recent years, having gone off cheese in my scared of any fat miserable low-fat years.  Especially when mature cheddar and a good chutney or pickle is involved.
I must confess before this adventure I don't recall ever making a chutney before.  We did cover preserving on my natural chef course, but we focussed more on making preserves, curds and pickles using California's finest glut of December fruit (oh those Meyer lemons!).  I can hardly believe that was two years ago now, so definitely needed a refresher and a simple recipe to adapt;  I used this basic recipe on Netmums for inspiration to create my slow cooker apple chutney recipe, it makes best use of the slow cooker for a fuss free hands off approach which is handy as no one seems to have any spare time in December.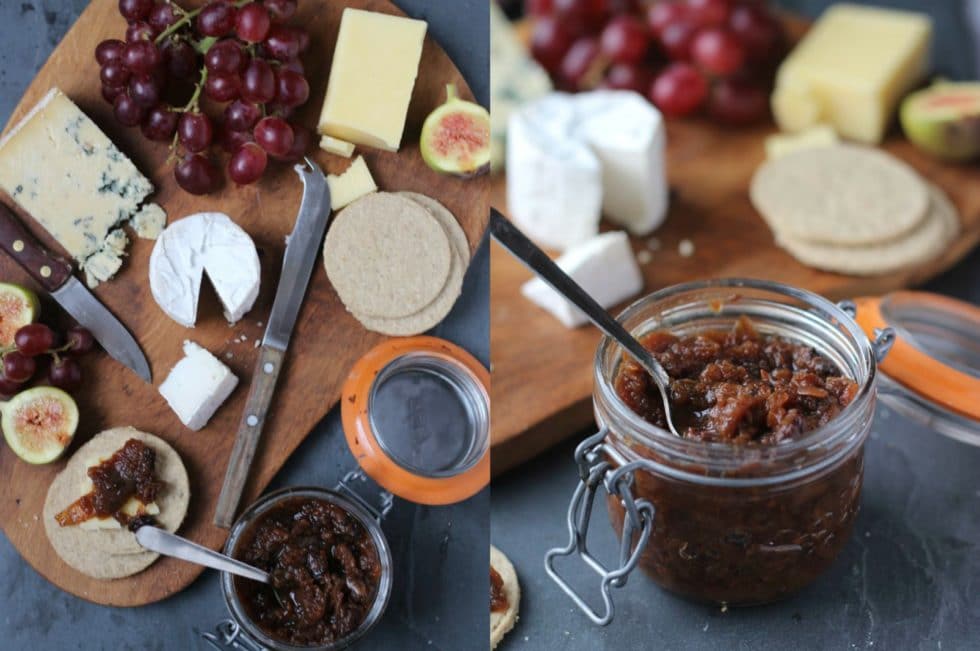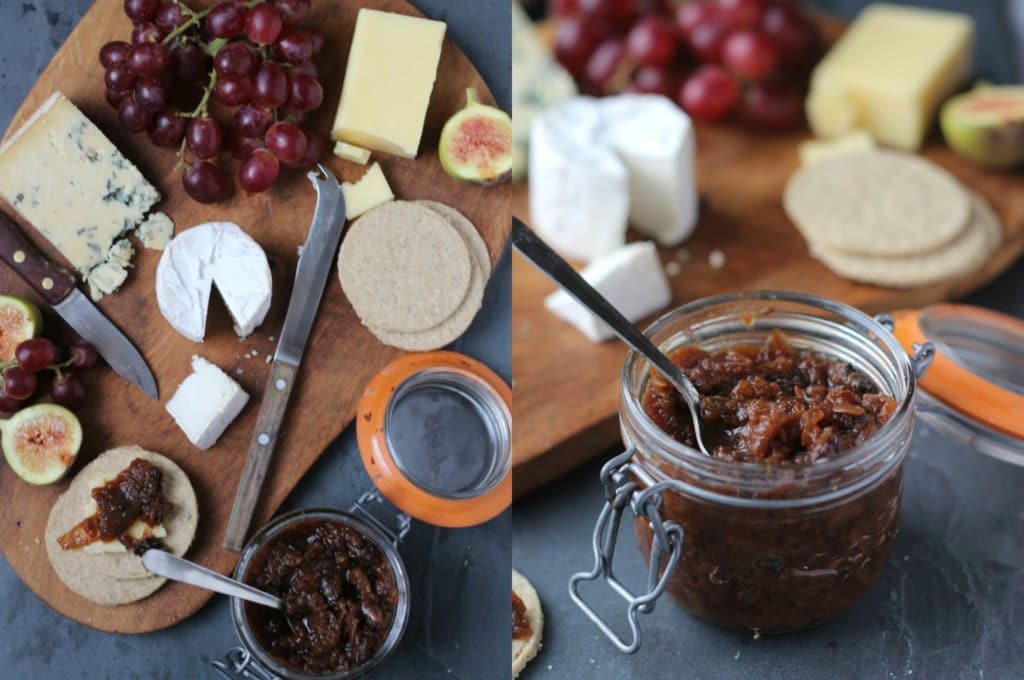 Being a chutney novice, particularly using the slow cooker, I didn't expect to get it right first time.  I was rather alarmed at the quantity of sugar – 500g – that was suggested in the recipe I used, and secondly the amount of vinegar also looked too much.  I knew from my slow cooker stew adventures that hardly any liquid will evaporate when you cook in a slow cooker (it has no where to go). So I bravely reduced them both (vinegar to 250mls and sugar to 200g), then along with my glut of apples threw some onions and shallots and  a heap of spices (which I didn't measure), and hoped for the best.  The chutney smelt amazing, had the perfect texture and tasted amazing if a little too sweet.  Satisfied that this could be the beginnings of a cracking Christmas recipe for the blog I made it again, reduced the sugar further (to 100g), measured my spices et voila.
For the sugar element I would recommend any unrefined brown granulated sugar.  The ones with caramel notes such as rapadura or muscovado are especially lovely in a recipe like this.  Stuck on all the types of sugar? Check out this great guide in the Kitchn for some help.  I had a packet of coconut sugar in the cupboard, I've been saving for a home experiment in something other than a cake, so opted for this.  The final chutney is on the savoury side of where the chutney should taste, so its up to you and how you feel about sugar as to how much you want to put in.  There's no doubt about it that chutney needs to have sugar, it acts as a preserving agent, and the balance of the sweet vs sour taste is what chutney is all about.  If you don't want a sugary preserve or condiment, don't have chutney. Simples.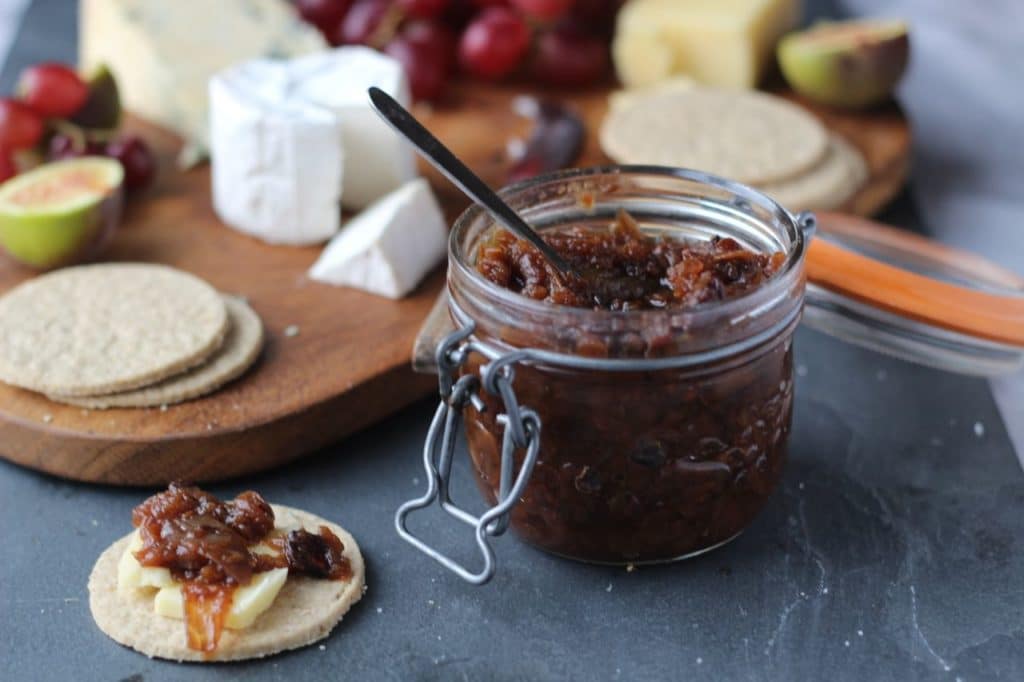 Lightly spicy, not enough to remotely blow your brains out, but enough to complement the sweet apples, onions, and shallots, and provide a contrast to rich and creamy cheese.  For the dairy dodgers amongst you the chutney goes particularly well with a plain hummus.
If you wish to can your chutney to keep for later in the year – this is a great guide how to.

Slow Cooker Spiced Apple Chutney
A simple chutney recipe making use of a glut of apples and cooked in the slow cooker. Prep the ingredients, throw them in and leave for 6 hours while you get on with your Christmas shoppping
Ingredients
250mls apple cider vinegar
100-200g unrefined sugar such as coconut palm sugar, rapadura or unrefined caster sugar
1.2kg eating apples such as braeburn, gala or granny smiths, peeled, cored and chopped (approx 850g after prep)
50g sultanas
2 onions, finely sliced
2 shallots, finely sliced
1 green chili, seeded and finely chopped
3 star anise
2 tablespoons coriander seed
1 tablespoon cumin seed
Instructions
Put the slow cooker on high.
Pour the cider vinegar into the slow cooker pot and add the sugar. Stir well until the sugar dissolves.
Tip in all of the ingredients and stir well. Put the lid on the slow cooker and cook for 6 hours.
Check in on the chutney every few hours and give it a good stir to ensure it will cook evenly. AFter 6 hours if there is still too much liquid in the cooker, remove the lid and allow it to cook for another 30 minutes or so - without the lid on the liquid will evaporate.
Transfer the chutney to a cool bowl, and allow to cool before transferring into clean sterilized jars*.
Keep in the fridge.
Notes
*if you keep the chutney in the fridge it will be good for 4-6 weeks. If you wish to keep it for longer you will need to go through the canning process. I anticipate eating mine before then so did not do this.

Fills 2 280g nut butter jars
Think you've caught the preserving bug?  Here are some more ideas; 
Mixed Tomato Chutney
 and
Spicy Banana & Mango Chutney
by Fab Food 4 All,
Fig, Apple and Pomegranate Jam
 by Tin & Thyme,
Rhubarb and Cranberry Chutney
 by Kellie's Food to Glow, or
Plum & Almond Chutney
 from BBC Food.  All use the less of the refined browner sugars.
If you like the idea of exploring cooking preserves in the slow cooker (or just using the slow cooker in general – including for cakes!) Baking Queen is your girl.
What would you put in your ultimate chutney?