Roasted hazelnuts with a hint of cinnamon and mixed with cacao nibs makes a great healthful edible gift – a sort of deconstructed Nutella ™ 
Last weekend fellow SE Londoner Jessica and I ran a Christmas inspired stall at Brockley Christmas Market. We had mince pies, Christmas cake, Christmas truffles (recipes are all in my new ebook – see below for more info),  Christmas granola, DIY hot chocolate packs, and what I like to call 'deconstructed nutella' snack packs.
Bagged up and tied with a festive red ribbon, we thought they'd make excellent gifts or perfect handbag snacks for when you're out Christmas shopping. I kept one bag behind and in the true Christmas sharing spirit decided to photograph and write up the recipe for everyone beyond the residents of SE London's Brockley to enjoy.  This recipe is actually perfect at any time – not just for Christmas!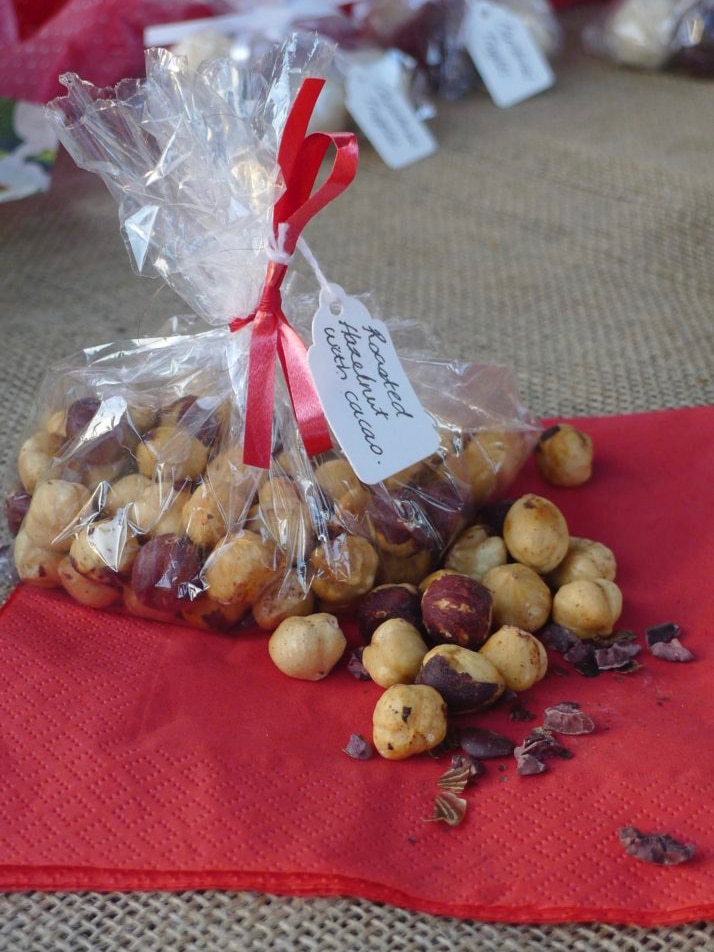 Roasting the hazelnuts completely transforms their flavour, and adding a touch of cinnamon, honey and coconut oil to the second roasting gives them a wonderful finish. Cacao nibs are pieces of cacao beans that have been dried at a low temperature (sometimes roasted depending on brand you choose), then hulled and broken down into little bits.  Strong in chocolate flavour and also antioxidants (hurrah) they are the perfect way of getting in some chocolate without any sugar. Better yet, a little goes a long way – they are strong! 
If you want to make a smaller batch, be sure to adjust the seasonings accordingly. It is worth explaining that spices aren't scaled up the same as regular ingredients, and likewise when scaling down. When scaling up we generally double for a second batch, then add half again for the third batch, half of that again for the fourth batch etc. Scaling spices is an art as well as a science, so I hope this helps!
For example:
Curry for 4 = 1 chilli
Curry for 8 = 2 chilli
Curry for 12 = 2.5 chilli
Curry for 16 = 2.75 chilli (ish)
But this post is about Nutella ™, so enough about chilli and on to the recipe. Here the spice is cinnamon, so if you're halving this batch, don't half the cinnamon, approximately ¾ tsp would do. The cinnamon taste is meant to be an enhancing flavour, not dominating.
One piece of advice I always give people when they grab a bag of nuts is to be mindful that whilst they are a good source of nutrition they are heftily loaded with calories. If you were to eat an entire bag in one go you'd be heading over 700 calories. I don't count calories these days, but it's always useful to know that this would be too much for one sitting. Best to share them with a friend!
I was invited to join some others in the health blogger community to share a recipe for a vegan Christmas cookbook blog crawl, and this is my contribution.  Whilst of course its clear I'm not vegan, I do believe us health bloggers share similar aims and passions to encourage our readers to jump on board the healthy train, and so I choose a recipe that wouldn't look out of place on any health blog – regardless of dietary preference.
Some other posts in the blog crawl include:
Roasted Hazelnuts with Cacao Nibs
Roasted hazelnuts with a hint of cinnamon and mixed with cacao nibs makes a great healthful edible gift - a sort of deconstructed nutella!
Recipe type:
Snack / Edible Gift
Ingredients
1kg raw hazelnuts
3 Tbs melted coconut oil
1 tsp honey
1 tsp cinnamon
1 tsp salt
125g cacao nibs
Instructions
Pre-heat the oven to 180 C.
Spread the raw hazelnuts out on a large baking tray and toast in the oven for 10 minutes. Remove from oven, allow to cool a little, then remove as much of the hazelnut skins as possible by shaking the hazelnuts on the tray and then rubbing them with your hands & fingers (I"ve since been informed that rubbing them in a rough towel works a trick). Discard the skins.
Meanwhile mix the melted coconut oil with the honey, cinnamon and salt. Pour the oil mix over the skinned nuts and place them back on the baking sheet. Put them back in the he oven for a further 10 minutes. Watch them closely - nuts have a tendency to burn quickly and I can't foresee whether your oven is sensitive or slow.
Remove nuts form the oven when browned, transfer to a cold sheet pan to help them cool off.
When completely cooled, portion up the nuts into gift bags and add 10-12g (a heaped Tbs) of cacao nibs for every 100g of hazelnuts.
Notes
Will keep for up to 3 months if stored in an airtight container in a cool place.
—
As I mentioned above, I've just released my first ebook Everything but the turkey. It is full of 12 Christmas recipes, but really they can be enjoyed all year round.
The book is £2.99 and available HERE
Its broken into 5 sections; light bites – fish pate & blinis // sides to the main event – special sprouts, cranberry sauce and stuffing // desserts -mince pies, log and Christmas cake  // sweet treats – mint chocs, truffles and chocolate refrigerator cake // plus a bonus just for fun recipe.  It really covers everything but the turkey. As you might expect it follows the same principles as my blog and is gluten and refined sugar free.  I say paleo inspired because as a trained natural chef I chose to include ingredients as butter, creme fraiche and buckwheat flour, which some purists may not deem as paleo.  I like to make my own rules now, and I hope you're seeing that in more of what I do.    I look forward to see you enjoying the recipes from it!
…and finally, this is my last blog post before Christmas and I'll be taking a break until the new year.  This has been one crazy year for me, starting it in the USA, qualifying as a natural chef in March, and subsequently trying to find my feet as a healthy entrepreneur in London – I've barely stopped to take it all in!  Thanks so much for supporting me and joining me for the ride. Hope you all have a magical time, cook up a healthy storm and enjoy indulging responsibly!
Tell me, whats on your Christmas menu?