This easy to make Red Kuri squash risotto is all about complementary flavours and autumnal comfort. There is squash in and on the dish and it is also flavoured with tangy blue cheese and crispy Parma ham*.
*This post is commissioned by Parma Ham UK
You know when you hear of something for the first time in your life and then it feels like it's everywhere and you wonder how you went 35 years of your life without ever noticing it? It's called the Baader-Meinhof Phenomenon, and this happened to me the last two months with Red Kuri squash.
When this bright red skinned squash appeared in my veg bag for the first time earlier this autumn, I didn't recall having seen or cooked it before. I didn't even know it was called Red Kuri. Just days later I was given one to cook from a food growing project, and then a few weeks later again it popped up in a market in South West France whilst retreat shopping, where I learned it was called Potimarron (which literally translates as chestnut pumpkin). That's a lot of Red Kuri squash acquaintances in a short space of time.
Red Kuri squash is also known as onion squash, but I think I prefer the rather more exotic name.
In France I bought some with the intention of adding to a salad like I'd done before in London, but what actually happened was the inspiration for today's recipe; when sliced into crescent moons it made a fabulous garnish to a simple risotto I had planned for a safe first night supper.
Today's Red Kuri squash risotto has actually turned out rather differently to my previous one. I've cooked some of the squash into the risotto which turns is a brilliant golden colour, added blue cheese and also added some crispy Parma ham. For a head start on flavour the Parma ham is crisped up in the pan before the cooking process, so the fats and flavours from the ham permeate the entire dish. It's then set aside until it comes back as a crispy garnish. Extravagant, but an utterly delicious creation for my latest collaboration with Parma Ham UK.
Risotto was one of the first things I learned to cook, and not something I have revisited much over the last decade. However, my urge to cook it again, was very much inspired by the dish it was served in. My newest member of my ceramics collection was purchased at a Turning Earth ceramics fair a few weeks ago. On making the purchase I asked the ceramicist Eira Gregory what she had intended to be served in the bowl. The answer? Risotto, and so, I've been itching to serve and photograph one in this beautiful dish ever since.
The one thing I often think my blog is missing, is a wide variety of those 'normal' dishes, dinner dishes that just help everyone get on with their lives in a delicious, healthy and tasteful manner, and I think this Red Kuri squash risotto fits the bill. If you wanted to increase the nutrition of this dish a fibre rich brown risotto rice would be an amazing find. However It's not that easy to get hold of in a supermarket, and since life (and me) are not perfect, today we're enjoying the white version. Plus a salad on the side.
After taking these photos, I sat on the floor next to my photography studio (a plank of wood and my camera tripod), with the autumn sun streaming on my face and slowly devoured the risotto. With each mindful scrumptious spoonful, I wondered if this was in fact the best thing I'd created in a while.
Red Kuri Squash Risotto with Parma Ham & Blue Cheese
This easy to make Red Kuri squash risotto is all about complementary flavours and autumnal comfort. There is squash in and on the dish and it is also flavoured with tangy blue cheese and crispy Parma ham.
Ingredients
1 medium Red Kuri squash, sliced into crescent moons
6 slices of Parma ham
2 small or 1 large onion, diced
1 leek, diced
1 clove garlic, minced
225g Arborio risotto rice
187mls white wine
750mls veggie or chicken stock
50g blue cheese (I used stilton)
Olive oil, butter
Salt & pepper
Instructions
Pre-heat oven to 180ºC (fan). Place the squash slices on a lined baking sheet with a sprinkling o of salt and a glug of olive oil and roast for 30 minutes, or until fork tender.
Meanwhile, heat 2 tablespoons of olive oil in a medium sized saucepan and when warm add the slices of Parma ham. Cook for a couple of minutes until the crisp up, then remove with a slotted spoon or tongs and put the saucepan back on the heat. Cook in batches if your pan isn't big enough.
Add the onions and leek to the pan with a pinch of salt, and cook on low for a few minutes until they start to soften. Add the garlic, stir, then add the rice, stir again.
Next pour in the wine and turn up the heat, cook until almost all of the wine has evaporated which will take a few minutes, then turn the heat down again and start adding the stock a ladleful at a time. When the rice appears to have soaked up all the stock, add more again and keep going until all the stock is in the pan.
Meanwhile your squash should be ready. Take half of the squash, and scrape the flesh away from the skin of the squash, and stir into the risotto pan, reserve the rest for the garnish
Once the risotto has been cooking for 20 minutes, taste to see if it is creamy and soft. If so turn off the heat, add the blue cheese, stir, add a lid and leave for 5 minutes.
Taste the risotto and add black pepper and salt as necessary.
Plate up with 3 slices of squash and a couple of pieces of crispy Parma ham. Be liberal with the black pepper. Serve hot.
Notes
If you'd prefer to make a vegetarian risotto, just leave out the ham, and garnish with some rocket at the end, you could also add some fancy mushrooms too.
If you can't get hold of red kuri squash, just replace with butternut or other squash of choice.
What would be in your ultimate risotto?
Pin me for later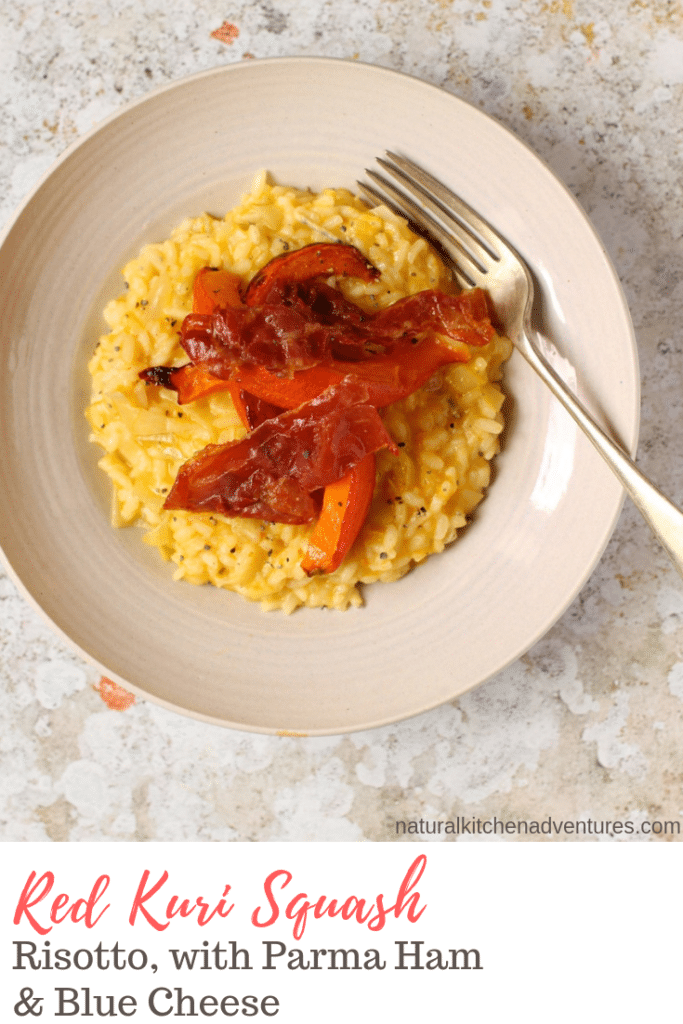 Not sure what else to do with Parma ham? Here are links to the other recipes in my recent collaborations.
It is argued that local application of https://antibioticspro.com is preferred over oral and intravenous ones.
*Disclaimer: This post and recipe was commissioned by Parma Ham UK. Thank you for supporting the brands who help make it possible for me to continue developing and sharing recipes on Natural Kitchen Adventures.