Another root to tip recipe, this time utilising radish leaves as well as the roots.  This radish and radish top pesto quinoa salad, is a fresh, healthy salad perfect for a lunchbox, feeding a crowd or for a tasty side.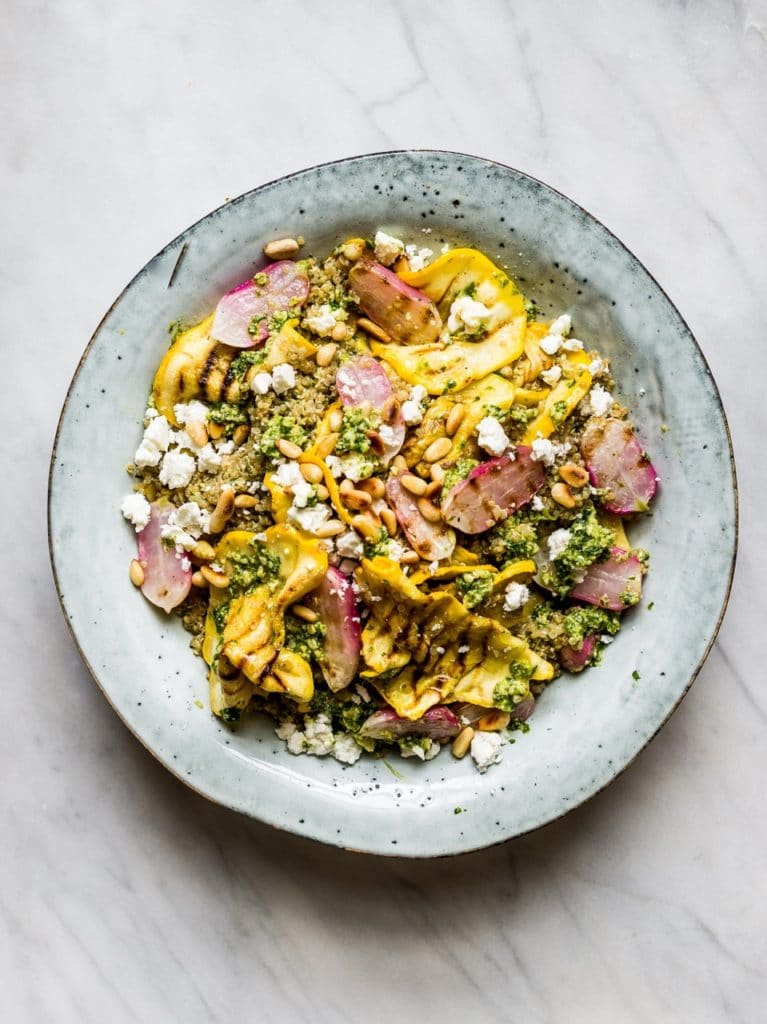 Last month I was invited to Soho House, on London's Dean Street, to talk and give a cooking demo for house members on 'sustainable nourishing'.  We covered my passions for seasonal healthy recipes, and touched on sustainability surrounding the way we shop, grow, cook and consume food.
There is SO much more than could have been said in a 1 hour event, but it was wonderful to be given the platform to share the things I love to talk about.  In the session I talked at length about where and how to shop seasonally.  Of course we talked about shopping at farmers markets and getting our veg from veg bag schemes (as I do for part of my total shopping requirements – a local South East London scheme called Lee Greens), but also by being a savvy supermarket shopper, because for the majority of folks, this just might be more manageable.  Savvy moves can be as simple as checking labels of fresh ingredients for their origin;  green beans from the UK over Kenya in July,  asparagus from the UK in May, and perhaps leaving it out of your basket the rest of the year when it's flown in from Peru.
Even with these savvy moves in mind, I'm not sure anyone could live the utopian dream of living solely off the land, from farmers markets, or even eating exclusively seasonal and local.  For example the lemons I bought for this recipe came from South Africa, despite my pleasing attempt at buying British grown Quinoa.  We can just do our best to do our bit, and remember that the parting message should be to eat more veg wherever that comes from.
I've also recently been asked or questioned if choosing to eat seasonally puts any restrictions on the way I make food choices or is limiting for others who might follow me.  Or, even more scarily, is it the new eat clean; a label and negative wording I have always been so careful to avoid using?  In a word, no.  To me seeking joy in cooking with fresh in seasonal produce is no less ridiculous, than smiling in glee as the ankle boots and tights come out in autumn and the wooly jumpers in winter.  It's what keeps our plates interesting, as recipes naturally evolve from one season to the next.  Is there anything wrong with wanting to open people's eyes to something more than the ubiquitous Instagram favourites of blueberries on porridge and avocado on toast (both of which I do love).  Furthermore I feel that promoting seasonal produce seems to be the best way to move away from any labels and any nutribable nonsense and believe me, I've had a label filled past.  Food is so much more fun now.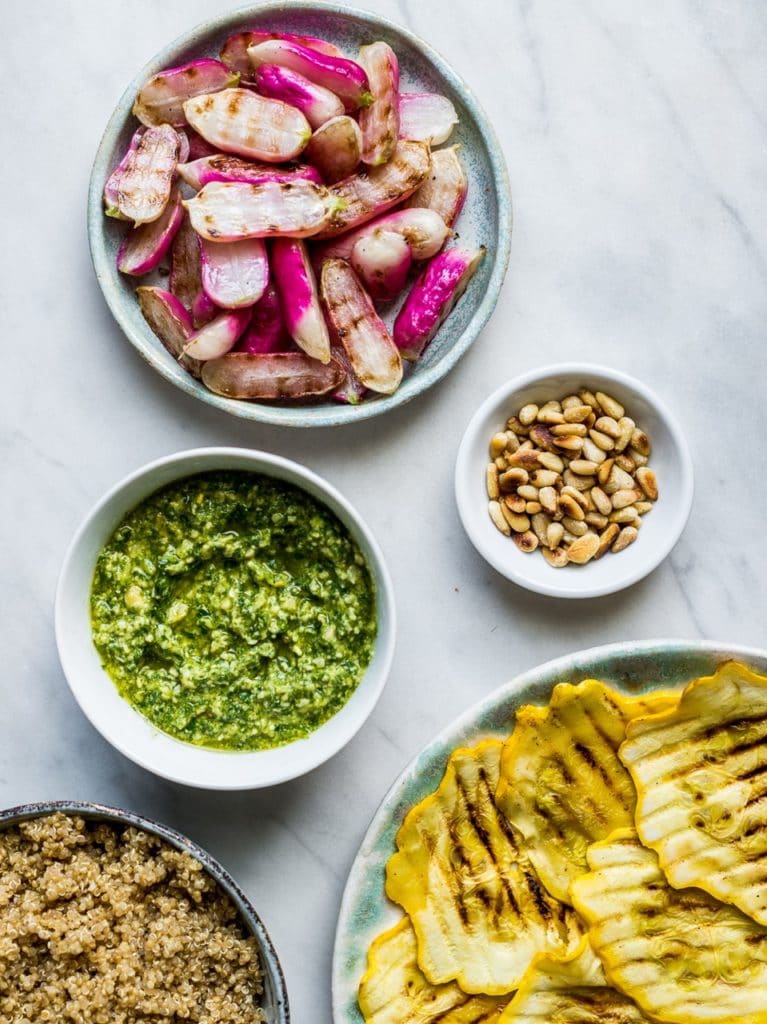 Anyway, I digress, and on to the recipe, which also formed part of the event.  These photos were taken by Karuna Clayton at our 'shoot for fun' a few weeks ago, and whilst it's not quite the height of summer right now, I hope this recipe will be useful for years to come.
This radish top pesto salad recipe is just a simple collection of some tasty ingredients, and quite typically 'me'.  I've used carrot tops to make pesto and salsa verde in the past, so using radish tops in a recipe was the next logical step.   Using the whole of the vegetable like this is a great move towards getting more from your food.  I've actually combined the radish tops with parsley in this pesto as they can be a bit spicy on their own.
Ironically it's tricky to find radishes with their tops attached (mostly as they don't keep that well out of the ground), so if you can't find them then trimmed radishes and any sort of herb for the pesto will do.  If you leave the radish+leaves in the fridge attached the tops continue to draw moisture from the radish drying them out, so try and make this radish top pesto as soon as possible after buying.  However if you separate the leaves and the roots then you can keep the leaves in damp paper towel in the fridge for a couple of days (which is how I transported them from SE14 to W1 for the event).  Just make sure you give the radish leaves a good wash and spin dry before using.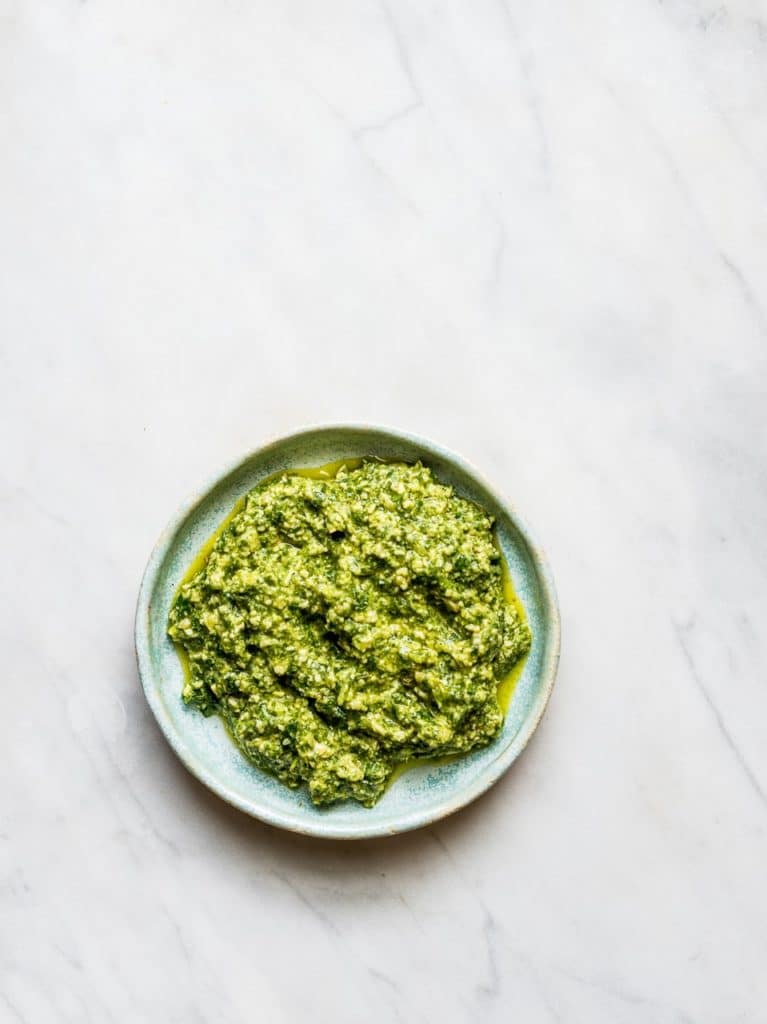 The yellow courgettes I used in this recipe are actually a yellow courgette plus a patty pan, quite simply because both of them were in my veg bag the week of the shoot.  A lucky coincidence, but also a green courgette will do.  
A patty pan looks a bit like a flying saucer, and sliced very thinly makes a great carpaccio or the whole thing can be stuffed. However, my default for everything at the moment seems to be cooking on my griddle pan, so that's what I've done.  UK grown patty pans and courgettes ones should be around until Sept / Oct so keep a look out.
The radish top pesto salad is finished off with some crunch from the pine nuts and creaminess from the feta.  The perfect combination of textures and flavours.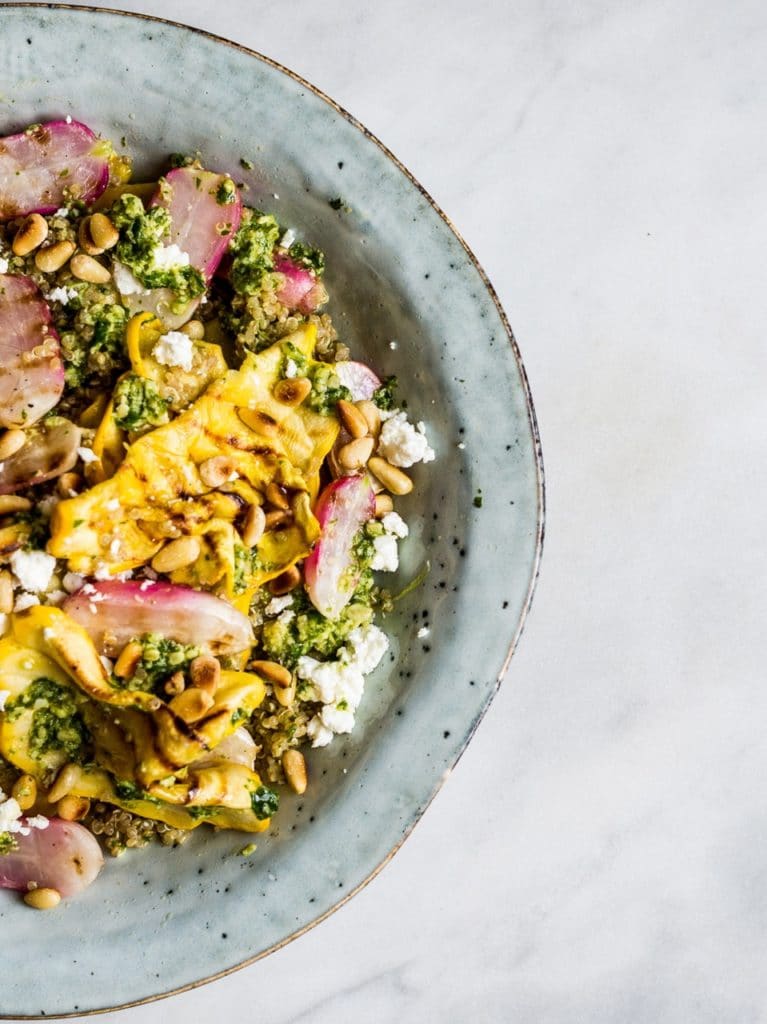 Radish and Radish Top Pesto Quinoa Salad with Yellow Courgettes, Pine Nuts and Feta
This radish and radish top pesto quinoa salad with yellow courgettes, is a fresh, healthy salad perfect for a lunchbox, feeding a crowd or for a tasty side.
Ingredients
Quinoa
150g quinoa
2 courgettes (yellow / green / patty pan)
200g radishes, cut in half lengthways
60g feta, roughly crumbled
20g pine nuts, toasted
Olive oil
Salt and pepper
Radish leaf Pesto
20 grams cashew nuts, toasted
30 grams pine nuts, toasted
1 large handful of good-looking radish leaves, stems removed and roughly chopped, approx 40g
10g small handful of parsley
1 clove garlic, minced
juice and zest of a lemon
4 tablespoons olive oil, + plus more to get the consistency you like
Instructions
First make the pesto. Roughly blitz the warm nuts in your food processor, then add the garlic and blitz briefly to incorporate. Next add in the radish leaves, parsley lemon juice, zest and olive oil. Blend again, till a chunky green paste forms (don't make it too smooth), add salt and pepper and taste and adjust seasonings if necessary. If you want a runnier pesto, add more olive oil and lemon juice in a 2:1 ratio to thin it out. Set aside.
Rinse your quinoa well, place in a saucepan with 300mls cold stock or water. Bring to the boil, cover turn to a low heat and cook for for 15 minutes. If not quite done at 15 minutes turn off the heat and leave for 5-10 minutes for all the water to be absorbed. Transfer to a cool bowl to cool, then fluff up with a fork.
Next cook your radishes on the griddle pan over a medium heat with a little olive oil. Start cut side down and cook for around 6 minutes then turn over to finish off for another 4 or so minutes. Set aside. Then thinly slice your courgettes into long ribbons 3mm thick. I use a mandolin, but you can use a peeler or knife. Either-way try and maintain the same thickness for all pieces. Fry in a little oil on a griddle or frying pan until lightly charred, roughly 30 seconds each side.
Toss the cooled cooked quinoa with the courgettes, radish and stir through enough pesto to coat the grains. Transfer to a serving plate.
Top the salad with the feta, an extra drizzle of pesto and some extra toasted pine nuts.
How do you feel about eating with the seasons? Is it the new eat clean??
I've added this post to Katie from Feed Boys' Simple and in Season September linkup!
With thanks to Karuna Clayton for the gorgeous photos.  You can check out more of her work here.
Pin me for later