Sautéed radicchio and crumbled walnuts tossed through al dente spaghetti make a make a simple healthy vegetarian supper for two.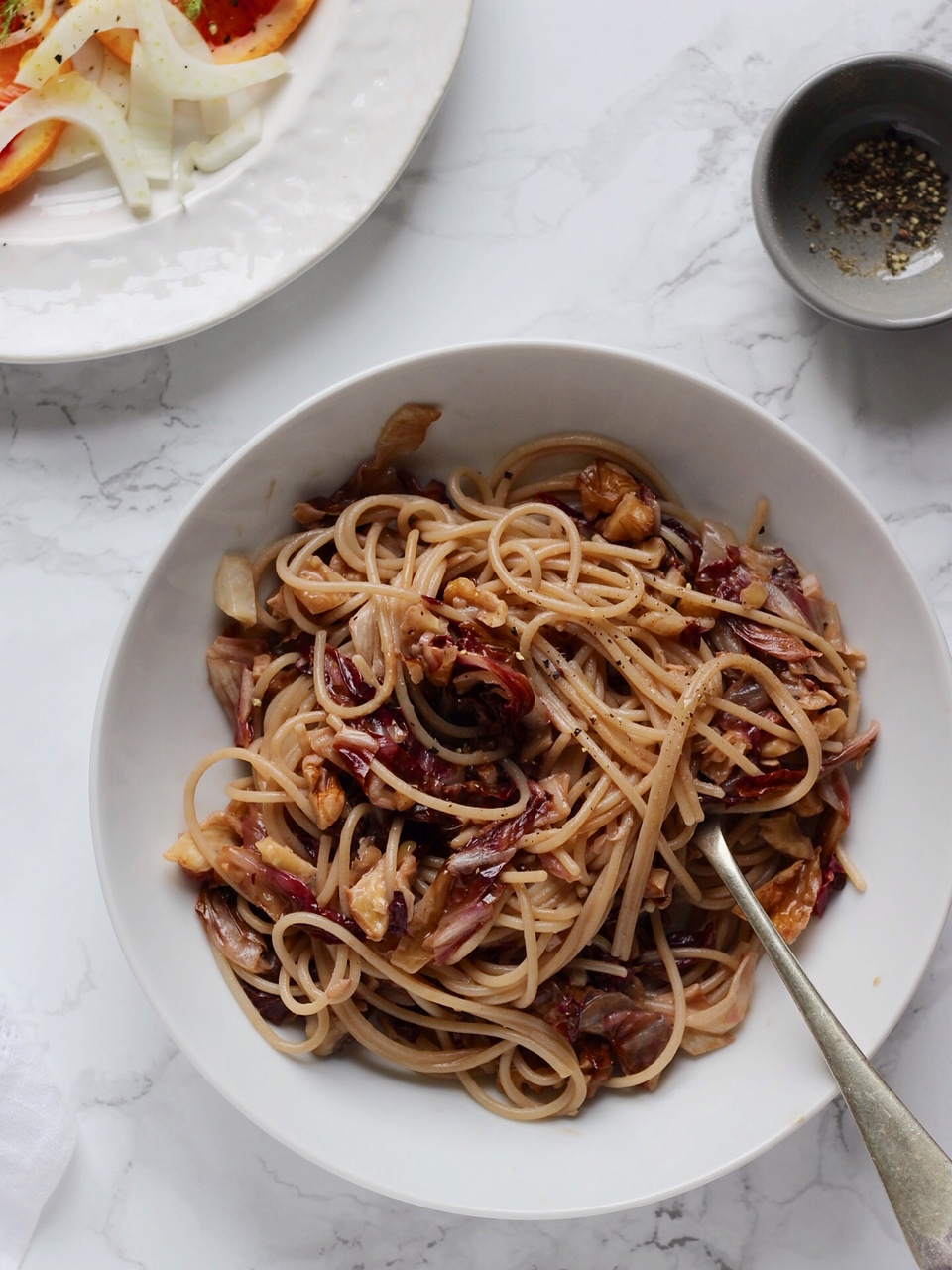 I think I'm discovering that you guys prefer the simplest of my recipes; the overnight oats, the things that take very little effort or are quick, and perhaps ultimately make your life easier. So here's another one for you. It barely takes 12 minutes from start to finish.
It all started with a box of veg.
I don't usually make a habit of coming home from a farmers market rearranging all my veg into a display and then spending a good half hour taking a photo of it, but oh, isn't it beautiful?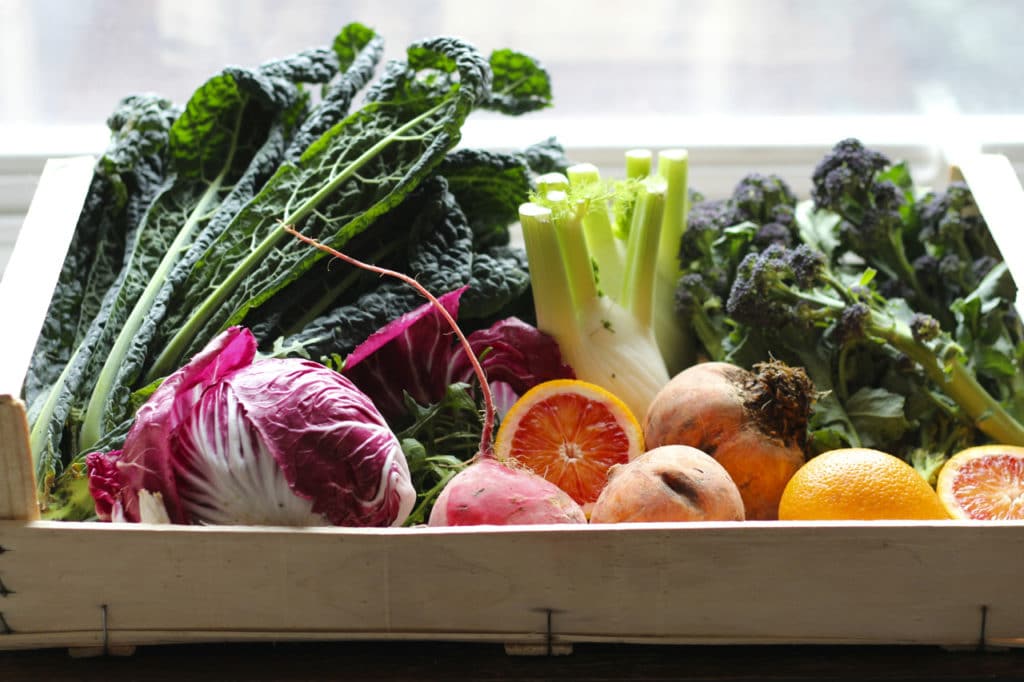 Rather ironically the radicchio that I am featuring in today's recipe is actually a crop that's available year round. However, how often do you find it whole like this? Its bitter leaves are usually disguised in a packet of supermarket mixed salad, where it can often be forgotten or picked out and discarded because of  its strong bitter flavour.  A bit of a shame I think. Lets seek it out in its whole form, and treat it with the respect it deserves.
Much like its also bitter relative chicory, the flavour of radicchio is so much better when cooked (see my chicory salad).
On the day I came home from the market, I sautéed it with some rocket and cashew cream I had lying around and piled it high on some toast with scrambled eggs. It was so wonderful I decided I wanted to make a full dish out of it and give it a place on the blog.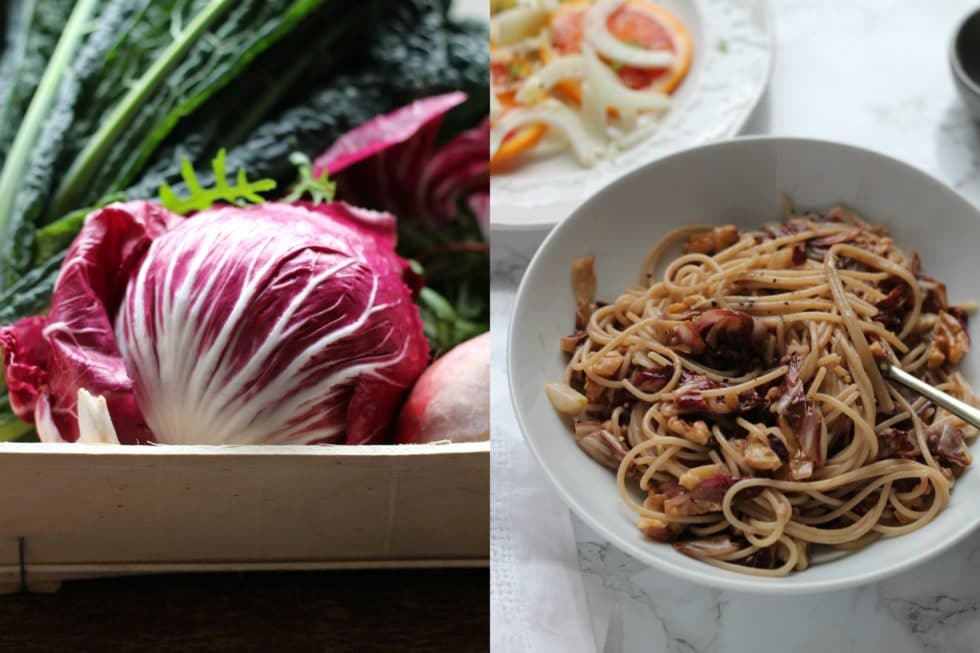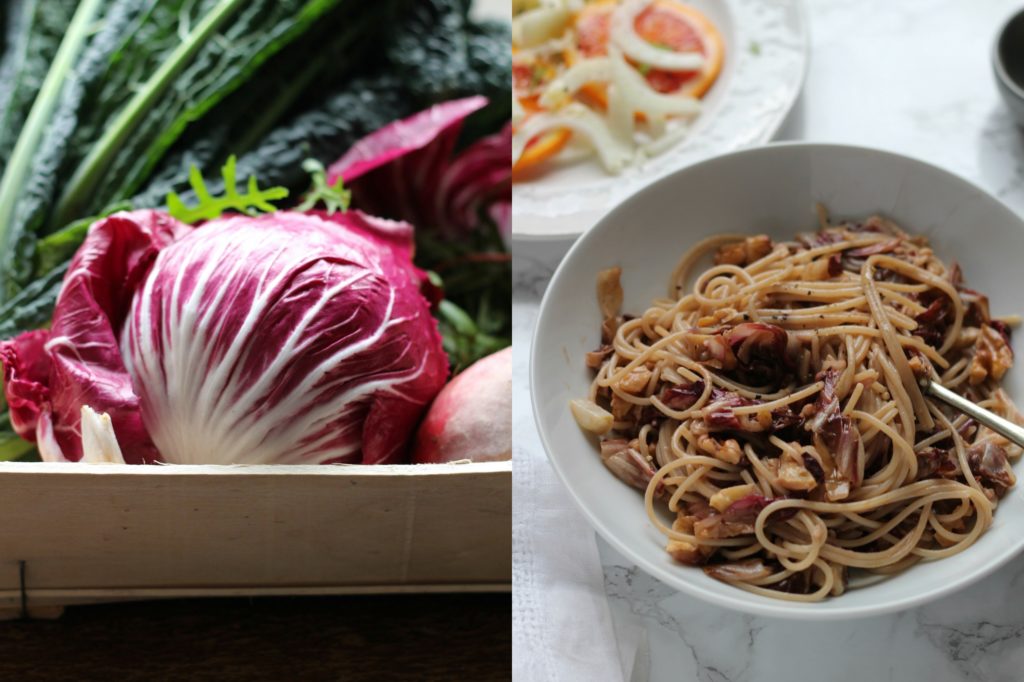 I'm using actual pasta (brown rice spaghetti) in this dish, not my usual favourite fake pasta courgetti, because a) courgettes aren't in season and b) texture texture texture.  The al dente spaghetti carries the sauce way better than courgetti ever could, and what's more a vegetable sauce with a few nuts and cream over some courgettes does not a full dinner make.
I used cashew cream to make my sauce as I had it lying around after a yoga retreat (as you do). I usually use this basic recipe, but if you can't be bothered to go to that hassle then coconut cream works too, and if you're happy with dairy creme fraiche would be just the perfect rich finish.

Raddichio and Walnut Spaghetti
Sautéed radicchio and crumbled walnuts tossed through al dente spaghetti make a make a simple healthy vegetarian supper for two.
Ingredients
150g brown rice (or regular) spaghetti
2 cloves garlic, minced
half a head of radicchio, shredded
40g walnuts, crumbled
2 tbs cashew cream (or coconut milk or creme fraiche)
splash of balsamic vingear
black pepper
salt
Olive oil
Instructions
Cook the pasta according to packet instructions. I like Doves Spaghetti and it cooks in 6-8 minutes.
Meanwhile put a frying pan on to heat with 2 tsps olive oil. Saute the garlic for around 30 seconds before adding the radicchio with a pinch of salt. Cook until it starts to wilt (about a minute), before adding the walnuts. Allow the walnuts to warm in the heat of the oil and the raddichio for a further minute before stirring through the cream, along with a few tbs of the starchy spaghetti cooking liquid.
Once the sauce has warmed through add a splash of balsamic vinegar and crunch of black pepper, and then finally drain your pasta when it is ready and add it to the pan. Toss the sauce around the spaghetti taste to season and then plate up.
Finish with a final grind of black pepper and a drizzle of your finest olive oil.
Notes
Serve with a seasonal side salad.
I have entered this into the fantasic
Simple and in Season
round up on
Feedingboys
, its both simple and seasonal!