These quinoa stuffed courgettes with pesto, parmesan and pine nuts, accompanied by a fresh tomato and rocket salad, crispy potatoes and paired with a chilled and refreshing glass of *Appletiser make a delightful meal for a summer evening.
*This post is commissioned by Appletiser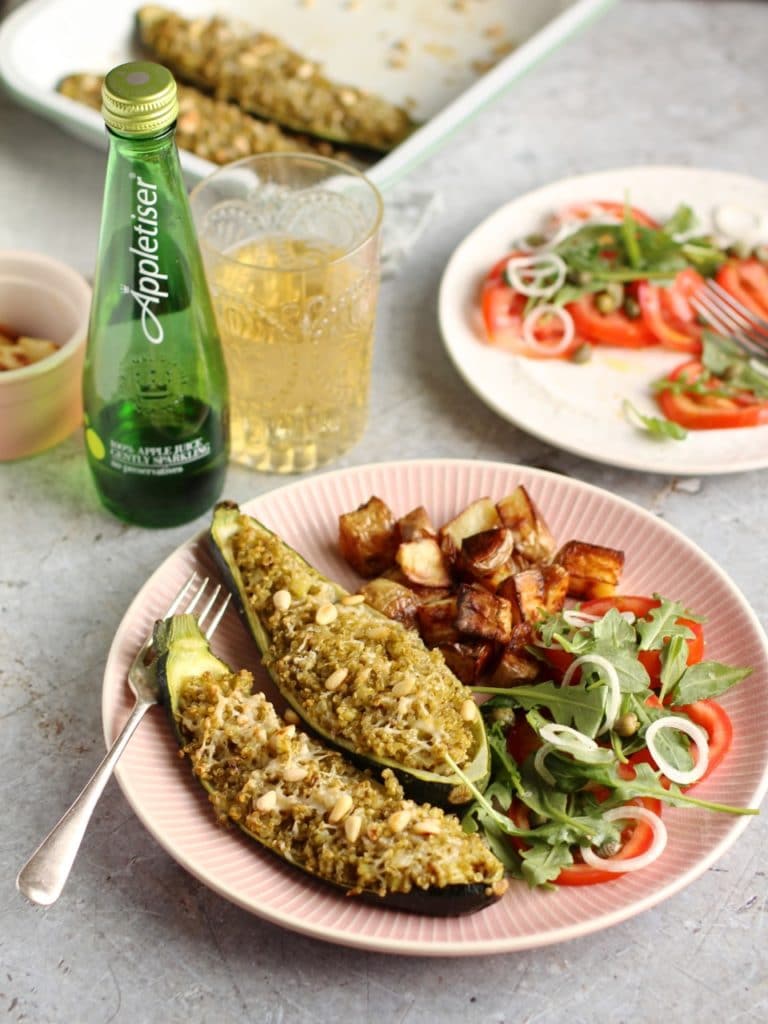 It's been a long hot summer here in London. Even though the heat has diminished now, it's still basically salad with everything, as well as minimal stove time. PLUS chilled and refreshing drinks too of course – hello Appletiser!
A chilled glass of Appletiser with dinner often reminds me of being on holiday somewhere warm, so for today's Appletiser pairing post I thought I'd create a dish using lots of summer Mediterranean style ingredients. Not an exact replica of something I once ate on holiday in Greece or Italy, just something with that tasty, laid back 'wouldn't be out of place on a taverna menu' summer vibe.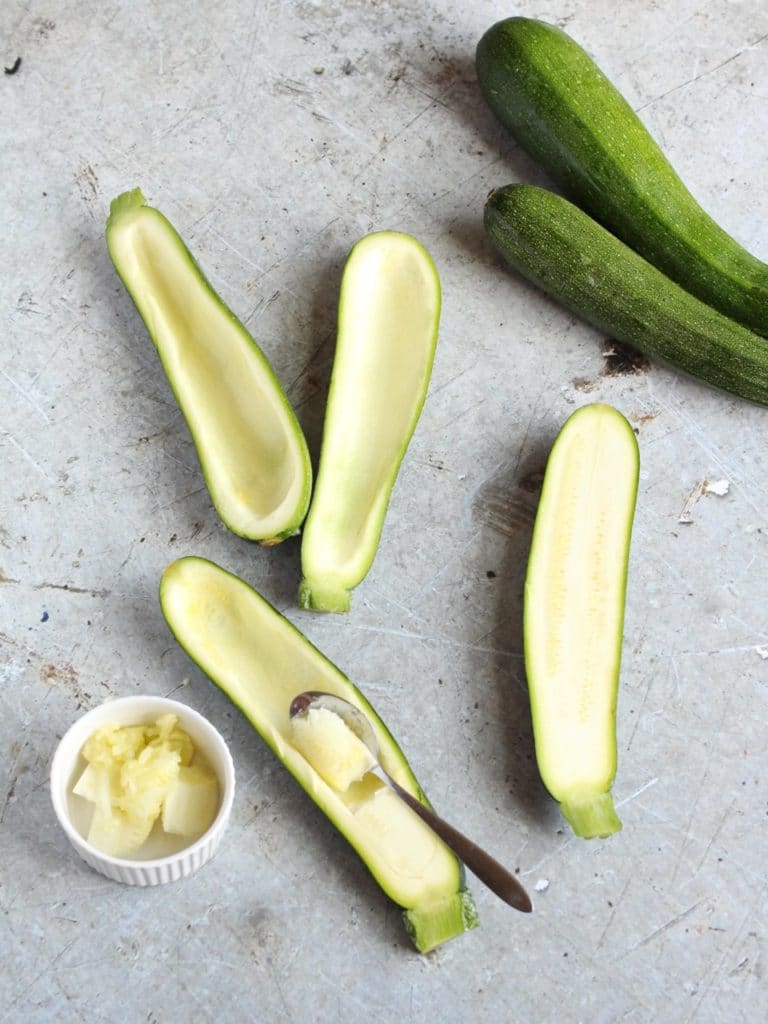 Summer is courgette time. I spent years praising the courgette for its ability to be spun into courgetti or noodles (mostly out of season I hasten to add), but there are so many more ways to enjoy it. If you're lucky enough to have an allotment, its likely you'll be dealing with a glut right now. I, on the on the other hand have been receiving them in my weekly veg bag on repeat. I particularly love this versatile courgette butter for a glut, roasting and adding the slices to frittatas, slicing thinly and griddling, grating and adding to fritters, or used to stuff other vegetables like pepper.
Courgette is fairly watery, and on its own doesn't carry a huge amount of flavour, but that doesn't mean it's a dead end. Use it as a vehicle for lots of other flavours. Stuffing is a great way to do this.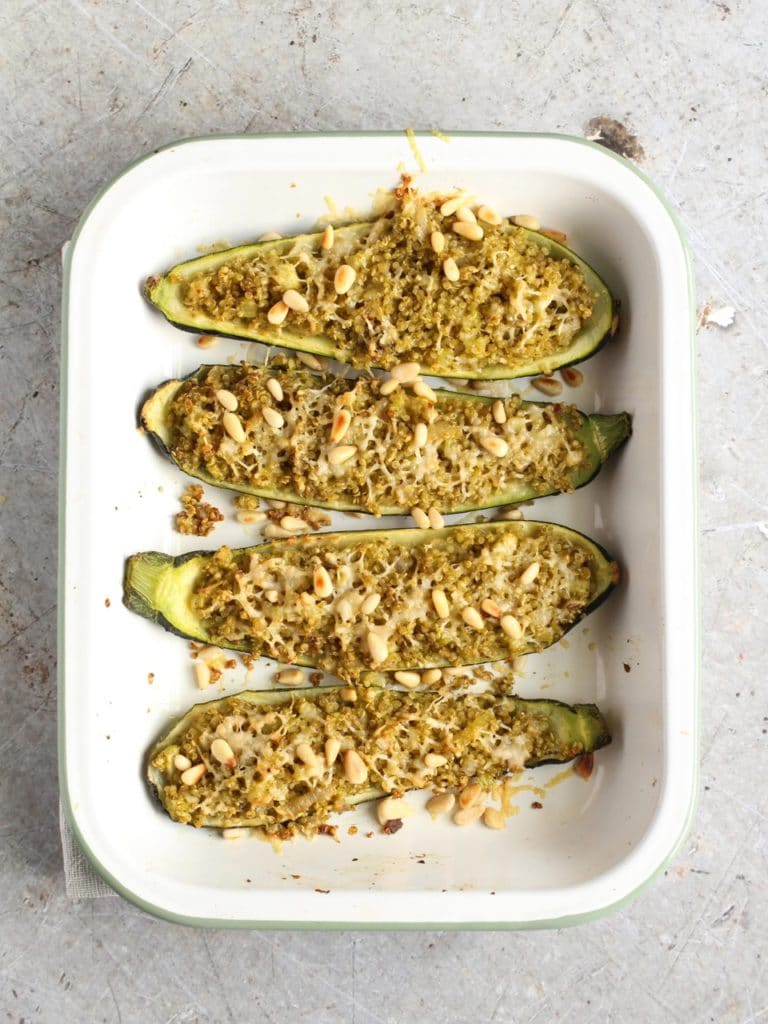 Attendees of previous retreats I have cooked on will know that I am a huge fan of the stuffed vegetable. I love to serve them because they form a substantial part of the plate; filling a spot, so often only filled with meat or fish. I also find them much more aesthetically pleasing than a bowl of stew of curry, and they always go well with a side salad or sauce too.
I've served a variation on this stuffed quinoa courgette dish a few times before, often simply stuffing with with breadcrumbs, pesto and parmesan, though today decided to pad it out with some quinoa for a more complete meal. You can make your pesto from scratch or use some from a jar; because we all need shortcuts in the home kitchen sometimes. Alongside the courgettes, I've served a simple tomato and rocket salad, some good old roasted potatoes, and then of course a chilled glass of Appletiser.
You can easily scale up this recipe to serve a crowd; simply take all the sharing style plates to the table and allow everyone to dig in.
Summer on a plate.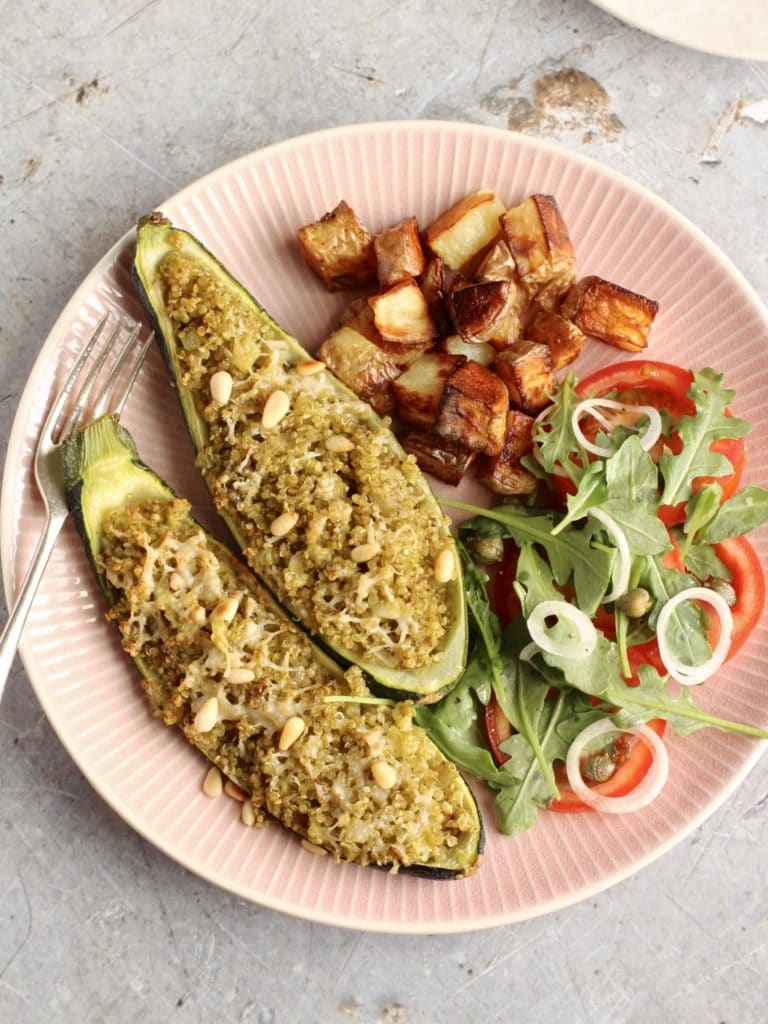 —
Quinoa stuffed courgettes with pesto, parmesan and pine nuts
Quinoa Stuffed courgettes with Pesto, Parmesan and Pine Nuts
These quinoa stuffed courgettes with pesto, parmesan and pine nuts are accompanied by a fresh tomato and rocket salad and crispy potatoes.
Ingredients
Stuffed courgette
2 medium sized courgettes
60g quinoa, well rinsed
1 stick of celery, minced
1 shallot or ½ small onion, minced
1 clove garlic, minced
2 tbsp pesto (shop bought or home made)
2 tbsp parmesan, plus extra for topping (for vegetarians use a vegetarian friendly hard cheese)
2 tbsp pine nuts, toasted
Tomato and rocket salad
4 salad sized tomatoes, thinly sliced using a serrated knife
handful rocket
1 shallot, thinly sliced wafer thin using a mandolin or knife
2 tsps capers
Roast potatoes
2 medium-sized King Edward or other roasting potatoes, small dice
General
olive oil
salt and pepper
Instructions
Pre-heat oven to 180°C (fan).
First get your potatoes in the oven, get onto a baking tray, sprinkle with salt and add a glug of olive oil, toss well, then roast in the oven for 40 minutes, or until crispy and cooked through.
Next prepare your courgettes. Slice the courgette in half lengthways, then score round the edge of the courgette, leaving 0.5cm border around the edge. Scoop out the seeds and enough of the flesh to create a suitable cavity big enough for stuffing then place on a baking tray or dish. Sprinkle with a little salt and drizzle over a little oil. Bake for 20 minutes to soften the courgette flesh.
Next cook your quinoa. Either check the packet instructions or place in a saucepan and cover in 90mls water with a pinch of salt, bring to the boil, reduce to a simmer, cover and cook for 15 minutes, until the quinoa is fluffed up. It should have absorbed all the water, if not drain.
Meanwhile prepare the rest of the filling. Add a tsp of olive oil to a frying pan, then sauté your celery and shallot for a couple of minutes until soft, add the garlic, along with the cooked quinoa and leave on the heat for a minute or so to make sure all the excess water from the quinoa has gone. Remove from the heat, stir through the pesto and add 2 tbsp finely grated parmesan. Taste and adjust seasoning if necessary. You might also like to add some lemon zest.
When the courgettes have finished their pre-baking remove from the oven and pile in the pesto quinoa stuffing. Top with an extra sprinkling of parmesan and return to the oven for 15 minutes, or until the parmesan has melted and the courgette all cooked through. Top with toasted pine nuts and serve!
Finally to make your salad, lay the tomato slices on a plate and top with a sprinkle of flaked sea salt, pile the rocket on top, along with the shallot, then add the capers. Finish with a drizzle of olive oil and some black pepper.
Tell me, what's your favourite stuffed vegetable recipe?
Pin me for later
While acne treatment is multimodal, the basis of therapy is prevention of comedones formation. Local agents are used to treat from mild to moderate acne, while https://valtrexlab.com is usually reserved to treat from moderate to severe forms of the disease.
Disclaimer: This post and recipe was commissioned by Appletiser. Thank you for supporting the brands who help make it possible for me to continue developing and sharing recipes on Natural Kitchen Adventures.