This simple purple sprouting broccoli & ricotta puff pastry tart topped with olive & wild garlic tapenade, makes the most of hungry gap star purple sprouting broccoli and foraged wild garlic. 
We've sailed past the spring equinox so surely spring should have sprung by now? There are signs of spring everywhere – beautiful blossom, the creeping in longer days, and although the weather is still pretty dire in London (a pathetic fallacy for the state of politics right now?) we remain hopeful it's going to get a bit better soon. With trees and flowers in bloom, surely we should be starting to see an abundance of vegetable produce to match? Well, sadly no.
You see, we've hit the hungry gap, the period in the U.K. when winter produce is over and the next round of growth hasn't come through yet, and may not until end May-June. I had no idea that this even existed until a couple of years ago when  started doing comms for my local veg bag scheme; a scheme that prioritises UK produce where possible. This time of year we have to rely on more European imports than normal to fill our bags, something the supermarkets do year round so that a consistent range of fruit and vegetables is available at all times. I'm hugely aware that being able to import food at a reasonable cost is such a wonderful privilege to us in the UK.
Hungry gap aside, there are are few gems to look out for this time of year, purple sprouting broccoli (PSB for short) and foraged wild garlic being two of them. Both of them are featured in today's recipe. Neither are new ingredients to Natural Kitchen Adventures, but PSB has never been the star of the show before.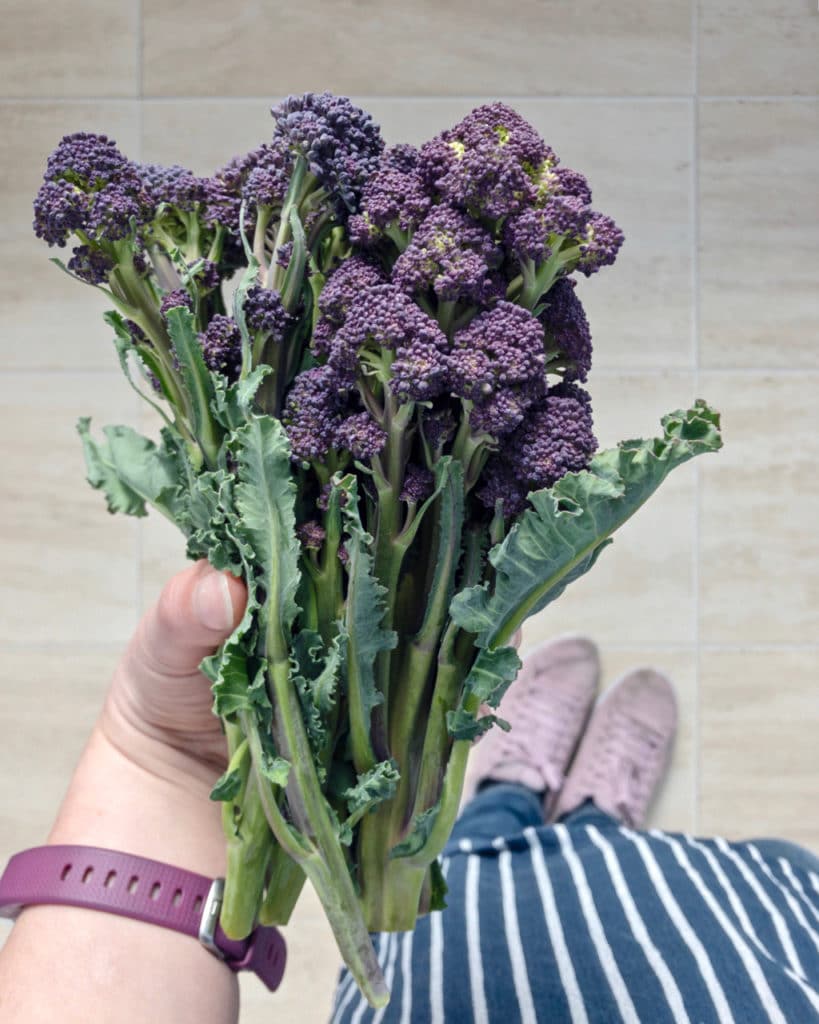 Purple sprouting broccoli provides good value for money with its long tender stems, vibrant purple flowery head, and leaves all being edible. Regular broccoli stalks are of course edible too, although not ordinarily added to recipes.
Classic flavour pairings for PSB include chilli, anchovy, capers, garlic and sesame. Roasted PSB covered in sesame oil and sesame seeds piled high on a long platter makes an excellent side dish, and something I served at retreat earlier this spring. I thought about sharing my simple recipe for that, but then sidetracked into the idea of trying something quite different from what I would usually do here.
You see, I'm almost at the 8 year anniversary of writing this blog, in blog years that's quite a long time. And, if I don't try my hardest to keep the sprit of kitchen adventures on these pages, then who will? I've got to keep trying new things, keep pushing the boundaries, cook an octopus…
So here I present you a full gluten, full butter, shop bought puff pastry tart base topped with creamy ricotta cheese, blanched broccoli stems, baked them topped with a drizzle of homemade olive and wild garlic tapenade. It's simple and seasonal, two of my Natural Kitchen Adventures recipe objectives.
Being a very simple dish, this puff pastry tart is less of an adventure in terms of skills, but definitely an adventure in terms of what a puff pastry tart represents for me, personally and also for this blog. I used to think puff pastry was out of bounds, unhealthy, too full of gluten or calories. It's taken me a while but I now understand what balance and variety is all about.
I've made puff pastry once before in my life. It took hours. If you want to go ahead and make it yourself, absolutely go for it. If on the other hand you want some precious time back in your life, then there is absolutely no shame in buying it ready rolled. My not so secret secret is that I don't massively enjoy baking or making things like pastry, so ready made all the way. Many shop bought puff pastries are actually made with vegetable oil, and as a result are naturally dairy free or vegan. This is great if that's who you are catering for – and indeed I am sure I will do a version of this one day – but for this tart I wanted the taste of real butter in my pastry, as if it were homemade. I used a supermarket's own brand all butter version, I've checked and there are quite a few about.
Just a quick word on cooking the broccoli. Sadly, the purple colour is near on impossible to maintain once cooked. If you roast or stir-fry the broccoli from raw, you will retain a very little of the colour, but boiling or steaming, you will certainly loose the purple to the water. It's just one of those things, and I wouldn't stress about it. To top my puff pastry tart I decided to blanch and shock the broccoli. This method means it is partially cooked before it goes in the oven, as it wouldn't cook through properly if you added it raw on top of the pastry.
Since this is a bit of a technical term, I made a video for you;
By the way since I live in a pretty urban area I did not forage for my wild garlic, but purchased it from a market, no shame! It's quite strong in flavour so just added a touch to my olive tapenade for fun.
I can't wait to explore the new world of puff pastry tarts, because this. was. stunning. What would be your ultimate topping?
—-
Purple Sprouting Broccoli & Ricotta Puff Pastry Tart with Olive & Wild Garlic Tapenade
Purple Sprouting Broccoli & Ricotta Puff Pastry Tart with Olive & Wild Garlic Tapenade
This simple purple sprouting broccoli & ricotta puff pastry tart topped with olive & wild garlic tapenade, makes the most of hungry gap star purple sprouting broccoli and foraged wild garlic.
Ingredients
For the tart
180g all butter puff pastry (from the fridge section of supermarket or make your own)
large handful of purple sprouting broccoli spears, enough to fill the tart
150g ricotta
½ lemon, zested
1 egg, lightly whisked
sea salt and pepper
For the tapenade
90g pitted kalamata olives
½ tablespoon capers
4 leaves of wild garlic, roughly chopped
4 tablespoons olive oil
½ lemon, juice and zest
sea salt and pepper
Instructions
Remove the pastry from the fridge 10 minutes prior to using and pre-heat the oven to 180ºC (fan)
First prep your broccoli, trim off the woody ends, and trim to fit across tart width. Slice any bigger spears into half lengthways. Blanch and shock the broccoli (see video), by boiling (in batches if necessary) in a saucepan of salted boiling water for 1 minute, and chilling in iced cold water before draining.
Next prepare the ricotta, by whisking with the lemon zest and seasoning with salt and pepper.
Roll out the pastry to approx 20cm x 24cm and place on a lined baking sheet. Score 1cm in from the edge and prick all over. Smooth the ricotta over the inner rectangle, top with the blanched broccoli, and brush the exposed pastry sides an with an egg wash.
Bake in the oven for 15-20 minutes until the pastry is browned and crispy.
Meanwhile make your tapenade. Blend all the ingredients together in a small food processor taste and adjust seasoning to suit.
When the tart is done, drizzle over the tapenade along with a final grating of lemon zest. Slice up and serve with a simple side salad.
Notes
I used a 375g pack of puff pastry divided into 2 for this tart, and froze the rest for later.
For other PSB recipes check out my
chicken, PSB and pomegranate molasses tray bake
from last year,
pan-fried hake with sauce maltaise and PSB
from 2017 and
PSB and sprout gratin
from way back in 2014.
Pin me for later