This elegant dish is great for sharing amongst friends. Peach with burrata and pea shoots is my way of simply saying "I'm not done with summer foods yet".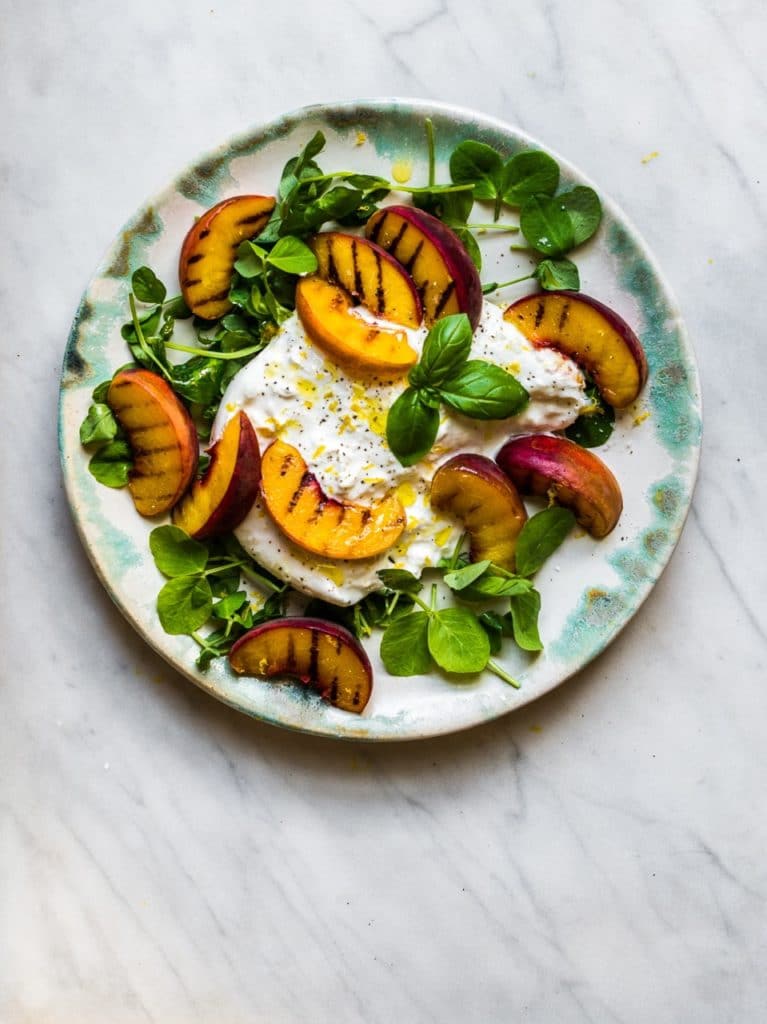 A few weeks ago I got together with professional photographer Karuna Clayton to shoot some of my recipes.  I worked with Karuna on a few professional shoots with a brand last year, and since then we have been trying to find time to hang out and create some recipe shots together, with no set brief other than to enjoy the creative process.  We ended up shooting 3 of my recipes, and I'll be sharing them here on the blog over the next few weeks.  Rather than creating something new I looked back at all the recipes I've developed for retreats, classes and events this last year and simply haven't had time to put them through the Natural Kitchen Adventures blog treatment.  I picked 3 of my favourite dishes, and I hope they will become favourites for you too.
I think Karuna has beautifully captured the simplicity of my ingredients and recipe in her shots, especially for this peach with burrata dish. Something I have been inspired to take forwards with my own styling and photography work, and have in fact already started to implement in my instagram feed.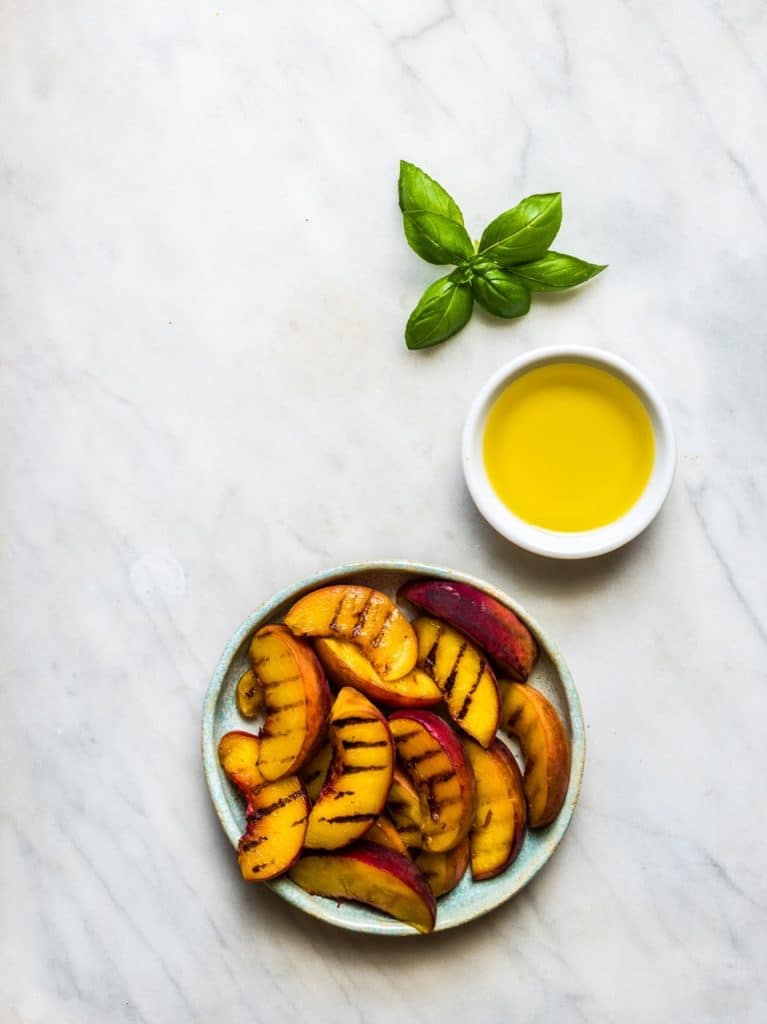 This peach with burrata recipe is all about the simplicity of pulling together simple, seasonal and delicious ingredients. It's not really a recipe as such, but it's something I've enjoyed cooking a few times earlier this summer on my outdoor glamping yoga retreats at The Green Escape.
We're a bit starved of modern kitchen facilities at The Green Escape.  It's quite the off grid experience and I all I have to work with are 4 gas hobs.  There is no electricity, no oven, no blenders, no toasters, or phone signal.   It's actually quite blissful. But I do have a cast iron griddle pan, and I find it a great way of introducing the intense roasted flavours you miss from an oven into food.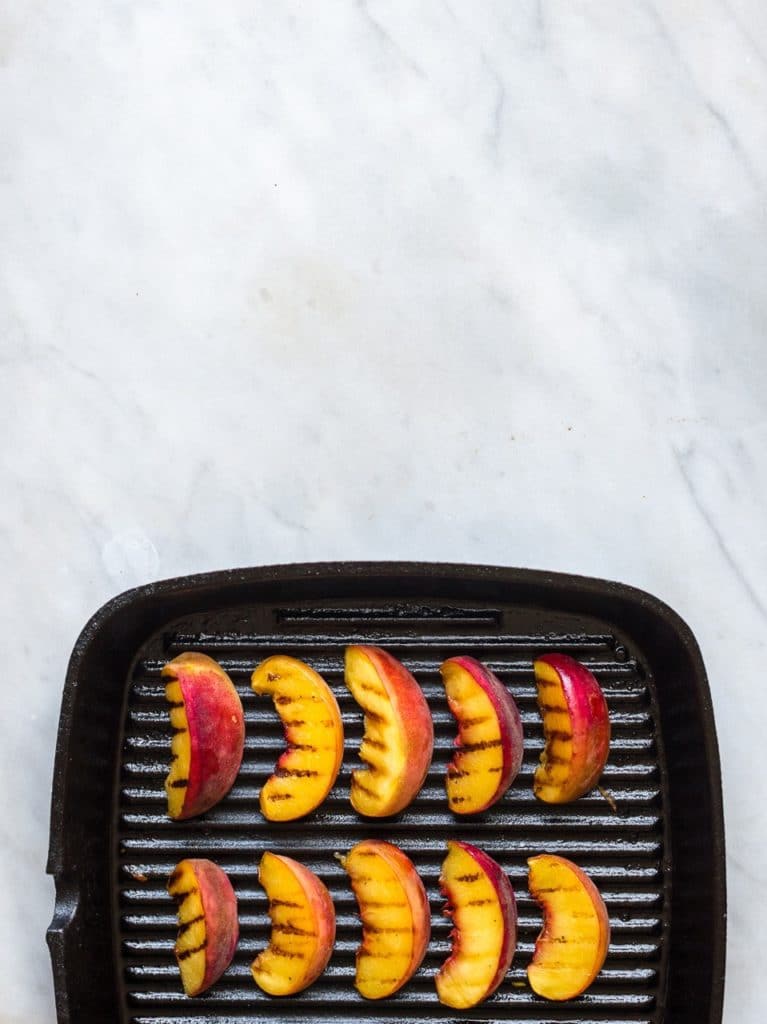 I'm often surprised many people don't know the joy of Puglia's finest burrata cheese, in fact I only really got to know it last year when I added it to this delicious carrot dish.  It's not your every day cheese that's for sure; a cheese made from mozzarella AND double cream, you say?  Well I love it, and the rich creamy oozy centre offers the perfect balance to the sweet peaches.
So, what about pea shoots? To be honest, I started using them in my composed salads becuase they look great, are much easier to get hold of than micro herbs and well, I've put enough rocket and watercress on salads to last a life time.  Pea shoots aren't used so often, and yes they taste of pea; they are in fact the young leaves and curly tendrils of pea plants  As with all leafy greens they are super nutritious.  Variety is the best thing anyone can do for their diet, even within the category of leafy greens.
This peach with burrata dish is a share between guests and dive in kind of affair. A great way to bond, and communicate over who's going to grab the last smidge of cheese.  Something Karuna and I enjoyed as part of our carpet picnic when all the hard work was done.
If you're vegan or dairy intolerant and burrata is not for you, I have also served the peaches and shoots with some cashew cheese; everything for everyone.

Grilled Peaches with Burrata & Pea Shoots
This elegant dish is great for sharing amongst friends. Peach with burrata and pea shoots is my way of simply saying I'm not done with summer foods yet.
Ingredients
2 firm-ripe peaches, cut in half, stone removed and cut into wedges.
35g pea shoots
200g (1 ball) burrata
+ lemon zest, black pepper, sea salt, a drizzle of olive oil and a few sprigs of basil to garnish
Instructions
Warm a griddle pan over a medium heat, and place your peaches cut face down on the griddle lines. You may or may not need to add olive oil depending on the current state of your cast iron pan, I find they char better with less oil.
When the underside is charred with tan lines, which should take 2-3 minutes, turn the peaches over and repeat. Set aside to cool slightly.
Plate up by scattering the pea shoots over a large dining plate, topping with the ball of burrata, torn slightly, then add the peach slices. Sprinkle over some lemon zest, black pepper, sea salt and drizzle over some olive oil. Add a sprig of basil to finish
I've added this post to Katie from Feed Boys' 
Simple and in Season September linkup!
p.s We'll be back retreating at The Green Escape next year, dates and details to follow…
Pin me for later