A Parma Ham Aperitivo featuring Farinata with Softened Onions & Parma Ham, Red Kuri Squash Bites Wrapped with Parma Ham, Grissini and Nocellara Olives.
*This post is commissioned by Consorzio del Prosciutto di Parma
I can't believe we are getting to the time of year when festive chat takes over all the things. Such a cliché to say this but 2019 has passed so unbelievably quickly, and in fact the whole decade. Festive drinks every year wouldn't be the same without nibbly bits, and since I love to create these little bites I was very happy to create a recipe for the forthcoming festivities using Parma Ham.
In Italy, they have a much catchier name for a drink and nibbly bit and call it an aperitivo. The idea of both the drink and accompanying bit is to whet your appetite for the dinner to follow. In fact the Italians love the aperitivo so much it's served year round. I've had a fair few aperitivi in Italy and they can range from a handful of crisps and olives to a full on carby buffet. The idea is not to eat enough to ruin or replace your dinner, although I have learned from Italian insiders (aka some of my extended family) that they quite often do!
A favourite Italian recipe of mine is farinata – a chickpea flour based dish, cooked in a baking tray in a pool of sizzling olive oil (not entirely different to the cooking method for very British Yorkshire puddings). I've made this on a number of retreats in Italy and France this year to add to a lunch buffet, usually with caramelized onions, olives and freshly picked rosemary from the grounds.
For my festive version, I have kept the rosemary and the onions, and then added strips of Parma Ham baked into the top. Cut into squares and pop one in your mouth to whet your appetite for a fabulous feast to follow. I always enjoy adding the flavour of Parma Ham to my recipes, and love the fact that it is 100% natural with no added nitrates or nitrites.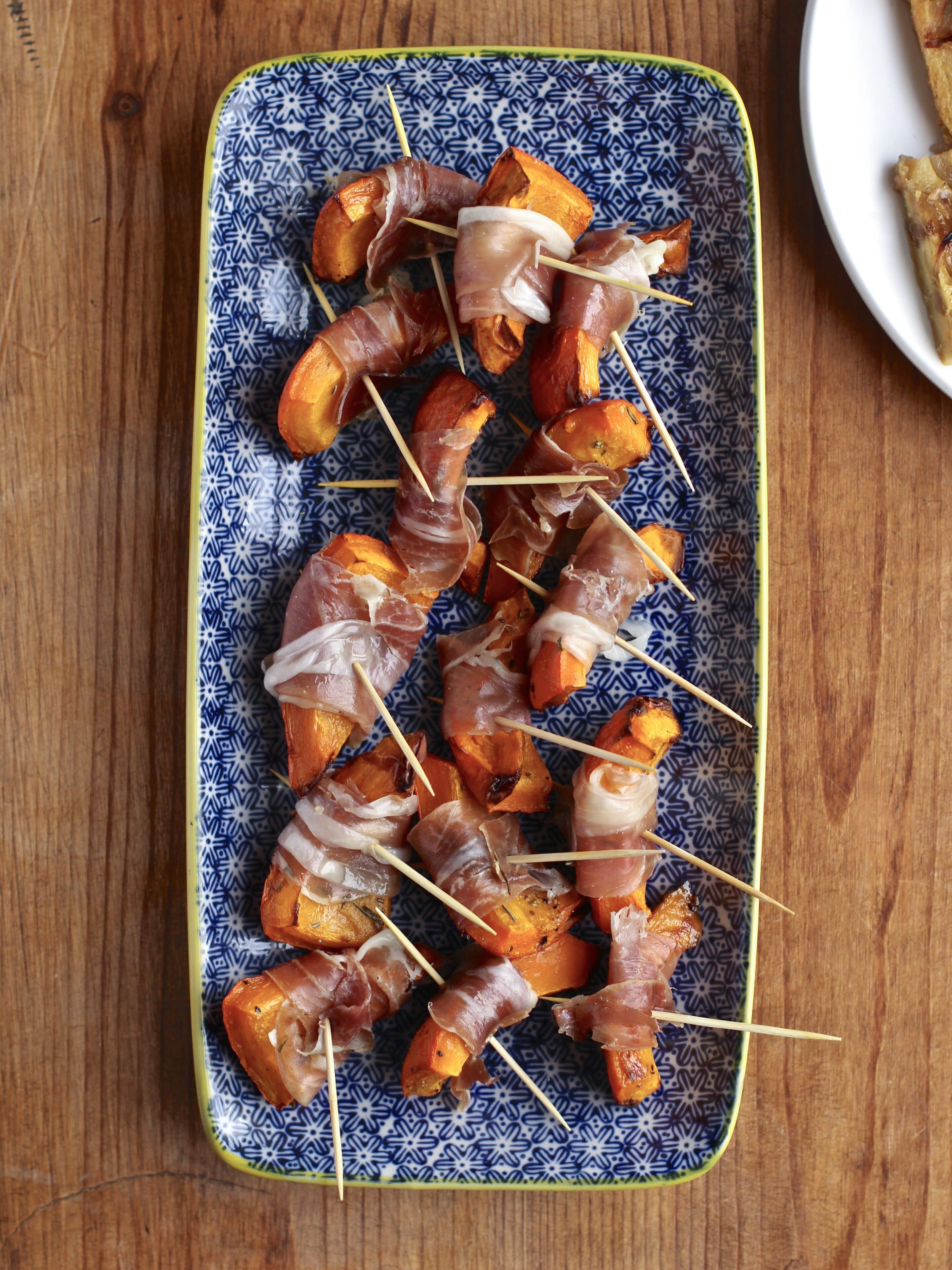 Since all of my recipe have to have a seasonal vegetable element to them, I also roasted some chunks of Red Kuri squash simply with rosemary and salt, and then wrapped some Parma Ham around them and secured with a cocktail stick once out of the oven. The squash is sweet, creamy and chestnutty and the flavours provide a fantastic base to the 16-month aged sweet, delicate salty Ham (I already paired them together in a risotto a few years ago). These bites are very much inspired by the more popular idea of wrapping ham around melon.
Serve with some Sicilian Nocellara big green olives, and some grissini bread sticks on the side.
Enjoy with your drink of choice, and if we're following the Italian rules maybe make it an Aperol spritz or a Prosecco.
Parma Ham Aperitivo; Farinata with Softened Onions & Parma Ham and Red Kuri Squash Bites Wrapped with Parma Ham
A Parma Ham Aperitivo featuring Farinata with Softened Onions & Parma Ham, Red Kuri Squash Bites Wrapped with Parma Ham, Grissini and Nocellara Olives.
Ingredients
Farinata
100g chickpea flour
½ tsp sea salt
250mls water
1 onion, thinly sliced
Pinch of sugar or squidge of honey or maple syrup
Splash of red wine vinegar
2 Tablespoons olive oil
Small handful of fresh rosemary, roughly chopped
3 slices of Parma Ham
Red Kuri squash bites
1 small Red Kuri squash
6 slices of Parma Ham
Olive oil
A few sprigs of fresh rosemary, roughly chopped
Salt and pepper
Cocktail sticks
Instructions
Farinata
Mix the chickpea flour together with the water and salt. Whisk till well incorporated into a smooth batter, cover and leave at room temperature for 1-4 hours.
Cook the sliced onions in a teaspoon of oil in a frying pan on a moderate heat for around 10 mins until softened – add a pinch of sugar and splash of vinegar and cook for another few minutes till the extra liquid has evaporated. This isn't a full caramelization that would take a lot longer! Set aside.
Preheat oven to 200°C (fan).
Take a deep sided baking pan (I use a small brownie style pan) about 18cm x 18cm, and pour in
tablespoons olive oil. Place in the oven for 5 minutes, to warm the oil ready for the farinata batter. After 5 minutes remove the pan from the oven, pour in the batter, then evenly scatter over the onions, rosemary and pieces of torn Parma Ham. Carefully slide the tray back into the oven and cook for 15-17 minutes until firm to the touch and browned on top.
Remove from the oven and allow to cool at least 15mins before removing from the tin and cutting into 9 bite sized pieces. Lovely warm but can also be eaten cold.
Red kuri squash bites
Pre-heat the oven to 180°C (fan).
Slice the squash in half through the tip, scoop out and discard the seeds. Divide each half into 4 crescent wedges, and chop in half again to create 16 small triangular bites. Toss in a little olive oil salt and pepper, and place on a lined baking sheet. Scatter over the rosemary and roast for 25 minutes until fork tender and slightly charred on the edges. Remove from the oven and allow to cool until cool enough to handle.
Cut your Parma Ham slice into 2-3 pieces lengthwise, wrap around your squash bite and secure with a cocktail stick. Lovely warm, but can also be eaten cold.
Notes
Red Kuri squash is often also called onion squash
What would you add to your aperitivo? 
*Disclaimer:  This post and recipe was commissioned by Consorzio del Prosciutto di Parma. Thank you for supporting the brands who help make it possible for me to continue developing and sharing recipes on Ceri Jones Chef.