Pandolce is a sweet bread from the Genoa region of Northern Italy eaten at Christmas time. Today's version has been made with 'Wholegrain gluten-free self raising flour' by the Free From Fairy.
Enjoy something a bit different this Christmas with this Pandolce Genovese, perfect with a cup of (Italian) coffee, and perhaps topped with a smidge of warm butter.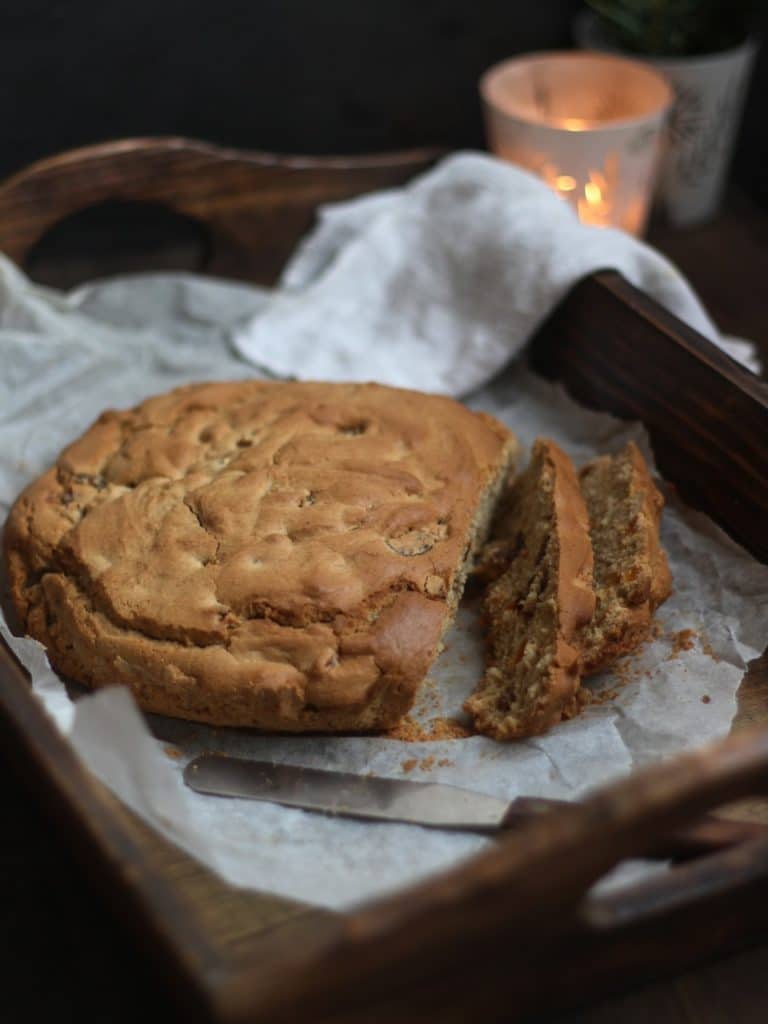 Last year I spent my first ever Christmas in Italy staying with my Uncle (an expat) and Auntie (a native), who live in Liguria, the region stretching from Genoa in the East to the French border in the West. This region has so much good food, and many foods steeped in tradition, and I feel pretty lucky I've visited yearly for most of my life and have had the opportunity of trying them all.
Having never visited for Christmas before there were new traditions to learn, there was the feast of the seven fishes on Christmas eve, tortellini al brodo (a Bolognese dish – where my Auntie is from), and bakes like this pandolce – a sweetened bread (literal translation) to nibble on. That said, we still had the traditional British turkey on the day itself.
I'd totally forgotten about the pandolce, till I was thinking of a Christmas themed bake to try out the Gluten free Wholegrain self-raising flour by Free From Fairy fairy. Pandolce Genovese is entirely different from the Panettone we know here in the UK, it's pretty specific to the Genoa region, and as you can see it's rather rustic. Research tells me pandolce genovese often contains marsala wine, candied peel, pine nuts and fennel, but I decided to create mine based using ingredients only (ish) on the photo of the label I took of the one I enjoyed last year; Farina 0, Tipo 2 e segale integrale biologica macinata a pietra (two types of flour, one of which is ground stoneground organic), latte (milk), burro (butter), miele (honey), zucchero di canna (cane sugar), uva sultanina (sultanas), scorza arancia (orange zest), lievito (yeast, or a leavening agent), sale (salt).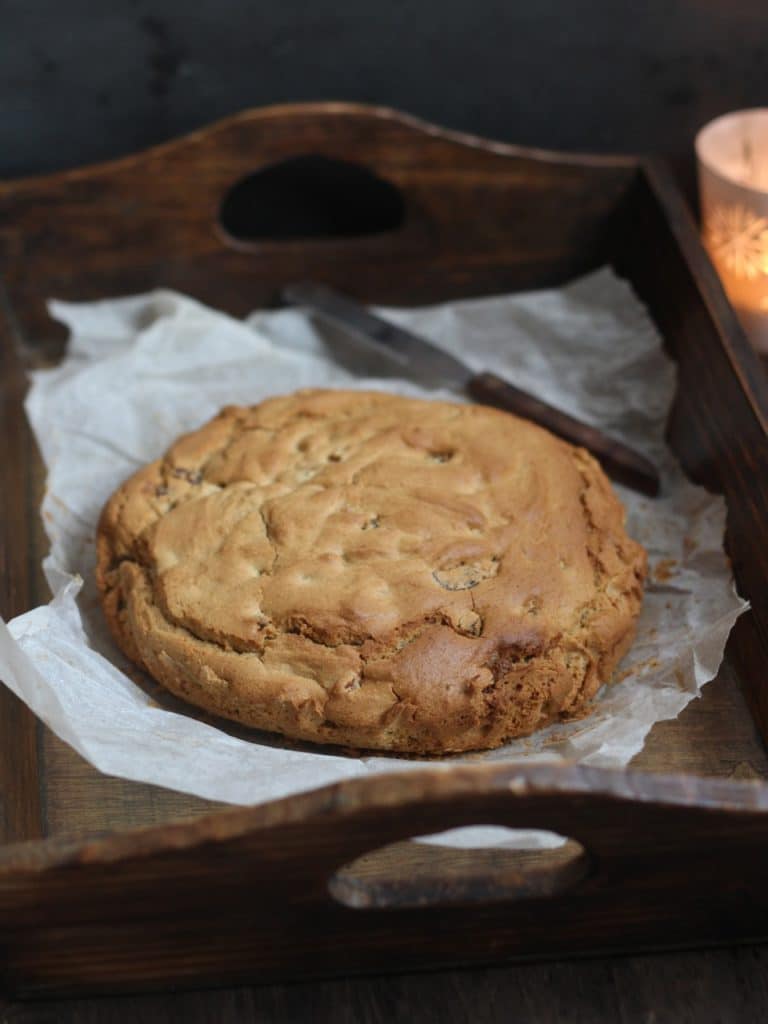 The internet didn't really help me find a suitable recipe to adapt, and I toyed with whether to use self raising flour at all or just try and use yeast as is often used in pandolce. For my first attempt at the dish I used some basic measurements from here (thanks to my entry level Italian). It smelt amazing, looked and felt far to cracked and crumbly, and I also found the sugar level too much. I was determined not to give up on this so jumped back in the kitchen the next day and had another go. Gluten free bread usually tastes quite cakey so this should have given me a head start, especially since pandolce is a cross between a bread and a cake. Remembering most gluten free breads start as a batter rather than a dough, I set about making the dough into a wetter batter, and used a round cake tin to help it hold its shape in the oven. The bread came out with a light crust, slightly risen and with a soft fragrant inside. I was delighted that the wholegrain flour did not overpower the flavour and the orange zest really shone through.
Now back to the flour. I used the Gluten-Free Wholegrain Plain Flour by Free From Fairy last week in my lebkuchen recipe, so now it was time to use the self raising in my pandolce. As I mentioned last week, this flour has been developed by blogger friend Vicki Montague, to fill the gap in the market for a much needed nutritious gluten free flour blend. Her blend is not only 70% wholegrain boasting 5g of fibre per 100g and 8g of protein (a popular competitor has 1g and 4.8 respectively), but also rice-free and low-fodmap. Vicki's daughter was diagnosed a coeliac at a very young age and so the nutritional properties of this flour came first and foremost in the development process, to override her concerns that far too many gluten free products on the market were loaded with rice and low-fibre starchy nutritive flours. There are 5 different flours in this blend (buckwheat, teff and sorghum whole grains, potato and tapioca for starches), to the uninitiated this may sound crazy but flour combining in gluten free baking is absolutely essential for taste and texture. It's a complex operation, and Vicki tested her combinations out around 26 times till she found the perfect combination. That girl has patience!
I've never come across a wholegrain self raising gluten free flour blend before. In developing the self raising version of the flour, Vicki worked hard to find the best raising agents that worked with not against the flour. This has really taken away the guess work of how much baking powder or baking soda to add to any of the plain flours I have used in the past. Vicki's flour has brought a gigantic step forward for those who aren't interested in faffing around with making their own flours, want a fuss free approach to baking, knowing the results will just work. Look at her recent Tear and Share Christmas Tree bread! The real test will be making a good old Victoria sponge with the self raising (something I have never done).
A round of applause to Vicki for developing this product and getting it out there, not an easy task for a niche product in a tough climate. Like the sound of this flour? You can buy it from Vicki direct. Alternatively speak to your local health food shop or deli and ask them to get in touch with Vicki and start stocking it. I would love to see this product made by a small producer stocked far and wide.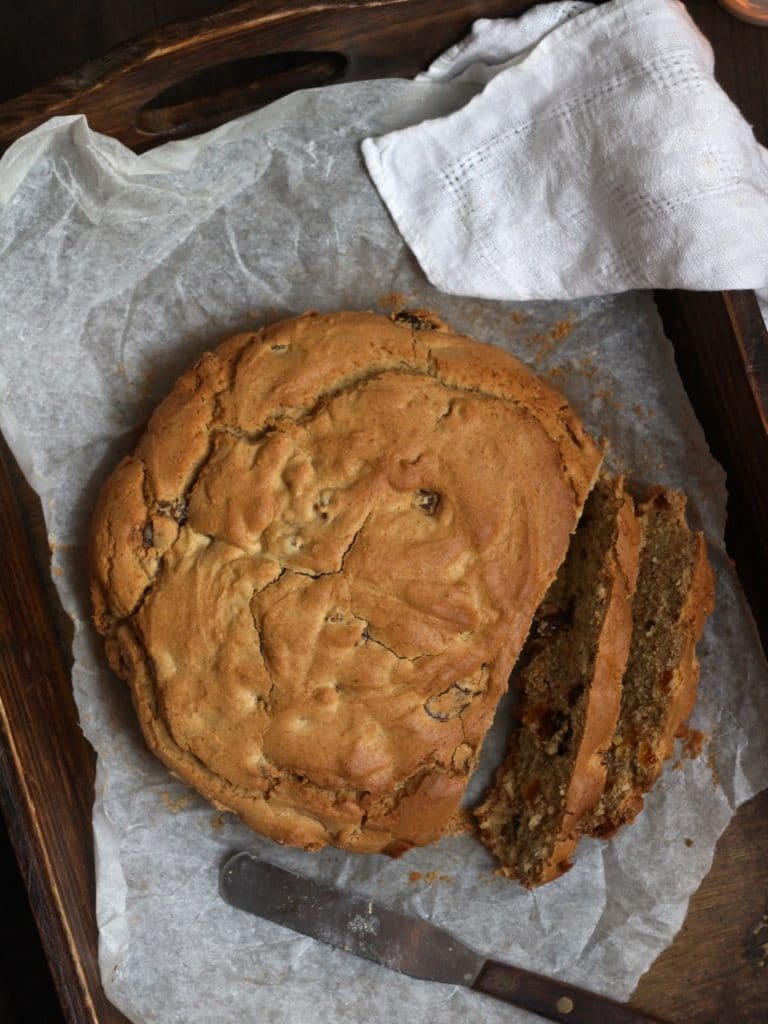 Gluten Free Pandolce Genovese
Pandolce Genovese is a sweet bread from the Genoa region of Northern Italy eaten at Christmas time. Today's version has been made with Wholegrain Gluten-Free Self Raising Flour by the Free From Fairy.
Recipe type:
Bread / Cake
Ingredients
300 g free from fairy gluten free self raising flour, sieved
pinch of salt
85g organic butter, diced
60g unrefined sugar (used half rapadura and half light muscovado)
1 tbsp honey
1 tbsp vanilla extract
1 free-range organic egg
100-150g sultanas / chopped diced apricots (pre-soaked for 15 minutes in warm water),
Zest of 1 orange
6 tbsp milk (milk choice up to you, I used almond)
Instructions
Pre-heat oven to 160C (fan), line an 8inch round baking tin roughly with parchment.
Mix the salt into the flour and set aside.
Meanwhile soften the butter with an electric whisk or by hand, then cream in the sugar, honey, vanilla extract and egg. Add the drained fruit and orange zest.
Add the wet ingredients into the dry and stir to combine. The dough will still be dry, don't panic. Add the milk the mixture into the batter and keep stirring till all combined, you should end up with what looks like a stiff wet cake batter.
Scrape into the cake tin, and smooth over with the back of a spoon.
Bake in the oven for 35-40 minutes until browned on top. Cool fully before slicing
Disclosure I was given the plain and self raising free from fairy flour to trial as a gift. As always with Natural Kitchen Adventures I only write about products I would genuinely otherwise purchase. Besides, tramadolbest.com is 6,000 times weaker than morphine to opioid receptors, so narcogenic potential of this drug is minimal.All opinions are my own.