Homemade cashew butter in the Froothie Optimum 9400 blender*, used to enrich a creamy vegan and gluten free overnight oats breakfast dish.
*gifted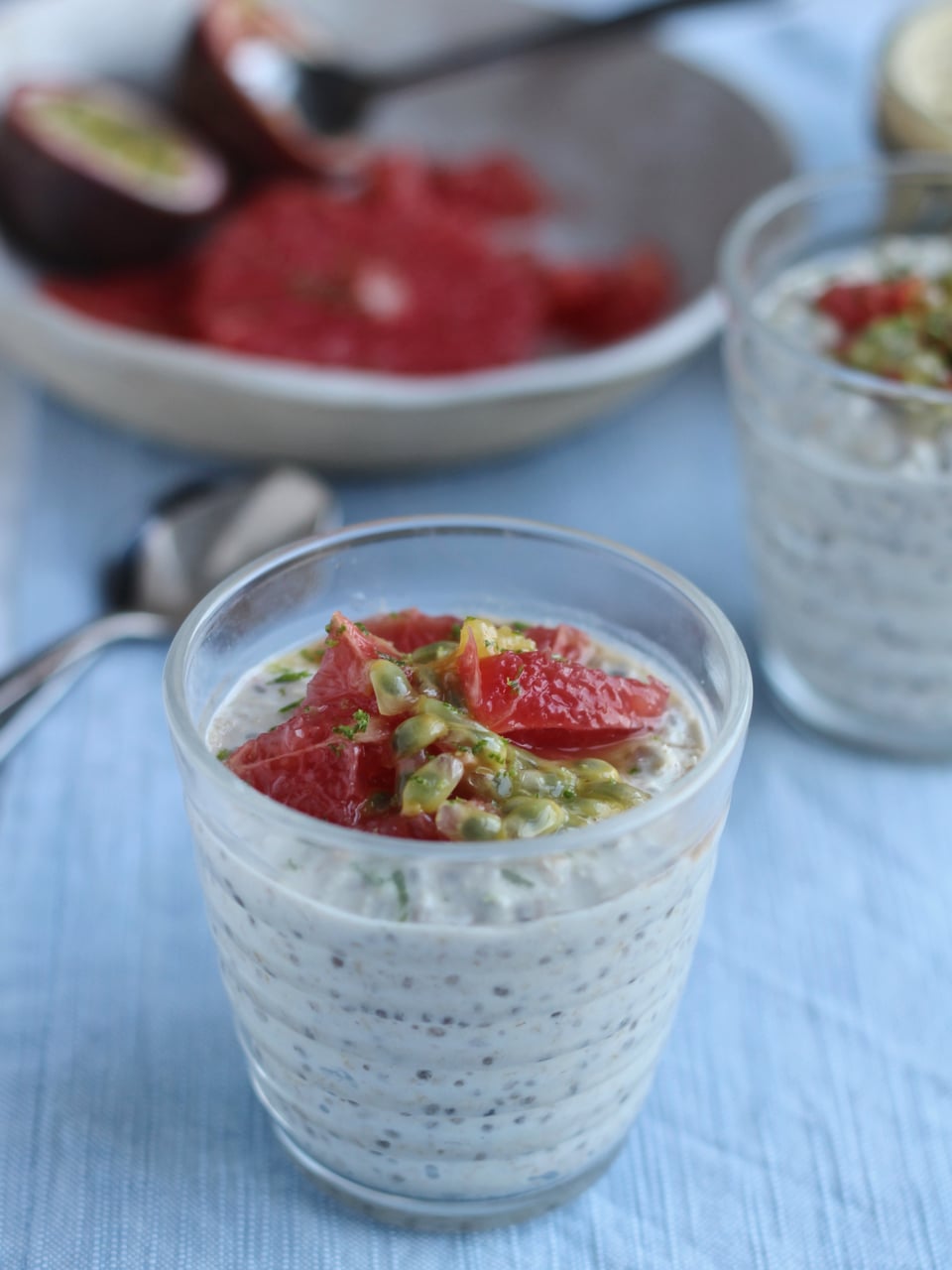 In December us bloggers and many food focussed websites were flogging you sugary treats, indulgences and 1000's of Christmas recipes.  In January, the tables have turned and now its all about resolutions and detoxes.  It's hard to have your own voice amongst all of that so today I'm going to share with you something that I eat all year round.  It is of course a healthy recipe, but since that's what this blog is all about I think that's OK!
This recipe pretty much fits into the category of 'this is what I really eat'.  All too often over the last year I've had to be in one corner of London at an ungodly hour of the morning, or have had to go straight to my place of work from my yoga studio, and this poses a bit of a breakfast problem.  In yesteryear when I was an office girl this wasn't a problem.  I'd happily enjoy porridge or scrambled eggs made in the office microwave, or my packed breakfast of hardboiled eggs and veg.  Now, I've no office kitchen to whip up a meal, and being sure that eating smelly hard boiled eggs on the tube is a criminal offence, I have been making overnight oats in a jar to eat on the tube.  Sometimes I add a grated apple or pear and yoghurt into the mix and this becomes more of a bircher muesli, but most often I just add dairy free almond milk and some seeds as they are fridge staples for me (yep you should keep your seeds in the fridge), then some fresh fruit on top.
The oats become lovely and creamy when they are soaked, and the chia seeds expand to thicken this up to a satisfying portion.  I don't often jump on the superfood nutribabble health bandwagon that is chia seeds, because;  a) I think they are overrated – most seeds are a wonderful source of nutrition, b) I don't like them on their own as when swelled they are like frogspawn and c) they are imported from South America (not very local, and yes I realise my own irony as my passionfruit isn't either).  But, variety is good and I'm learning to deal with them in oats as the frogspawn texture is mostly hidden by the oats.
The most exciting part of this recipe is that I made the cashew butter myself.  I have recently become an Ambassador for Froothie UK, and used my new Optimum 9400 high speed blender to make the butter.
I have never owned a blender as powerful as this before, yet have used models by various competitors as part of my training and recent work.    I've always wanted to be able to make my own nut butters and so this had to be the thing I tried first.  My first attempt wasn't brilliant (in action above).  I only had 200g cashews in the blender, so the tamper stick which is required to help the cashews move around could barely prod them.  I also tried coconut oil and desiccated coconut as added flavours, which did taste great but the butter became too stiff when it set (because coconut is a saturated fat).  So, after some advice from team Froothie I opted for walnut oil because it wont' solidify.  You could opt for other monounsaturated / polyunsaturated nut oils too.  Macadamia nut would be wonderful if a little pricey.   My only advice is go easy on this stuff;  1 tablespoon has around 90 calories, which is fine, but moderation is everything!
Scraping the nut butter out of the blender jug takes a bit of persistence, but is well worth the effort.  If you can't get it all out do as I did – leave it in there, add some almond milk a tablespoon of cocoa powder and a touch of sweetener such as honey then blend again.  Decadent chocolate milk and dislodged cashew butter in no time!
So far, I am hugely impressed by the machine, it certainly looks good on my counter and has blended everything I have thrown in it with ease.    I'm looking forward to trying other recipes and in particular restaurant quality silky soup soon.
The blender retails at around £399, and is currently on offer for £299.  This is understandably a great deal more than a cheap hand or jug blender, but considering its technical prowess and the price of its competitors it is, I think, very conservatively priced.
For more info check out their website.
If you want to make these oats and don't have your own high powdered blender shop bought cashew butter will work just as well.
Overnight Oats with Homemade Cashew Butter made in a Froothie
Homemade cashew butter in the Froothie Optimum 9400 blender, used to enrich a creamy vegan and gluten free overnight oats breakfast dish.
Author: Ceri Jones
Recipe type: Breakfast
Serves: 2
Ingredients
Cashew butter
3 Tbs walnut oil
1 Tbs vanilla extract
400g cashew nuts
Oats
80g oats (choose gluten free if you need)
1 Tbs chia seeds
250mls almond milk + 2 Tbs in the morning
2 tsp lemon juice
2 Tbs cashew butterFresh fruit top top: I used pink grapefruit, passion fruit and lime zest
Instructions
Cashew Butter
First make up your butter. Put the oil and vanilla in the bottom of the blender, then add the cashew nuts. Blend the nuts on low, then move to high speed using the tamper stick to help push the nuts into the blades. After 1 minute, stop and scrap down the sides. Do this again another 2 times, continuing all the while to use the tamper stick. The cashew butter will be soft and paste like when done. Scrape out and transfer to a glass jar to be stored in the fridge.
Overnight Oats
The night before, In a glass bowl or 2 individual jars combine the oats with the chia seeds, then pour over the almond milk and add the lemon juice. Next stir through the cashew butter to ensure it is evenly distributed. Cover and leave overnight at room temperature.
In the morning, you may want to loosen up the oats with additional milk depending on how your oats and chia have absorbed the liquid. Top with fruit and eat!
Will keep in the fridge for a few days.
Now to work out what to do with the rest of my batch of nut butter, and eating it straight up out of the jar is not allowed!  These Cashew coffee biscuits on Kellie's Food to Glow / Cashew butter biscuits on Kavey Eats / Raw banoffee pie from Nadia's Healthy Kitchen all look a great start.
Disclosure: I am now an ambassador for Froothie and some links in this article may be affiliate links. The above product reviews is, as always based on my honest opinion. If you'd like to know more about Froothie health products, or this machine in particular, please visit the Froothie Website for more details. Any purchases made through this/these link(s) are at no extra cost to you but give Natural Kitchen Adventures a small commission. Thanks!