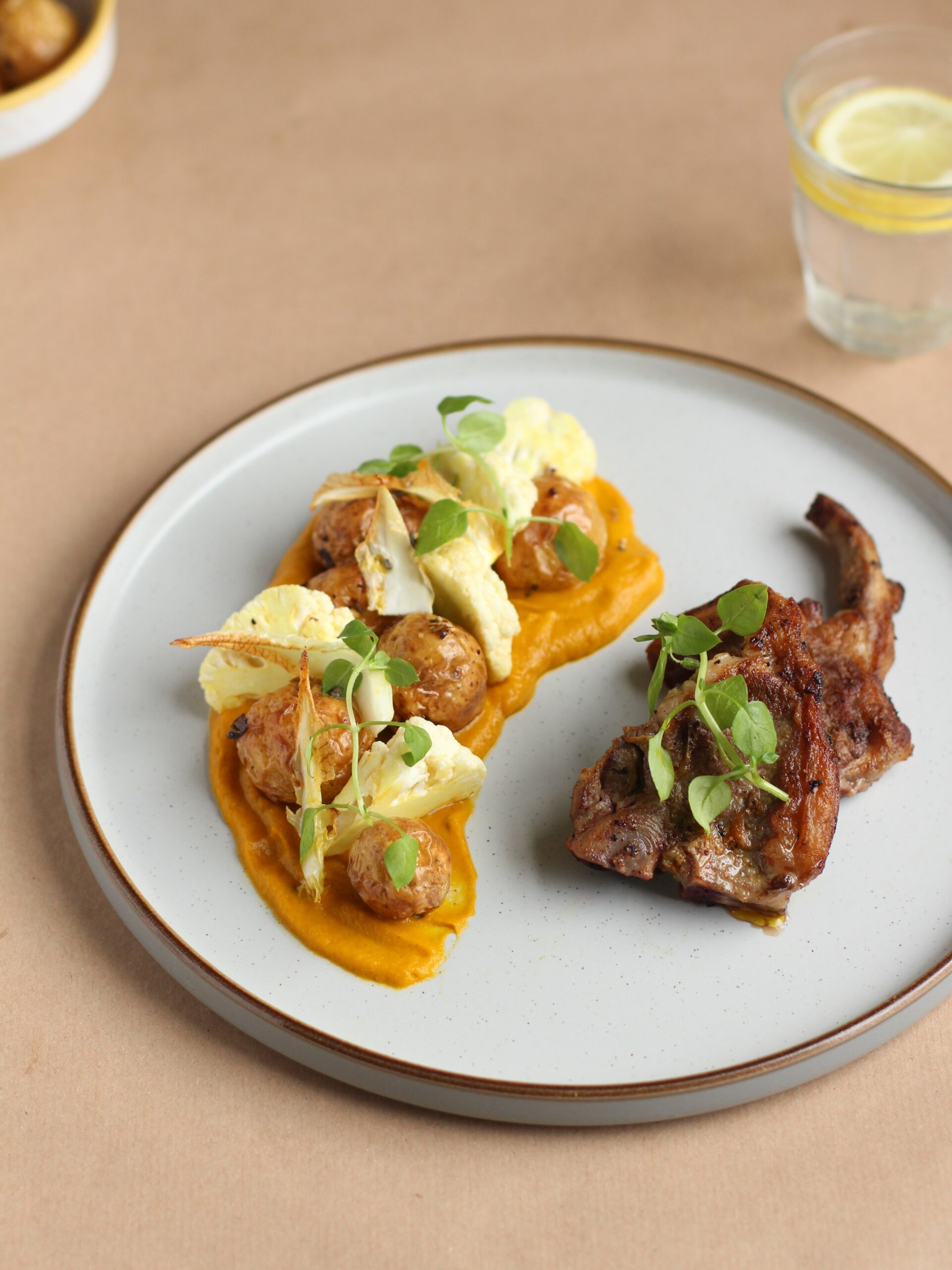 Master your cooking skills with me, at home
Join me online from the comfort of your home kitchen to brush up your cooking skills!
Here's what I offer; 
Group Cookalongs
If you're lacking dinner inspiration or want to try new ingredients and recipes in a relaxed and fun environment the my online group classes are for you! 
90 minute small group classes are held on Wednesday evenings. In this class we will produce a beautifully presented multi-aspect recipe for two people. Through the class you will learn tricky knife skills, ingredient specific skills, and pick up multiple tips and pointers from me beyond the written recipe.
My recipes are based on championing two to three seasonal ingredients, along with everyday ingredients. I show you how to turn the simplest of ingredients into an incredible meal, without the need for professional equipment or a spacious kitchen. 
All available classes are listed below, and will be updated regularly. You can also buy a place on a class as a gift for a friend.
Cost : £22 per person 
Class length : 90 minutes 
Skill level: Intermediate to confident home cooks
Private 1:1 Knife Skills Sessions
Do you know your bridge from your claw? 
Hate chopping onions, have no clue where to start with a celeriac, or want to know the difference between a julienne and brunoise? 
In this these tailored 1:1 knife skills classes, you'll get to grips and gain confidence with all these tasks and more.
There are various class options below, to suit your budget and interests. Classes are aimed at novice home cooks – all that is required is a chef's style knife and a willingness to learn. 
If you wish to organise a private 1:1 knife skills session, please purchase the preferred option below. You will then receive the link to my calendar to book yourself in to a slot (flexible timings are available), as well as a questionnaire to fill out to enable me to tailor the class to your current skills set. 
Cost : £55-90 per person
Class length : 60-90 minutes
Skill level: Novice to intermediate home cooks
Private Group or Corporate Sessions
If you're looking for a fun online activity for you and your friends / colleagues, then how about a online cooking class? 
This option is available to small groups of friends or corporate organisations. Contact me via email [email protected] direct to discuss your requirements for your bespoke cooking class. I have a number of 'off the shelf' class options, or together we can come up with something more bespoke for your needs. This year I have created private group classes for birthday celebrations, office away days and online wellbeing retreats. 
Cost : Prices start at £22 a head for a 90 minute session. 
Class length : varies 
Skill level: Novice to intermediate home cooks
*Please note, tickets are non-refundable but may be transferred to an another date. Please see full terms and conditions. There is no additional booking fee.
I am taking a break from group cookalong classes over the summer. My 1:1 knife skills, private or corporate classes are still available. Please get in touch via [email protected] for any enquiries.
Cooking skills and techniques that will be covered in ALL classes;
*Everyday knife skills and ingredient specific skills
*Keeping your kitchen organised and chaos free
*How to season to taste – the key to great tasting restaurant quality food at home
*How to plate up, and tips on garnishes
*Tips on reheating and repurposing leftovers
Other Benefits include;
*An invite to my private Facebook group so we can stay in touch and I can provide ongoing support after the class.
*A discount on past and future recipe ebooks such as my 'Seasonal Suppers Spring & Summer' book, featuring recipes taught earlier this year. I am currently working on an autumn and winter edition for release in 2021, based on all the recipes that will feature this forthcoming season.
Basic equipment required to take part;
*Oven, Grill & hob
*Chopping board and sharp knife
*Saucepan, frying pan, mixing bowls, baking tray, wooden spoon
*Measuring jug
*A basic food processor or blender (immersion or jug) will be helpful for most classes.
Hi, I'm Ceri, a Food Educator and Chef
I coach people to become confident cooks through my online cooking classes, foolproof recipes, and tip videos.
Whether you're a novice or confident cook you are most welcome here. I can help you achieve your goal of trying new dishes, honing your skills and technique, and for you to have fun with presentation.
My business is delivered with over 7 years of professional experience working with food, and a passion for creative seasonal cooking.
Ceri is @thebodycoach of lockdown cooking – keeping my spirits up and tummy full with her awesome zoom cookery classes. Tonight was SO much fun and I learned some new skillz.
Ceri's class was fun, engaging, and a great way to spend an evening.  I learnt new kitchen skills and a new recipe. I cannot wait to cook with Ceri again! She offers simple tricks and tips to upgrade your cooking, keeps it light and has a fantastic way of breaking everything down. To finish the class Ceri gave some beautiful suggestions for plating our food, ensuring that it looks as good as it tastes! 
It has been a real bonus amidst all the restrictions to be able to join your classes online. A great opportunity to learn some new cooking skills and make some flavoursome food.
Frequently Asked Questions
1. I am not available for these classes, will there be another opportunity to join the class?  
Yes, please email me and if there are is enough interest for a particular class subject, I will schedule another.
2. I don't have access to a computer/laptop can I still join the class?
Yes, if you are able to use zoom on your mobile that should be fine.
3. I don't eat meat/fish can I still join those classes?
Yes, meat and fish are nearly always a small part of the dish, as my recipes are based around vegetables. A substitute can be suggested for most classes, please email to check in advance that it can be done. 
4. I am gluten free, can I still join?
Yes, I can provide alternative suggestions for ingredients. Many of my recipes are based around vegetables and so naturally gluten free. If you'd like to check before booking, please email me. 
5. I would love to join a class but would prefer different recipes?
Please send me your ideas and I will factor that into future planning
Please email i[email protected] with any questions!