This hearty oat breakfast bake with blood orange bakes in just 20 minutes while you're in the shower getting ready for your day, and can easily scale up to feed a family.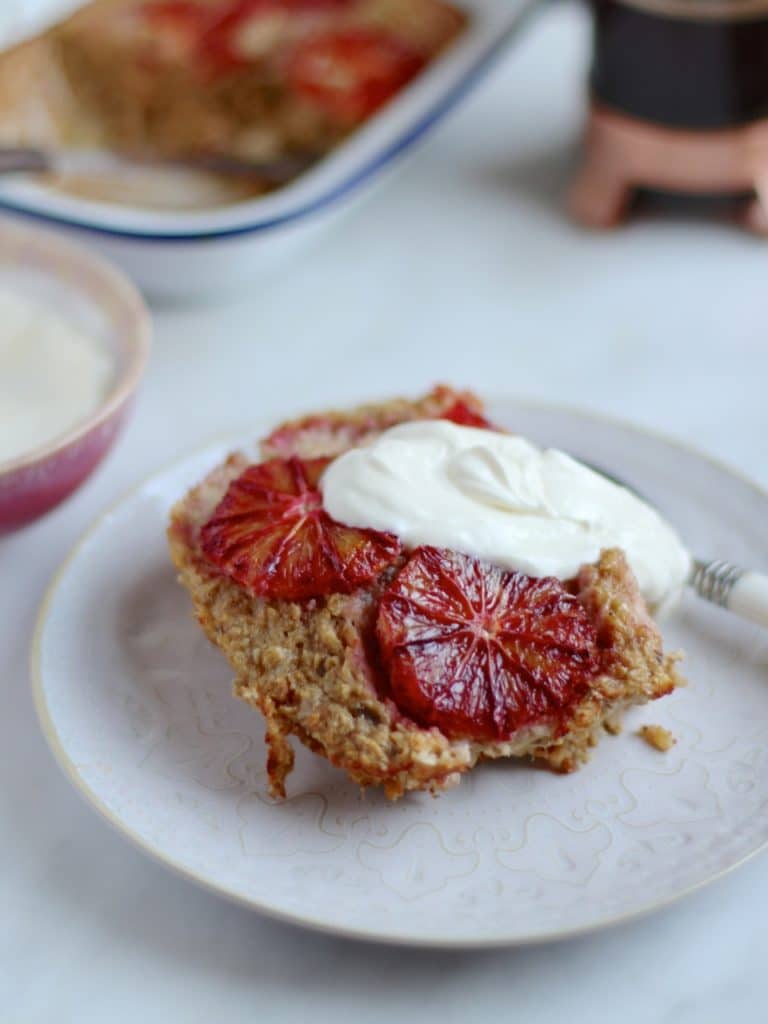 I shared a very simple version of this oat breakfast bake dish on Instagram over a year ago, and have been wanting to make it again topped with blood orange ever since. I didn't quite get round to making it in blood orange season last year, so have waited a good 9 months for it to come round again.
I'm still collating my reader questionnaire answers, but one thing I immediately noticed was that there was a request for breakfast recipes, so here is one for you. This breakfast bake is very simple, a mix of mashed banana, eggs and oats wit a dash of almond butter for a rich flavour. It takes a bit of time to bake, but after prepping the cooking time is totally hands free allowing you to get on with getting ready to get out of the door in the morning. I'm a terrible morning person too, I get it! 
You can also eat any leftovers cold or warmed up the next day. Perfect.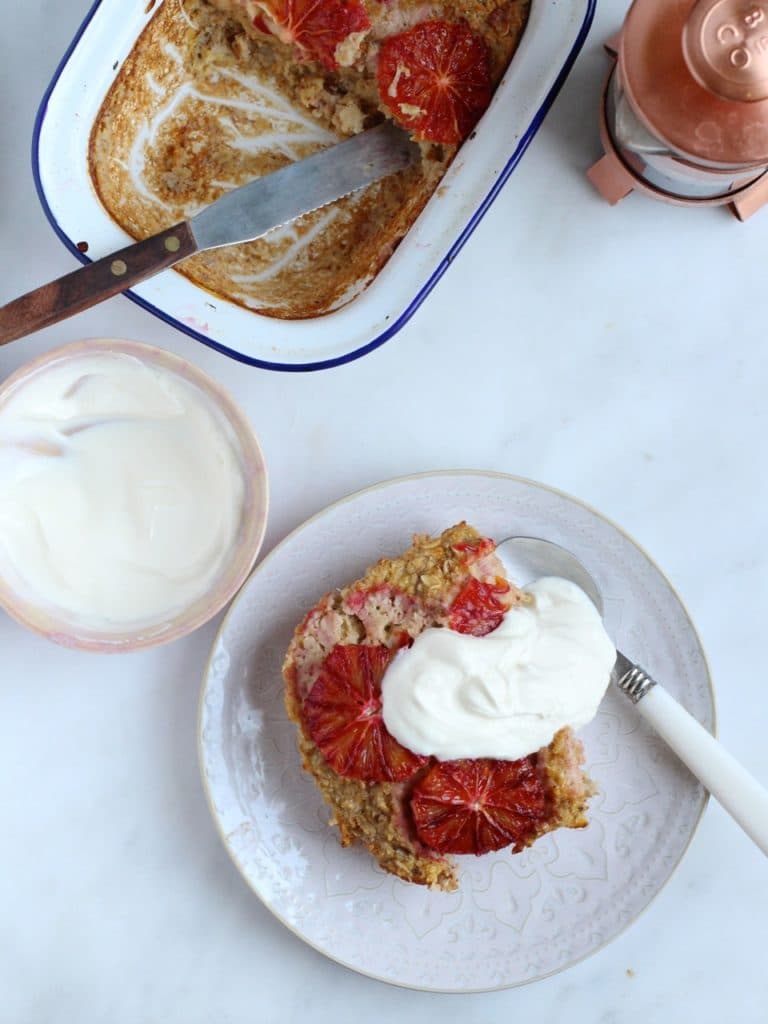 I've shared a fair few blood orange recipes over the years, and so this is my 2018 instalment, I can't promise not to do another before the season is out.
I am a little obsessed with blood orange; which is strange given I'm not really fussed about normal oranges (unless they're of the chocolate variety). It's mostly down to superficials, yes I'm fruit shallow. The colour is just so beautiful, and I love the surprise of the red flesh, the depth of which you'll only discover after cutting them open. Of course they carry a great flavour too and the slight sour tang is suited to both savoury salads and sweet dishes.
They're not particularly local (thank you Italy), but oh what a treat.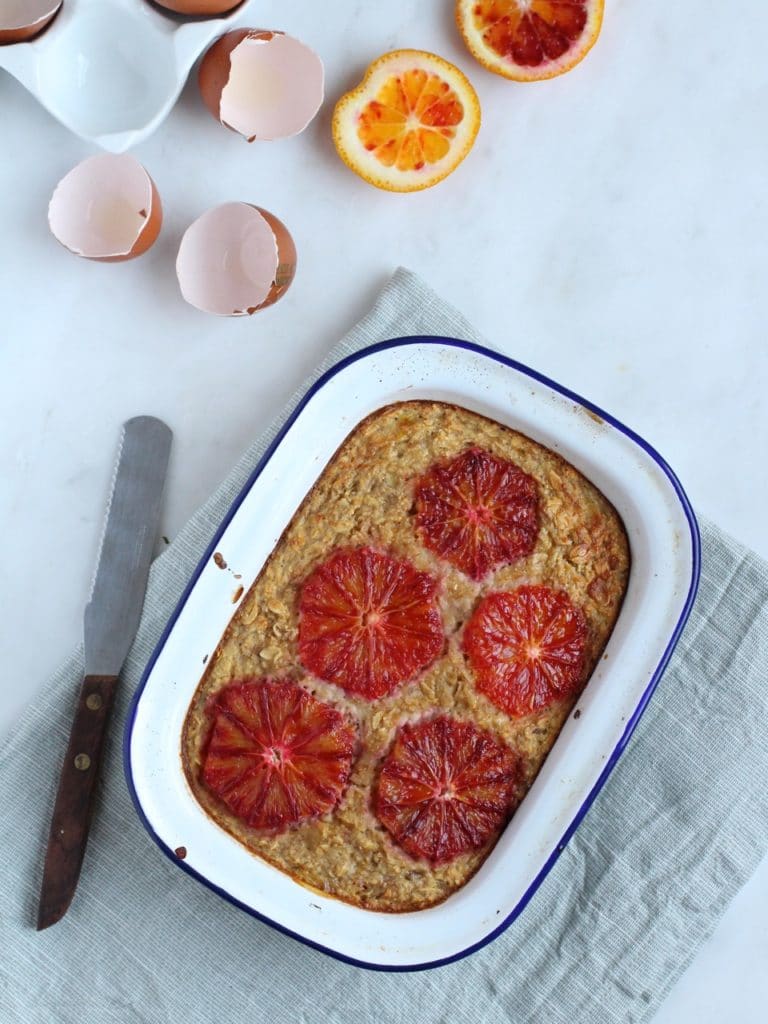 If you can't get hold of blood orange, a regular orange will do, or top with berries, or whatever fruit you can find throughout the year. This is a dish for all seasons.
Looking for more blood orange ideas?  Try my other recipes;
—
Oat breakfast bake with blood orange
Oat Breakfast Bake with Blood Orange
This hearty oat breakfast bake with blood orange bakes in just 20 minutes while you're in the shower getting ready for your day.
Ingredients
2 small bananas, mashed
2 organic medium sized eggs
100mls almond milk
1 tbsp almond butter (optional)
90g rolled oats
pinch salt
1 blood orange, peel removed and thinly sliced
tsp maple syrup or honey (optional)
To serve: A large dollop of thick Greek yoghurt
Instructions
Pre-heat oven to 180ºC (fan)
Put the mashed banana in a medium bowl with the eggs, almond milk and almond butter. Whisk with a fork until well combined.
Add the oats with a pinch of salt and stir well again. Transfer to a suitable sized baking dish and top with the blood orange slices. If you like add a light drizzle of maple syrup or honey to the top of the oranges.
Bake in the oven for 20 minutes, until the top is lightly browned and the oats set. Remove and cool for 5 minutes before cutting a portion. Top with Greek yoghurt and serve.
Notes
Recipe easily scales up to feed a family or a crowd, just increase the ingredient quantities as necessary.

To peel the orange use a serrated knife. Slice off the top and bottom, then guide your knife around the edge of the orange removing the peel and pith at the same time. Slice into rounds and remove any pips.
Pin me for later