The countdown is on…
The time has come for the invasion of Christmas posts here at Natural Kitchen Adventures.  In all fairness I didn't make a big deal of Christmas last year, having gone all out on my Christmas recipe ebook the previous year.  I think a few posts this year will be entirely justified and a great excuse to start expanding my repertoire of Christmas goodies again, starting with lebkuchen, a German style gingerbread.
This post is a joint post with the talented photographer Lucy Parissi from Supergolden Bakes.  We first worked together earlier this year on a professional book project (I cooked and styled, Lucy propped and shot) when I happily discovered she lives within walking distance from me.  It made perfect sense for us to get together and work on a personal blog project purely for the heck of it.  So thanks to the inspiration from Lucy, a Christmas post was put on the agenda.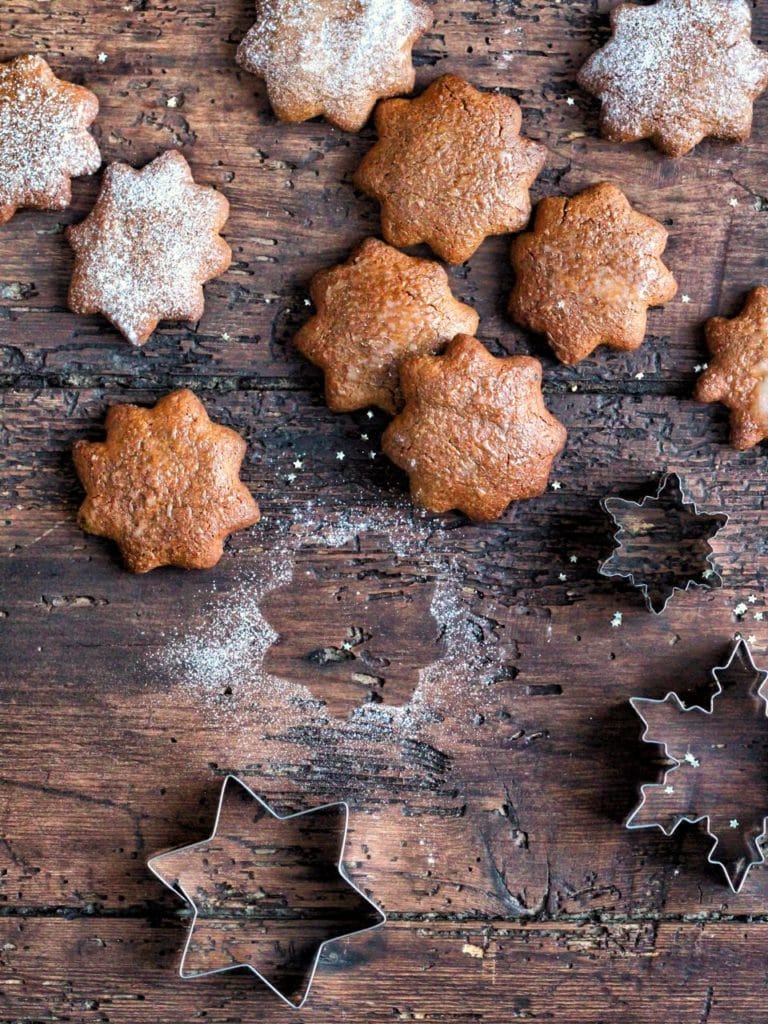 Lucy suggested the lebkuchen, and set me the challenge of making a vegan version to accompany a vegan chocolate mousse she had been wanting to try.  Since I've been making lots of vegan recipes for my work recently it sounded like the perfect challenge. I'd actually never made them before, but knew that I really liked them after discovering them on a November weekend city break to Berlin some 8ish years ago.
It was fairly simple to put together a vegan and gluten free lebkuchen recipe.  I adapted mine from the BBC Good Food basic recipe.  I subbed honey for vegan friendly maple syrup (you can of course still use honey as I did in my test batch), subbed in coconut oil for butter (using 25% less oil than butter, which is always good starting point), and used Free From Fairy gluten free wholegrain plain flour.  I also added molasses for dark treacly richness often used in gingerbread, a tiny bit of cocoa for colour; the lebkuchen came out a wonderful dark colour as I had wanted.
I'm actually going to be talking a but more about the flour I used in a future post, so won't dwell to much on it now other than to say its really rather brilliant.  I usually like to play around with my own gluten free flour blends (like I've done here), for a much higher whole grain bake than most gluten free mixes offer. Blending flours is a complex process, and understandably my blends don't always work first time when I'm coming up with new recipes.  My trial run using this new 70% wholegrain flour came out perfectly, and I definitely appreciated an an easier ride in the recipe creation process!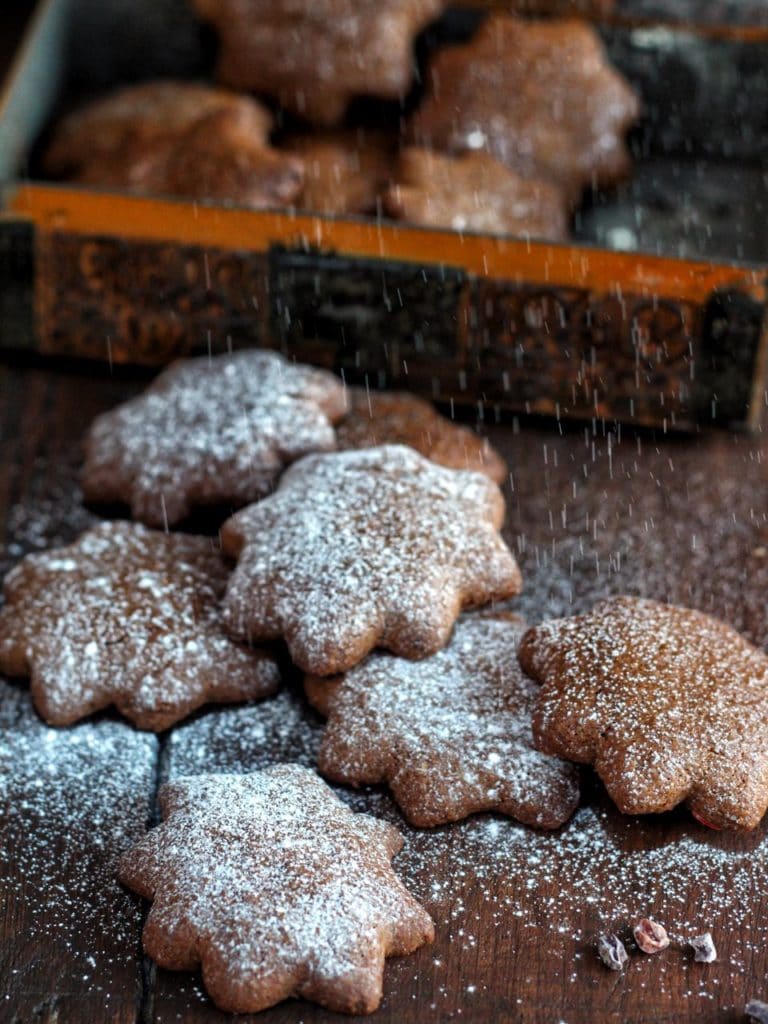 Lucy's accompanying chocolate mousse is full of Christmas flavours, and has a clever use of aquafaba – a chickpea water.  I've experimented with aquafaba a bit with this this last year so was intrigued to see how Lucy made use of it too.  It was delicious, and since chocolate and ginger are good friends made the perfect dunking pot for the gingerbread.   Lucy has a fantastic prop selection so the props we used in the shots all belong to her.  We styled them together, and each took our own photos (though Lucy did help me with a few pointers and also with the editing).  Really rather pleased with this one!
Hope you enjoy our festive display.  Do take a look at Lucy's beautiful blog for the vegan mousse recipe.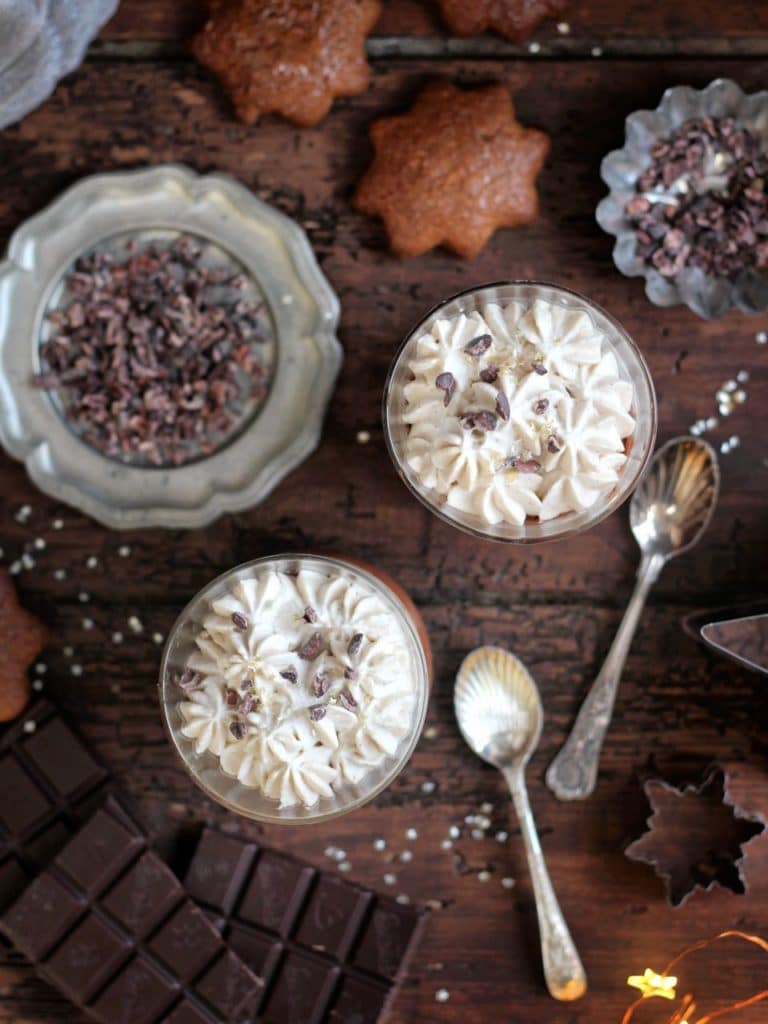 Lebkuchen, a German Gingerbread (Vegan and Gluten Free)
These vegan and gluten free Lebkuchen offer an alternative to the traditional christmas german gingerbread recipe. They make a fantastic accompaniment to a vegan chocolate mousse by Lucy Parissi aka Supergolden Bakes
Ingredients
Lebkuchen dough
120g 'free from fairy' plain gluten free flour
40g ground almonds
5g cocoa powder
1 & ½ tsp ginger
½ tsp cinnamon
¼ tsp mixed spice
½ tsp baking powder
¼ tsp baking soda
pinch black pepper
30g coconut oil
100g / 85 mls maple syrup
1 tbs / 15mls molasses
optional glaze
1 tbs coconut oil
1 tbs brown rice syrup
1 tsp arrowroot
¼ tsp rosewater
Instructions
To make the lebkucken dough, combine the flour, almonds, cocoa, spices and baking agents in a small mixing bowl till all the ingredients are well distributed.
Meanwhile warm the coconut oil in a saucepan over a low heat until it melts and stir through the maple syrup and molasses till well combined. Allow the mixture to cool a little before pouring into the dry ingredients, stir well, first with a spoon and then with your hands bringing the mixture into a dough ball.
Cover the dough ball with cling film and leave to rest in the fridge for 15-20 minutes.
Pre-heat the oven to 160C (fan)
Take the dough out of the fridge, unwrap and place on top of baking parchment. Then place the cling film on top of the dough and using a rolling pin roll out the dough till its about 3mm thick. Using star cutters, cut out the gingerbread and transfer using a palette knife to a parchment lined baking sheet. (This process is rather fiddly with this dough so you are also very welcome to roll the dough into small balls with your hands, place on the baking tray and flatter down with a fork)
Place the tray of lebkuchen in the oven and bake for 15 minutes till golden brown. Remove and allow to cool. The lebkuchen harden as they cool.
The glaze is optional, you may prefer a simple light dusting of icing sugar, or have them without anything at all. To make the glaze melt the coconut oil in a small saucepan and add the syrup (brown rice syrup doesn't have much flavour which is why I use it, you can also use maple), and then add the arrowroot powder, keep stirring till a pale paste forms. Add the rosewater if you like, and then brush this onto the slightly cooled lebkuchen. The arrowroot will dry clear.
Notes
Free From Fairy plain flour is available from Amazon, see text for link
Disclosure I was given the free from fairy flour to trial as a gift.  As always with Natural Kitchen Adventures I only write about products I would genuinely otherwise purchase.  All opinions are my own.