This curly kale spelt spaghetti is a vegetarian simple supper dish and makes kale* the star of the show.
*This post is commissioned by Discover Kale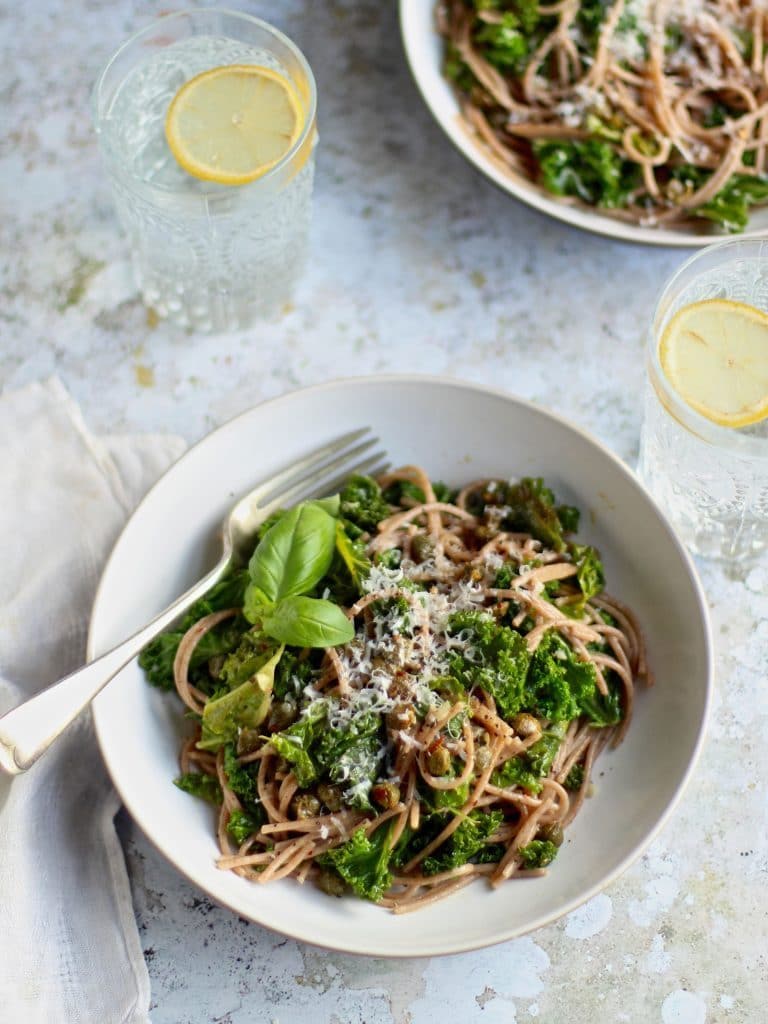 Kale, superfood, or just simply super?
It's hard to believe that just 5-6 years ago I'd never really tried the stuff.  Before then, green veg usually meant lettuce or rocket on repeat and that was about as diverse as it got.  Kale's popularity has grown in my kitchen as well as across the world in the last few years, there is no escaping it.  We've all rejoiced in its versatility as an ingredient for salads, stews, curries, juices and smoothies, pesto and now adding nutritious deliciousness to a simple kale spelt spaghetti dish.
According to the folks at Discover Kale "Portion for portion, kale is hard to beat when it comes to the number of nutrients it contains and a great choice for those wanting to enjoy a healthy balanced diet." Further more since the majority of curly kale sold commercially in the UK has been grown by farmers in Lincolnshire, its a top choice for eating locally, and seasonally too. Kale's season in the UK starts to come in September, is in full force from October through to February and then tails off by April.  Of course there are always seasonal variations due to weather and growing conditions, but we're pretty lucky for it to be a fairly hardy crop to take us through the autumn and winter.  Kale is often sold ready chopped in store for ease of use, making it a perfect ingredient for a quick weeknight supper dish.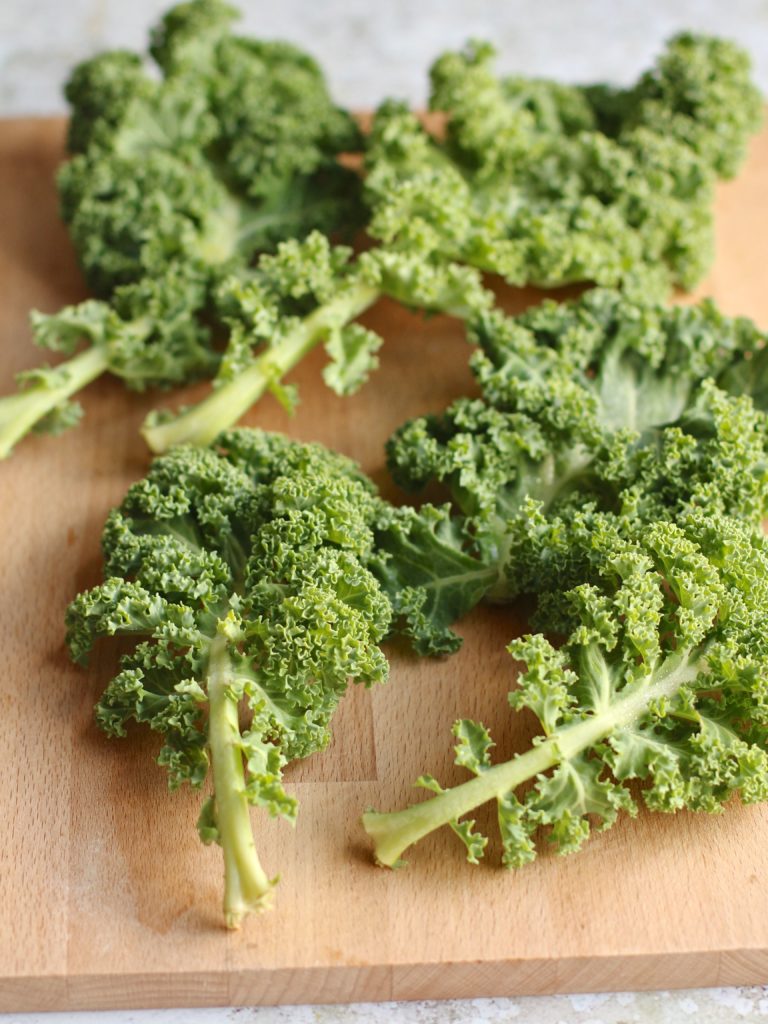 I'm using curly kale with my spelt spaghetti today, though have to say I am partial to its cousin cavolo nero also.  This kale spelt spaghetti is totally indicative of something I might throw together for a mid week supper.  It's pretty simple, low fuss and doesn't take up too much time.  These kind of dishes don't often make it up onto the blog as I worry they're not fancy enough, or maybe you lovely lot don't mind at all and find this simple way of cooking just as enjoyable as I do.
You see, I grew up in the era when British households discovered pasta as the perfect mid week meal.  I couldn't get enough of the stuff.  My Mum would make it for us a few times a week, and when I moved out on my own into the big wide world I carried this with me.  Unfortunately after that we moved into an era when carbs and grains got told to go and sit on the naughty step, and thankfully, since that era is over (well in my kitchen at least), the simple humble mid week pasta dish is back on the menu. Sometimes I use brown rice pasta, sometimes spelt, and goodness gracious sometimes when I eat in a restaurant I eat white pasta too.  Today I'm using wholegrain spelt spaghetti, it contains a good dose of fibre compared to white pasta, and with a nutty taste, it stands up well to an oily sauce.  Spelt is an ancient variety of wheat, and generally has lower amounts of gluten then wholewheat.  A  healthier pasta to pair up with my healthy kale?  Yes please.
There are so many Italian recipes for pasta based on a few key ingredients cacio e pepe (cheese and black pepper), aglio e olio (garlic and oil), to name a few, and my recipe using sautéed kale and crispy capers fried in chilli and oil is a homage to their simplicity and deliciousness.
If you want to get things a bit more exotic, some tinned sardines or pine nuts would go well in here too.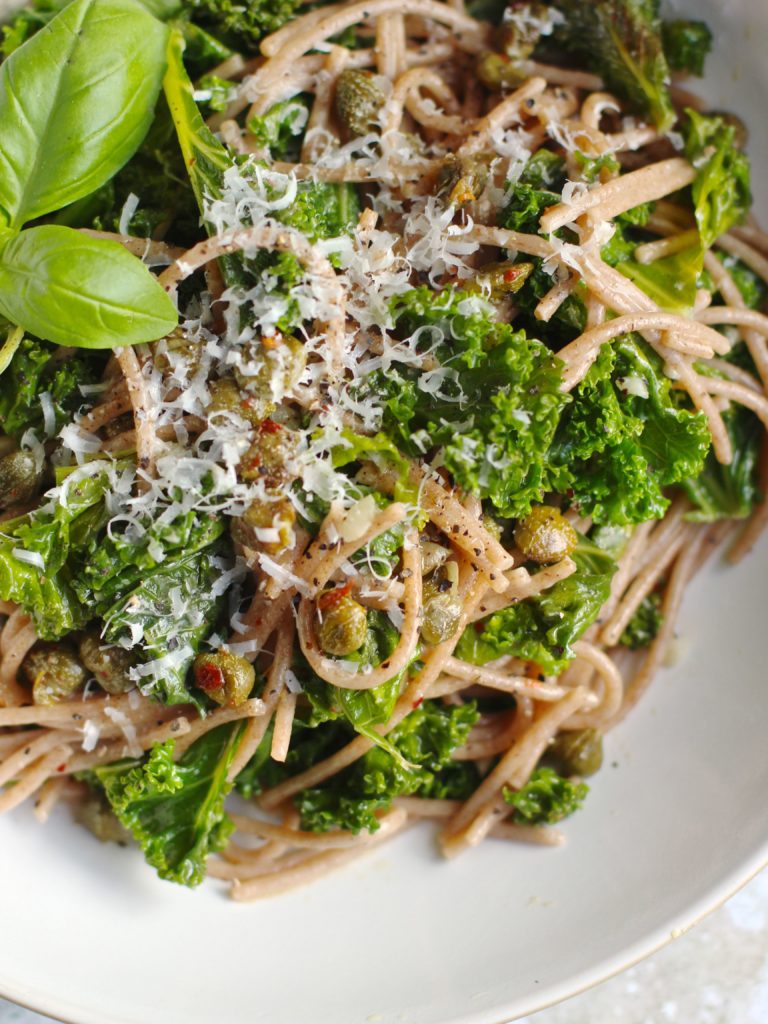 Garlicky Kale Spelt Spaghetti with Crispy Capers
This curly kale spelt spaghetti is a vegetarian simple supper dish and makes kale the star of the show.
Ingredients
3 tablespoons of capers, drained
½ teaspoon chilli flakes
125g curly kale, stalks removed and chopped or torn into small pieces
3 cloves garlic, minced
20g parmesan, grated + extra for serving
180g wholegrain spelt or wholewheat spaghetti
extra virgin olive oil
Sea salt
Freshly ground black pepper
A few basil leaves for garnish.
Instructions
Fill your saucepan with water, add some salt, cover and bring to the boil ready to cook your spaghetti.
Warm the frying pan over a fairly high heat, add the oil and fry the capers and the chilli flakes for 2-3 minutes until crispy. Using a slotted spoon remove them from the pan, leaving as much oil in the pan as possible for the kale. Turn down the heat to medium-hot and add in the kale along with 2 tablespoons of water. Place a lid on the pan and allow the kale to steam for 3 minutes. Remove the lid, then add the garlic along with a pinch of salt and pepper. Cook uncovered for a few minutes until the garlic has softened then then turn to low (or off) while you cook your spaghetti.
Add the spaghetti to the boiling water in the saucepan and cook for 7-9 minutes (according to packet instructions), until al dente.
just before the pasta is done, put the kale back up to a medium-high heat, take a ladle of the water and add it into the kale pan along with the cheese, stir until the cheese melts into the kale,.
Drain the pasta then add it to the kale along with most of the capers and chilli. Add another 2 tablespoons of oil and using tongs make sure everything is well coated.
Transfer to two pasta bowls. top with the remaining capers, and allow your enthusiastic dinners to add plenty more parmesan and black pepper at the table. Garnish with a sprig of basil if you like.
Notes
You will need a large saucepan for the spaghetti and a large deep frying pan with lid for the sauce.
What's your favourite way to enjoy kale?
Pin me for later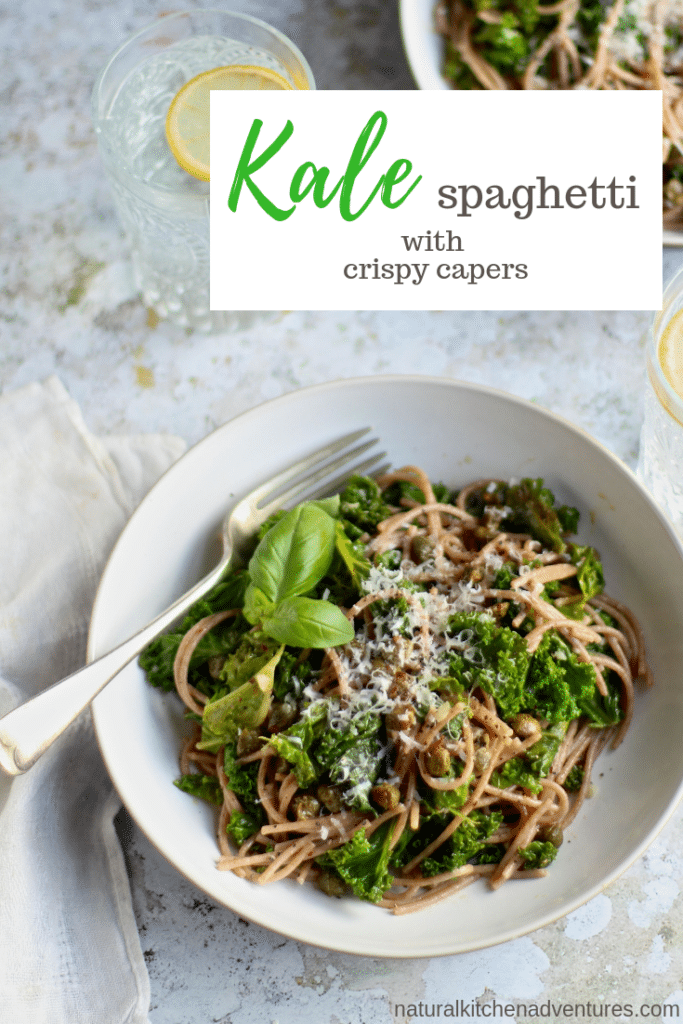 I have entered this into Recipe of the Week.
*Disclaimer:  This post and recipe was commissioned by Discover Kale.  Thank you for supporting the brands and campaigns who help make it possible for me to continue developing and sharing recipes on Natural Kitchen Adventures.