Vegan white chocolate sauce poured over iced summer berries is an indulgently simple way to end a meal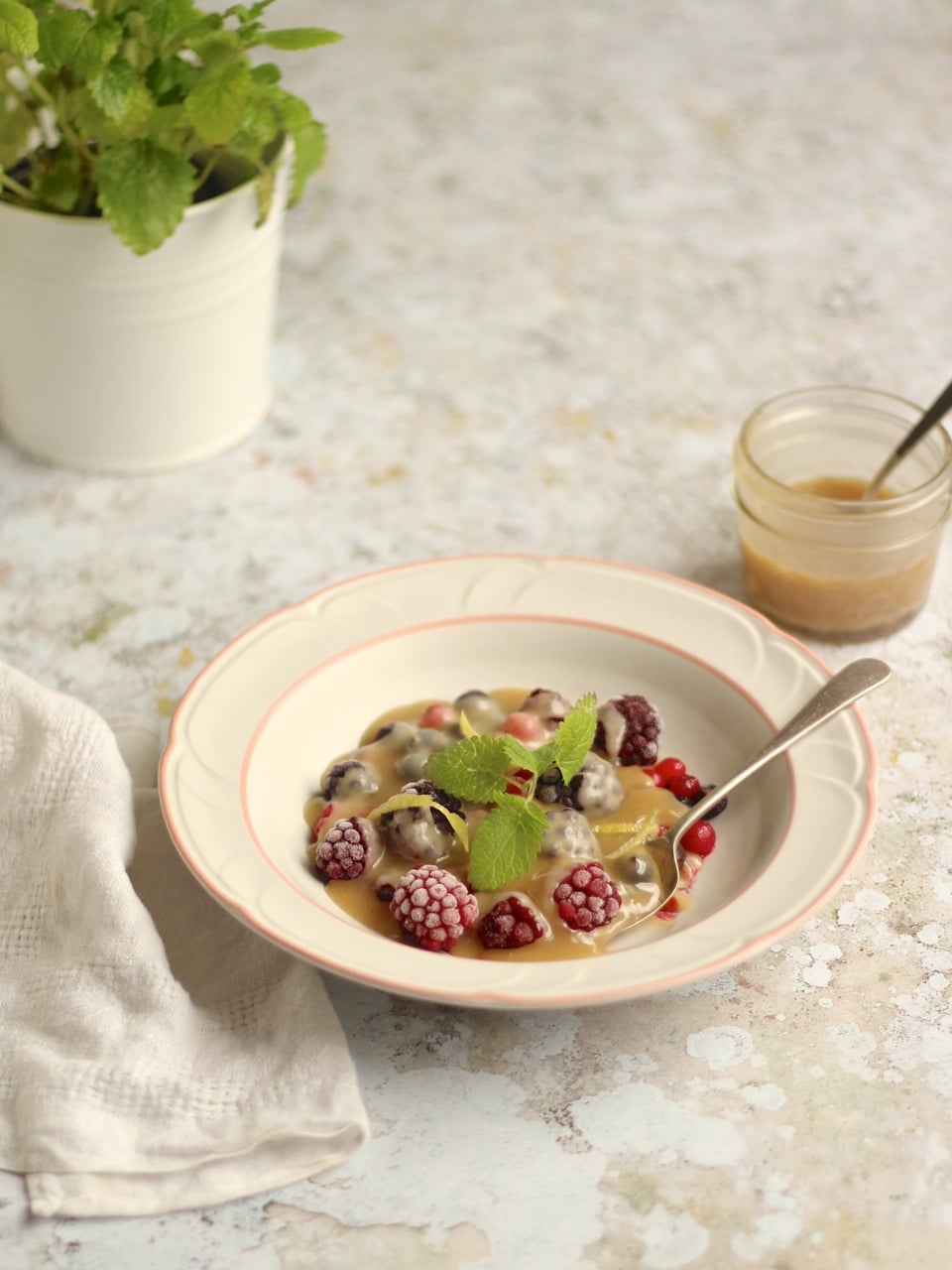 So, white chocolate? Love or hate?  I love it, always have done (milky bars are on me?!).  I tried making my own a while back and it was a bit tricky so gave up, got disgruntled and used a shop bought one to dip my clementines in instead.
The white chocolate urge came over me again recently when I decided I really wanted to make a white chocolate panna cotta served with rhubarb (stay with me, that's not quite what this recipe is).  I also wanted to make it dairy free and vegan since I cater so often for at least 1-2 dairy free or vegan folk, and as well as teaching at a plant based cooking school.  So, my quest to find the best tasting dairy free white chocolate began. I wasn't too bothered about the ingredients (white chocolate's first ingredient is sugar, there's no avoiding it, so don't try to), but would generally hope to find one that also contained cocoa butter, and some kind of milk substitute.  I have tasted a fair few over the last few months, and repeatedly wondered how some of them passed a taste test before being mass produced.  When you bite in you want a light sweetness, balanced with rich creaminess.  You do not want a mouthful of fat or sugar.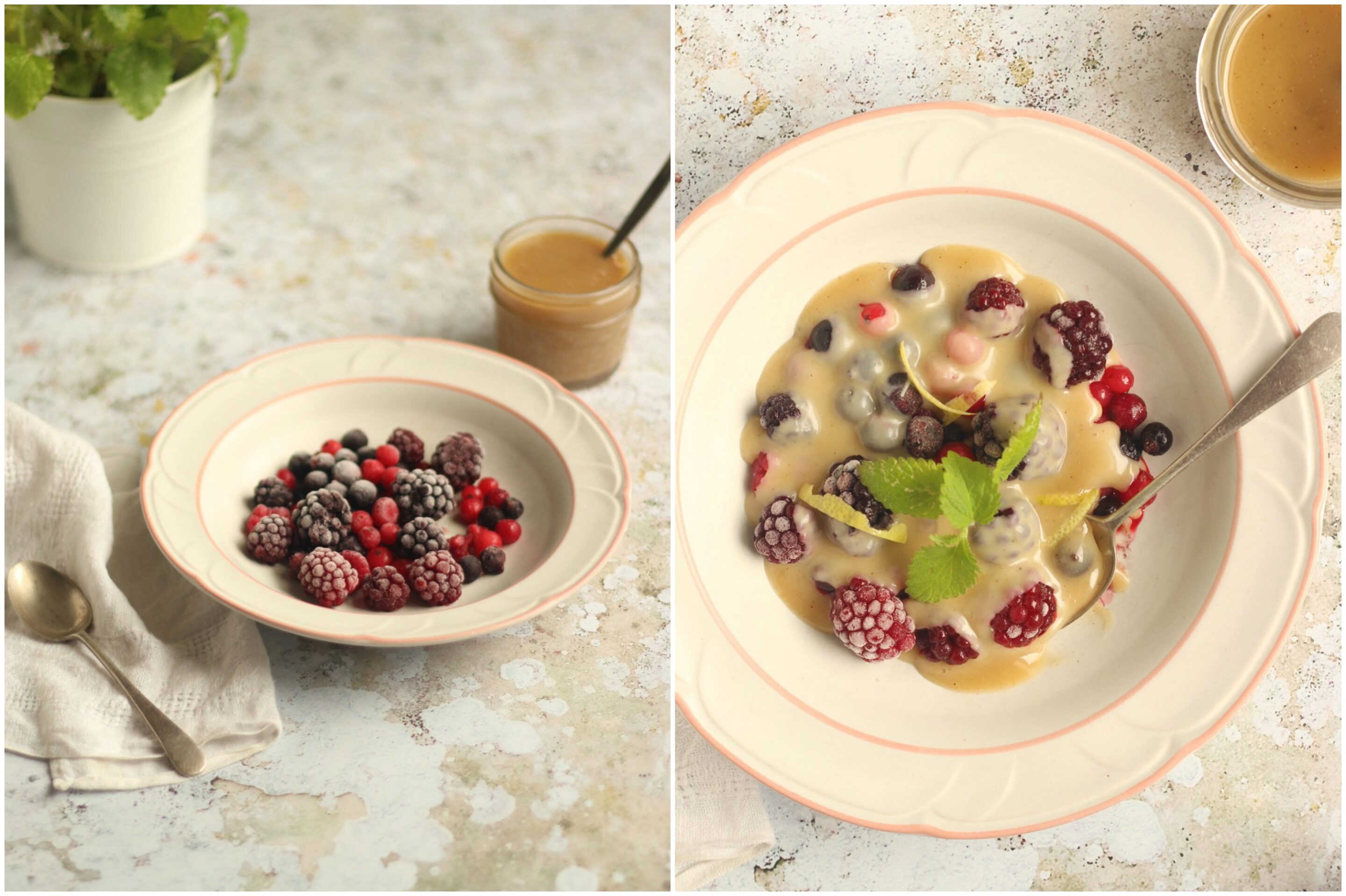 So, to cut a long story short I didn't end up making the panna cottas (yet), because I got sidetracked into something much better, and when I mean better I mean something far easier.  Also, since I don't have budget to buy 20 dariole moulds required for catering the panna cottas, this vegan white chocolate sauce with summer berries seems a much more sensible way of serving up white chocolate when catering retreats this summer.
As well as trying all of the budget supermarket 'dairy free' offerings (all in the too sweet category), I finally struck gold with iChoc's vanilla chocolate bar, which I found in a small health food shop in my neighbourhood (and is also available on line and from larger retailers).  It contains raw cane sugar, so is browner than most white chocolates, and especially in this sauce, although it does whiten as it cools.  On its own I do find it a bit too rich and cocoa butter (i.e. fatty) tasting, but melted down it works perfectly in this sauce.  If you have any favourite vegan / dairy free white chocolates I can try do let me know.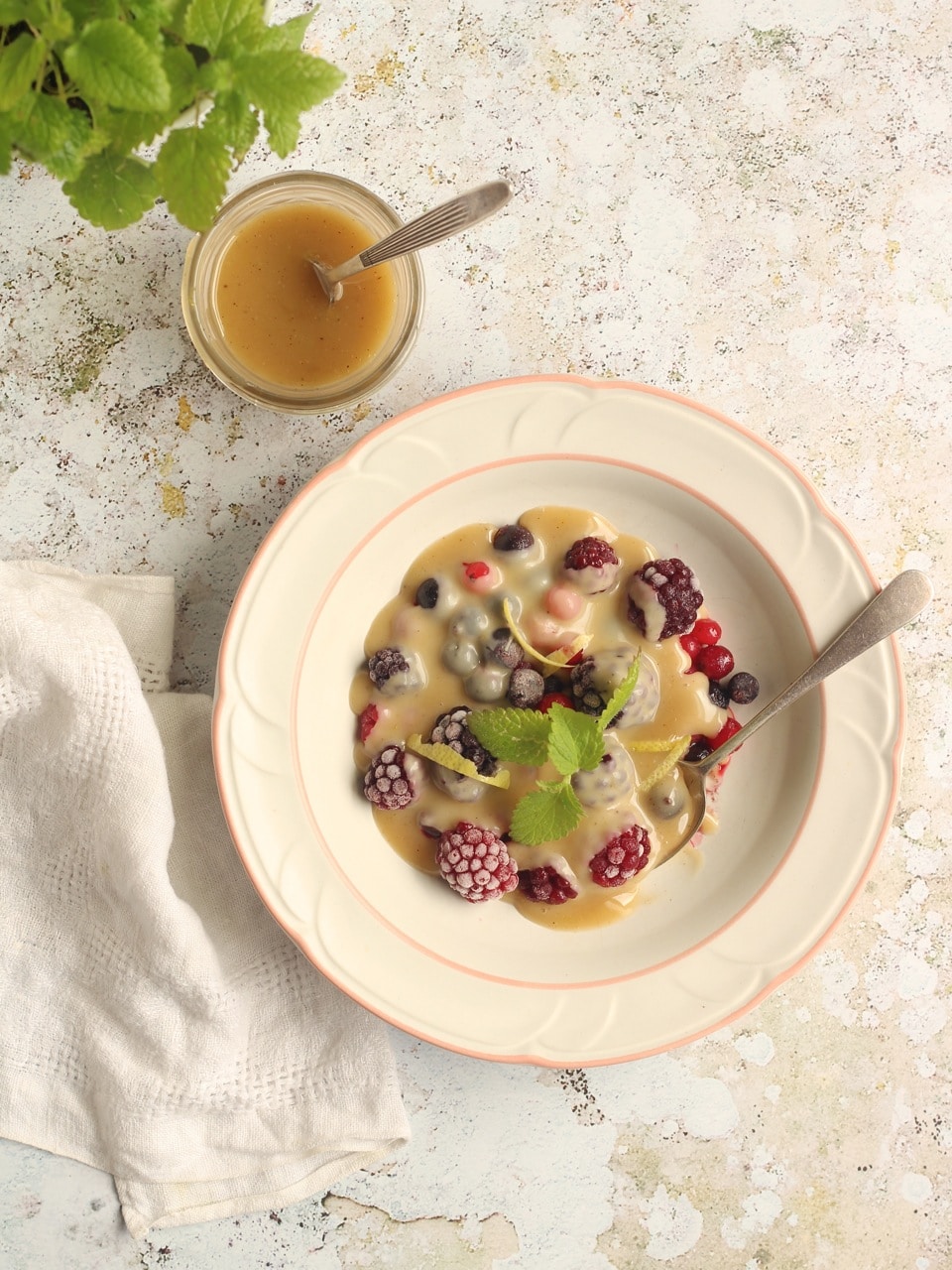 This dessert using frozen berries and a simple white chocolate sauce is I gather quite a classic.  The google big hitters Delicious and BBC Good Food both have their own version, though there seems to be no definitive on the ratio of cream to chocolate.    I actually tried this dish first using some cows double cream I had left over from a job and some classic white chocolate becuase I wanted to see what it was meant to taste like.  In my vegan version I have replaced the double cream with coconut cream. I buy coconut cream in cartons, but you can scoop out the cream from a chilled can of coconut milk too.  However since double and coconut cream don't have the same properties (double cream is silkier, and also fattier by the gram), I found that I needed more white chocolate for bulk it out.  If you want to make the cows version I'd suggest 80g white chocolate to 120mls double cream instead.
I wanted to add something extra to my vegan white chocolate sauce, so a pinch of vanilla powder, along with cardamom and lemon zest did the job perfectly.  You could of course add a shot of limoncello too, I am told.  Now I'm also wondering about gin…  I garnished my dish with lemon balm partly because I thought tied the lemony vibe together, but also because its the only windowsill herb pot of mine to be currently thriving. I love the flavour it adds.
When the warm sauce hits the frozen berries they begin to thaw as the sauce chills around them and its really rather delicious. Sure, the sauce is indulgent, but I couldn't think of a better way to get my antioxidant berry hit.

Iced Summer Berries with Vegan White Chocolate Sauce
Iced summer berries with dairy free vegan white chocolate sauce, flavoured with cardamom, vanilla and lemon zest is an indulgently simple way to end a meal
Ingredients
120g vegan white chocolate
120mls coconut cream
¼ tsp vanilla powder or the seeds from 1 vanilla pod
pinch ground cardamom
zest from ½ lemon, and long strips of zest for garnish
320g frozen summer berries; raspberries, blackberries, red or blackcurrants are perfect. The tarter the better
handful of lemon balm or mint to serve
Instructions
Break up the white chocolate and place into a small heavy bottomed saucepan with the coconut cream. Heat over a low-medium heat until the chocolate has melted into the cream and stir.
Taste to check you are happy with the balance of chocolate to cream. Add the lemon zest, vanilla and cardamom and stir again. Keep warm on a low heat
Divide your frozen berries between the serving bowls, then pour over your warm chocolate sauce, add a sprig of green and the lemon zest strips and serve immediately.
So, white chocolate, are you in or out?
NB post contains an Amazon affiliate link
Pin me for later