This light salad, combines the winning combination of Parma ham and figs, with spicy salad leaves and herb rolled cashew cheese – a great dairy free cream cheese alternative.  Perfect as a late summer starter. 
*This post is commissioned by Parma Ham
Parma ham and figs are a well known combination.  But why do they go together, and who's idea was it?
Research tells me that this is perhaps an unanswerable question, but all I know is I like it. I like it a lot.  I think figs might be my most favourite of all the fruits, maybe becuase they are just as comfortable in a salad as they are in a pud. Or maybe I don't need to justify this statement at all and just let the sweet sweet flavour of the figs talk for themselves.
I love to use the Bursa variety of figs in this recipe, since they have the most amazing plump texture, wonderful pink flesh and the lightest crunch of seeds.  It's always a great joy when you prize one open to find it absolutely perfectly ripe; much like avocado there is narrow margin between un-ripe and over-ripe.  Interestingly figs don't really ripen after they've been picked so it's always best to select ones that are ripe enough when you're buying.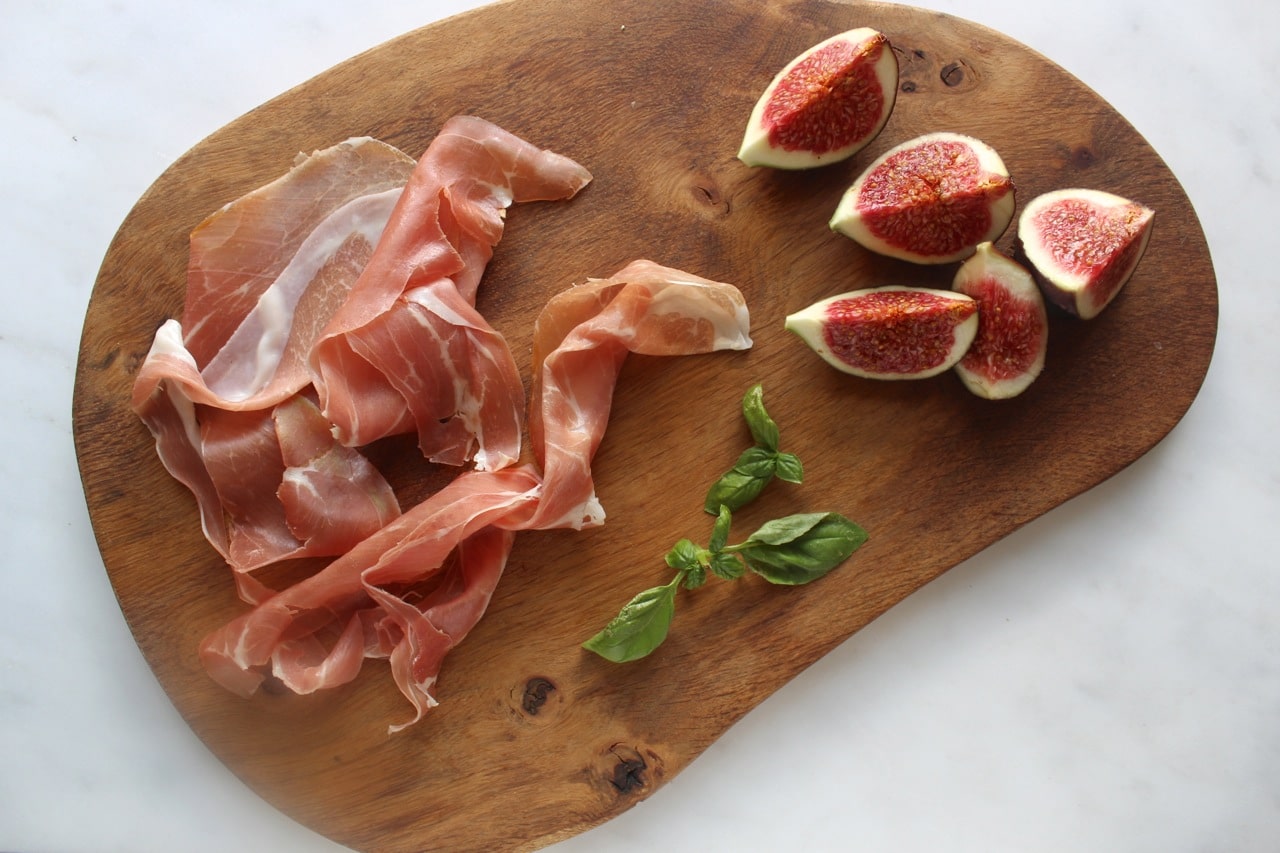 Instead of just simply wrapping the ham around the figs, as I have enjoyed so many times in the past, I decided to make an elegant 'composed' salad, best eaten as a starter or dish.  We call it a composed salad (or 'salade composée' in French) because its arranged on a plate rather than tossed in a bowl.  This is not a salad for a picnic, it's a a chance to delicately place each and every ingredient directly where you want on the plate, and most importantly only add the dressing right before serving.
The final flourish on this salad is the herb rolled cashew cheese as I wanted to add a certain je ne sais pas to an almost too simple 5 minute salad.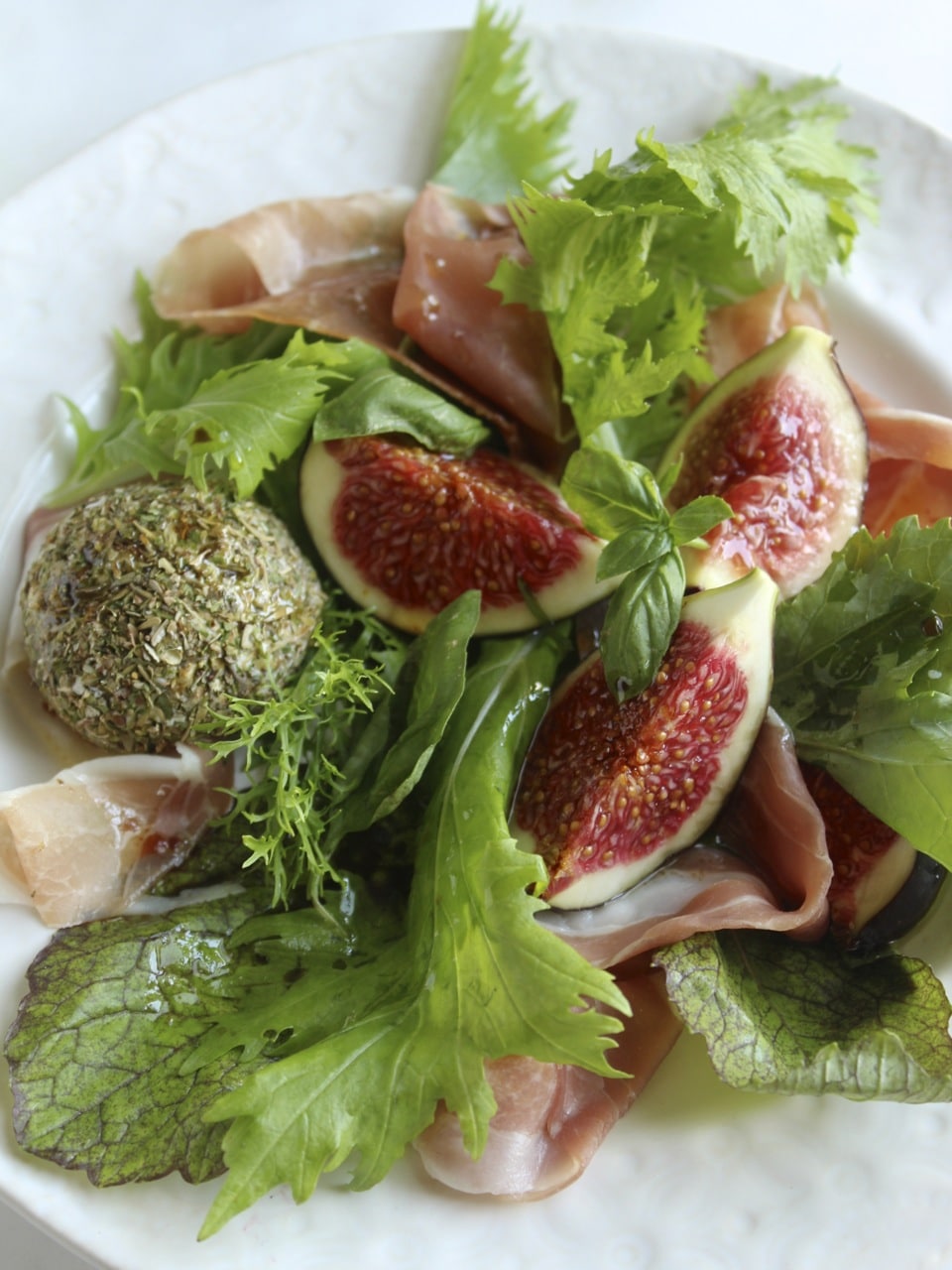 Inspired by the flavours of a certain commercially available French cheese usually eaten with a baguette and a glass of wine, this dairy free cheese combines soaked and blended cashew cheese with garlic and herbs.  Of course being made from cashews it's not really a cheese at all, but I just can't bear to use the word 'cheeze', which it is now more usually referred to.  Why? Quite simply, it makes me cringe!
I've made a simple cashew cheese to serve with figs before, but to create this herb rolled effect requires a little more effort. Once you've made the cashew cheese you need to strain it through cheese cloth and leave it overnight so that any excess water drips out and it becomes a little more solid.  It's then much easier to roll in your herbs.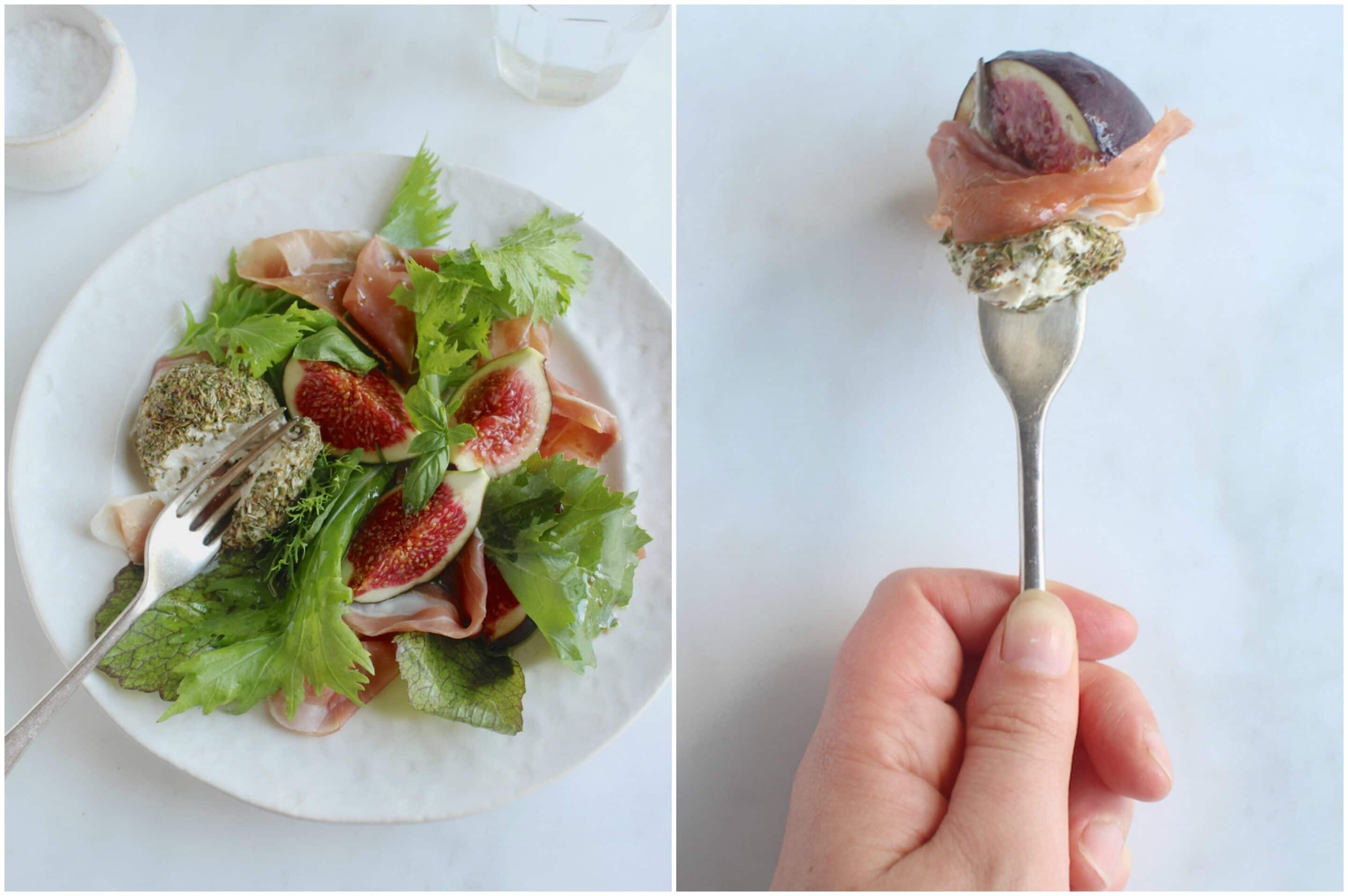 Herb Rolled Cashew Cheese with Parma Ham, Figs and Leaves
This light salad, combines the winning combination of Parma ham and figs, with spicy salad leaves and herb rolled cashew cheese balls - a great dairy free cream cheese alternative. Perfect as a late Summer starter.
Ingredients
Salad
Large handful of spicy salad leaves - e.g. rocket, mizuna, mustard leaves, watercress
4 slices of Parma ham
1 bursa fig, sliced in half through the tip, and cut into wedges
2 herb rolled cashew cheese balls
a sprig of basil
A simple dressing made of 2 tablespoons olive oil, 1 tablespoon balsamic vinegar, ½ teaspoon of honey, and a pinch of seasoning.
Cheese
200g cashew nuts, soaked for 4-6 hours
4 tablespoons water
1 lemon, juiced
1 teaspoon apple cider vinegar
½ teaspoon salt
1 clove garlic, minced
4 tablespoons dried mixed herbs (or fresh minced)
Instructions
The night before make up your cheese. Blend the soaked cashews in a high speed blender along with the water, lemon, apple cider vinegar, salt and garlic until smooth and creamy. Taste and adjust flavours - add more garlic if you like, or more vinegar if you want more tang. Transfer to an air tight container to chill in the fridge for a few hours. Then transfer to some cheese cloth, and hang over a bowl to allow any excess water to drip out. Leave in the fridge overnight.
The next day pop the cashew cheese into a bowl ready to use. Shake the dried mixed herbs over a small plate, then using a ½ tablespoon measure, scoop up enough cashew cheese to form a ball around 3cm diameter, and drop into the herbs. Gently roll into a smooth ball, transfer to a clean plate, and then repeat with the rest of the mixture. You should get 10 balls out of the mix.
Make up your dressing by whisking together your oil, vinegar, honey and salt.
Finally, you're ready to make up your salad. Arrange (or compose!) your Parma ham and leaves on the plate, add the figs, herb rolled cashew cheese ball, a sprig of basil, and drizzle over your simple dressing.
Notes
It's too difficult to make a smaller amount of herb rolled cashew cheese because you need the mass of 200g cashew nuts to effectively use the blender (any less won't touch the blades). Any cashew cheese will keep in the fridge for a few days, or alternatively you can freeze the rolled balls. The cheese is great thinned down to make a sauce for pasta, spread on toast (add figs and Parma Ham too) and in many other dishes!
So, figs with Parma ham.  Any ideas why it is such a great combo?
Pin me for later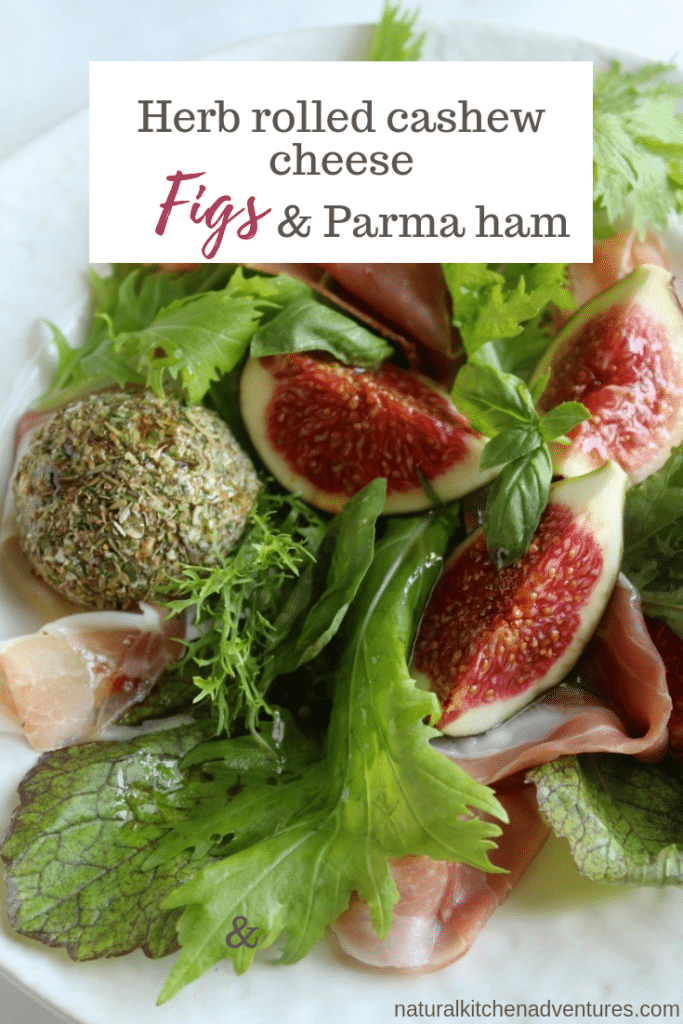 *Disclaimer:  This post and recipe was commissioned by Parma Ham UK.  Thank you for supporting the brands who help make it possible for me to continue developing and sharing recipes on Natural Kitchen Adventures.