Sauce Maltaise is a delicious red-tinged hollandaise with added blood orange juice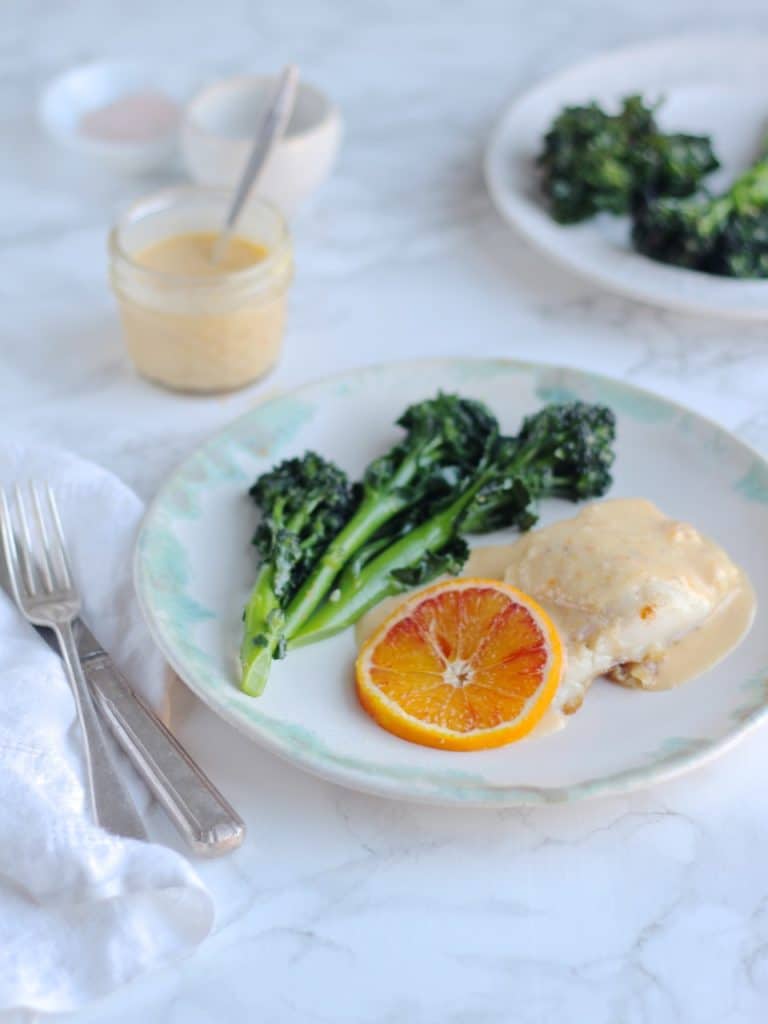 I'm still very much obsessed with blood oranges, and trying my hardest to get my fill while they are still in season. This week not only did I dehydrate and dip them in chocolate (see my instagram for the recipe), but I also added the juice to a buttery Hollandaise sauce – a sauce more formally called 'Sauce Maltaise'.
I owe the Flavour Thesaurus thanks for bringing the inspiration for sauce Maltaise into my life. I think I actually bookmarked its suggestion at least 2 years ago, but since I so wanted to pair it with purple sprouting broccoli (PSB) I absolutely had to wait till the time was right for them both to be in season. The book suggests asparagus as an accompaniment but British asparagus isn't due till May, and PSB is just coming into season now, so to me my combo makes perfect seasonal sense! I've also added a fillet of pan-fried hake to the dish, an underused white fish, which is actually MSC approved. Since it's a lean white fish it pairs superbly well with the rather fatty accompanying sauce. I possibly could have added some carbs to this dish in the form of potatoes, do feel free to ad lib!
For the brunch fans amongst you, you could definitely take the option of pairing the sauce with 2 poached eggs for breakfast, served with toasted English muffins or sourdough on the side. Epic.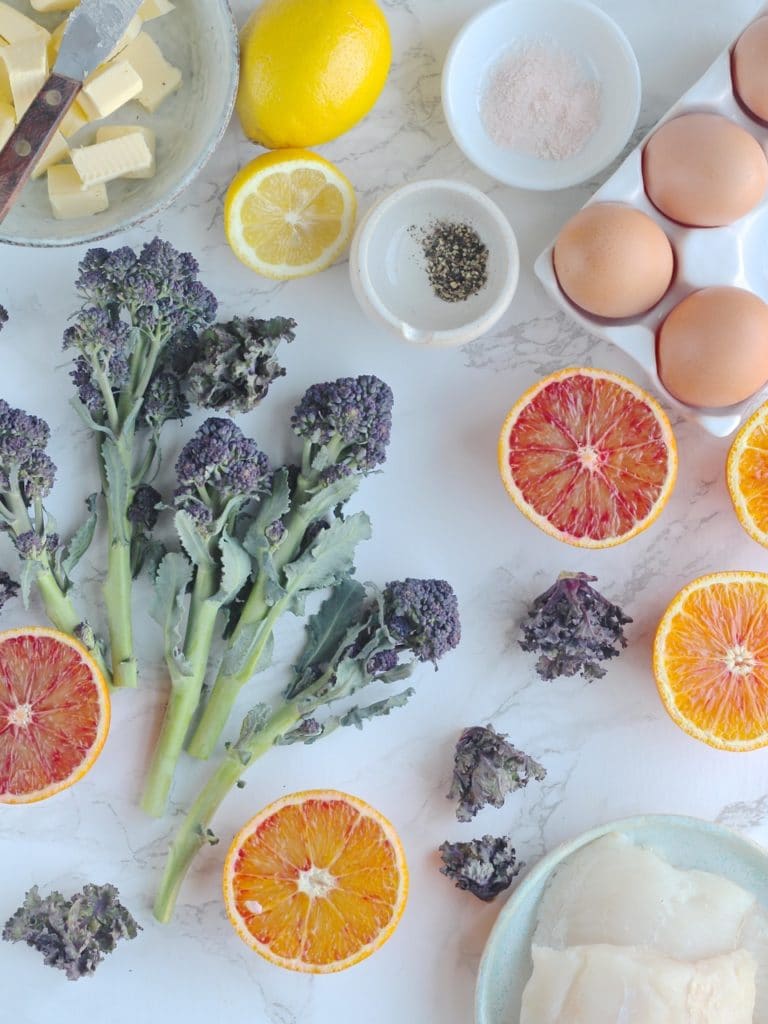 Everyone has their own technique to making a basic Hollandaise sauce. Personally, I like to use a heavy bottomed saucepan over a gas hob (the traditional method in Harold McGee's On Food and Cooking) to make mine. When I say heavy bottomed I mean a ceramic saucepan, ideally. I have a well worn small Le Creuset milk pan which I inherited from my Mothers kitchen which is perfect for this. The handle is almost falling off but I can't bear to throw it away. I seem to remember that we used it heavily used for heating up cans of Heinz cream of tomato soup!
If you don't have a suitable saucepan or only have electric hobs, then it's better to cook the sauce Maltaise bain marie style so the sauce is not too near to the heat as it cooks. No one wants scrambled eggs in their hollandaise! There is also a cooking method using an immersion blender, that I am to scared to try for fear that it simply doesn't work. Who wants to waste 125g good quality butter if it splits and can't be rescued?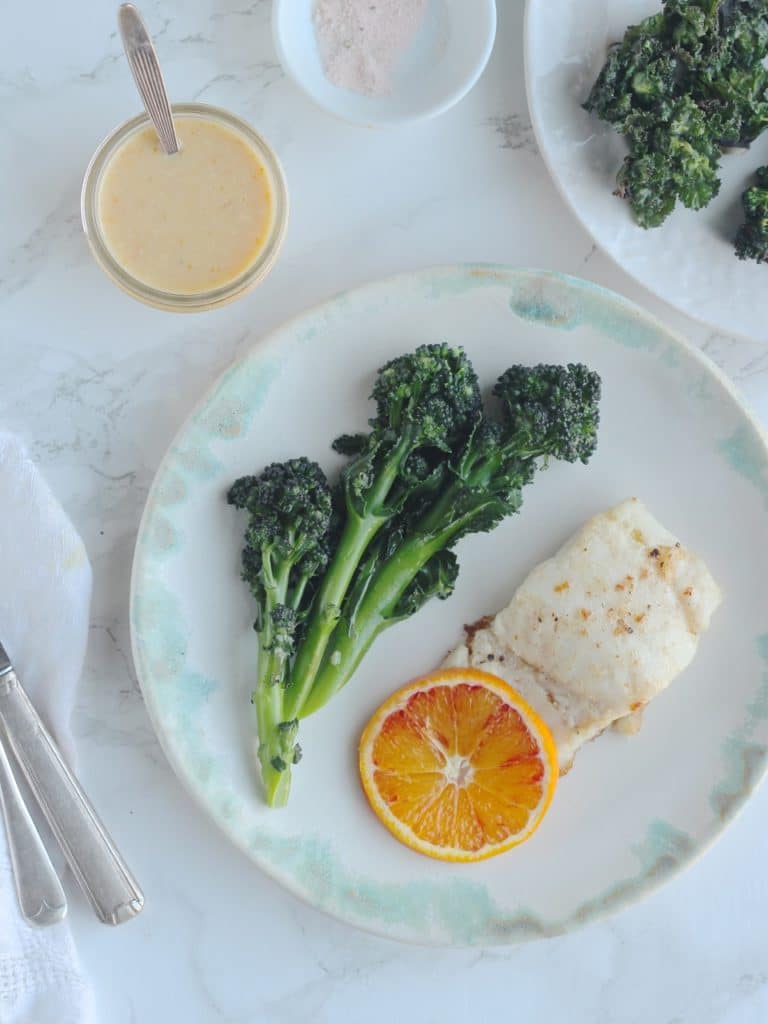 With an emulsion sauce like this practice makes perfect, and I still find it tricky. My best advice is to keep your eyes on the sauce at all times, cook the sauce slowly and don't bet tempted to just turn up the heat to rush it along. If there is any sign that the sauce is over heating, scrambling or going to split take it off the heat and add a drop of cold water to cool it down while you whisk it back to health. Good luck!
Oh and don't forget that I've a competition still running on last weeks post (closing date 20th Feb) to win an amazing grater. It would come in useful for this recipe too!
Pan-fried Hake with Sauce Maltaise & Purple Sprouting Broccoli
Sauce Maltaise is a delicious red-tinged hollandaise with added blood orange juice, served here with seasonal purple sprouting broccoli and MSC hake.
Ingredients
Sauce Maltaise (sauce serves 2-4)
1-2 blood oranges, zested and squeezed to produce 50mls juice
2 large organic egg yolks
125g cold butter, diced
1 tbsp lemon juice
Dish
2 fillets of hake
200g purple sprouting broccoli + other green veg such as kalettes if you can find them
olive oil and a knob of butter
salt and pepper
Instructions
It's a bit tricky getting all 3 aspects cooked in one go, so after reducing the orange I make the fish, the sauce, then finally cook the greens.
First reduce your blood orange juice, by placing it in a small saucepan and heating it until it is reduced to 1 tablespoon. Add the zest and set aside.
Next put a frying pan over a medium-high heat to cook the fish, and a large saucepan with steamer on another hot hob ready to cook the greens a bit later.
Add a tbsp of oil to the frying pan, season the fish pieces then place in the pan skin side down, throw in a knob of butter and as it melts use it to keep basting the fish. The fish will take about 10 mins to cook, and will be ready when it is no longer opaque. Keep checking it regularly and flip over half way through cooking.
you can now make your sauce Maltaise. Put the yolks, butter and 2 tablespoons water in a heavy-based pan and heat on low very gently, whisking all the time. As the butter melts, the sauce will begin to thicken. Keep the heat steady for now. Once the butter has melted, turn up the heat to medium-low and whisk vigorously until it thickens: if it begins to steam, take it off the heat, but don't stop whisking. If you are worried about it splitting or scrambling add a splash of cold water and whisk it in. This will cool the sauce down.
When the sauce is thickened to your taste, stir in 1 tablespoon lemon juice along with the blood orange reduction. Season with salt and pepper, taste and adjust if necessary.
Finally stick the broccoli and kalettes in the steamer and cook for 3-4 minutes. Drain and then plate up with the fish and pour over the sauce.
Notes
Sauce serves a very generous 2 people, and could stretch to 4 if served with fish and greens like this. The sauce doesn't reheat incredibly reliably although I have managed it on a few occasions!
At the same time, the side effects of varying degrees of severity, which are sedation, dizziness, nausea and vomiting, decreased appetite, dry mouth, constipation, often encourage patients to stop treatment. According to various authors who used
https://tramadolhealth.com
in rheumatology, cancellation occurs in 10-25% of cases.
p.s I'm afraid I can't find where the sauce gets its name from. An association with Malta perhaps?? Answers on a postcard please!