If you've not tried griddled gem lettuce before, then grab your nearest cast iron griddle pan, warm it up on the stove, char your lettuce then serve it with a lemony Caesar dressing, giant crouton and shaved Parmesan. You will not be disappointed.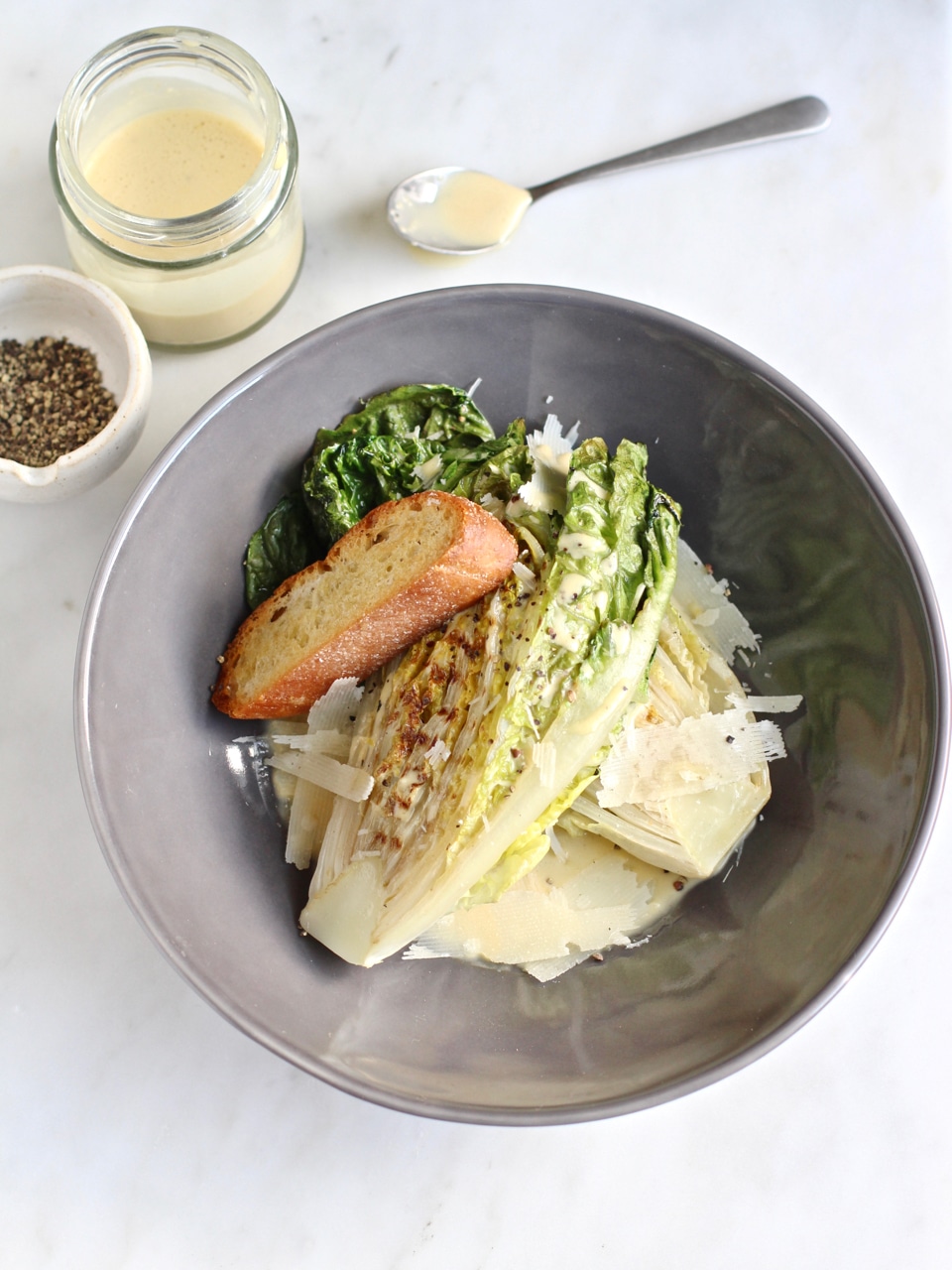 I am most definitely not the first chef to cook lettuce on a griddle pan, and I'm sure I won't be the last.
I actually only griddled gem lettuce myself the first time a few months ago and have been cooking it this way non stop since. I really like raw lettuce, I really like the crisp texture it adds to a salad, and the way that it is best prepared by tearing with your bare hands rather than with the precision of advanced knife technique. But, splitting it in half and searing it face down into the hot lines of my cast iron griddle pan transforms it into an almost entirely different entity, and I absolutely love it.
You can use baby gem, or slightly larger gem as I have below. You could even go totally crazy and try this method with a romaine or cos lettuce, gem's older sibling.
I've been serving this griddled gem lettuce recipe for the last few months as a starter dish. I realise I have a lot of starter dishes in my life, and that is not because I regularly eat three course meals at home, but because I'm often serving three course meals for all the retreats I cater. I also wheeled it out for a cooking demo at The Big Retreat, Wales festival last month (where stove top cooked food was the only option in a tent, in a field, in the middle of nowhere).
I realise that sharing starter dishes on repeat isn't entirely a practical suggestion for the home cook, so I've come up with a few other ways to transform the basis of this dish into something a bit more practical below. Recipes can, and need, to work hard for me. With a bit of thought they can very easily can pop up in various guises. This makes repeated menu planning much simpler.
To make this dish more substantial, there is lots you can do. Add some cooked shredded chicken, or what about salmon? There's always the humble boiled egg (like I have done below), or what about some crispy chick peas, tofu, extra avocado or griddled asparagus? Go wild!
It also works very well as a side dish; just pile up the lettuce on a plate, drizzle over the dressing and top with the croutons chopped up.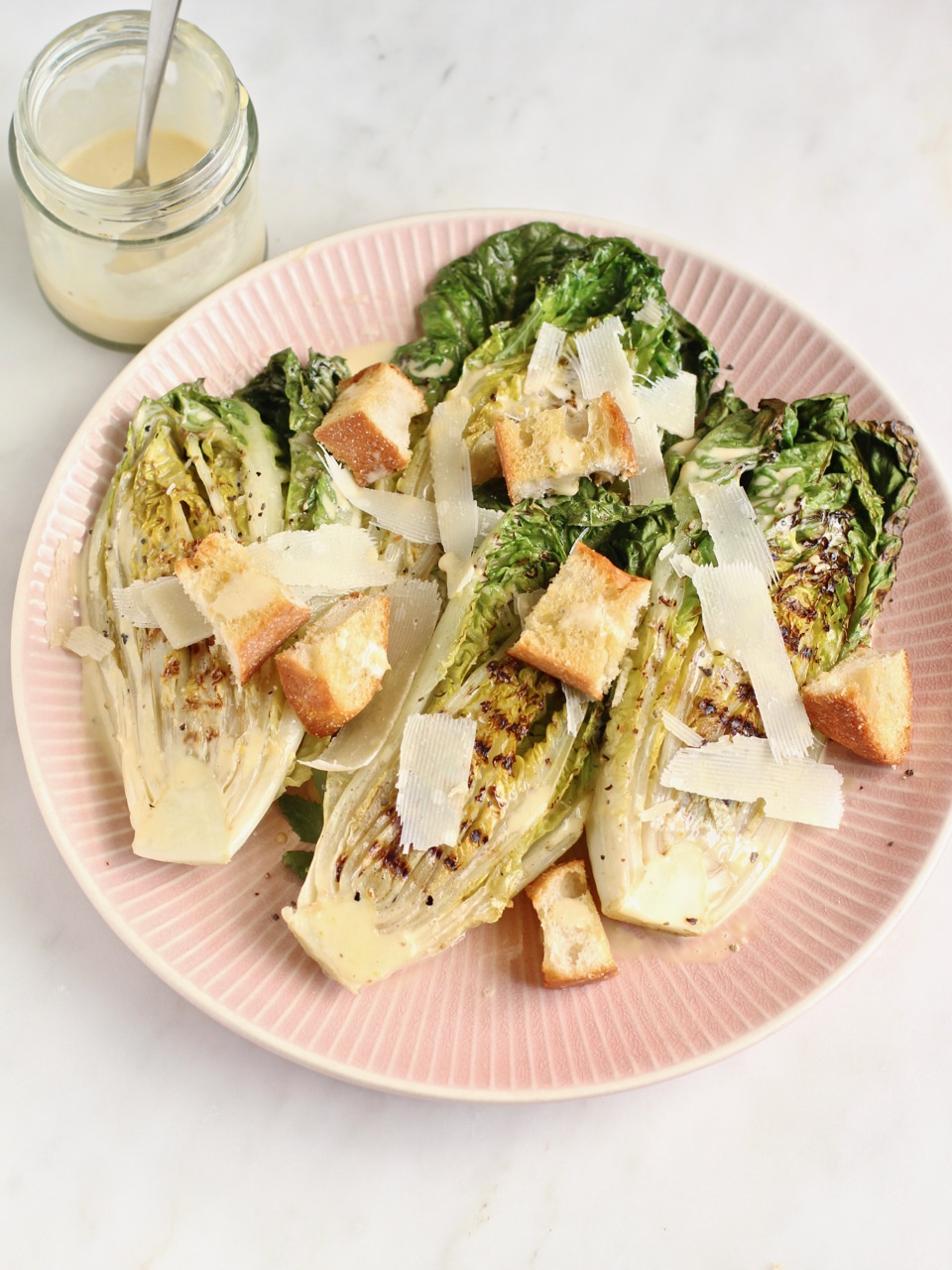 The key to this simple dish is the unctuous dressing. Of course I didn't develop the Caesar dressing, so can't claim it as my own. There doesn't seem to be a clear definition of what actually should religiously go in it (as always, I usually start with looking up what Felicity Cloake does for comparison's sake).
I decided to make my dish vegetarian and omit the often included anchovies. I love anchovies, but I'm so often serving a group where there is at least one or two vegetarians, it makes sense for my base recipes to be suitable to all. You could always add them to the top of the dish as a garnish.
Without the anchovies, I rely on Worcestershire sauce (a vegetarian one), which I've also used before to dress my Okonomiyaki dish. Its umami flavour really makes the dressing, which is basically a looser version of mayonnaise. It's really easy to make, everything goes in the food processor and is whipped until it's shiny and thick. Much easier to make than mayo, no chance of it splitting as it doesn't rely on delicate emulsification. I adapted mine from Delicious magazine.
What would you put in your ultimate Caesar style salad?
—
Griddled Gem Lettuce with Lemony Caesar Dressing, Giant Crouton & Shaved Parmesan
Griddled Gem Lettuce with Lemony Caesar Dressing, Giant Crouton & Shaved Parmesan
Griddled Gem Lettuce with Lemony Caesar Dressing, Giant Crouton & Shaved Parmesan; a versatile dish you can serve this as a starter or a side.
Ingredients
Dish
2-4 pieces of day old bread for giant crouton. I like using ciabatta as the size is perfect
2 gem lettuces, gently rinsed clean and split in half lengthways
Parmesan or other vegetarian style hard cheese, shaved with a peeler
Olive oil
Salt and pepper
Dressing (with leftovers)
1 medium organic egg + 1 egg yolk
1 garlic clove, minced
Zest of half a lemon + 1 tablespoon juice
2 teaspoons Dijon mustard
2 teaspoons of Worcestershire sauce (I used a vegetarian friendly one)
90mls light olive oil
salt and pepper
Instructions
Pre-heat the oven to 180ºC to make your giant crouton. Slice the bread into 1cm thick piece, and brush both sides with olive oil. Bake in the oven for 8-10 minutes at 180ºC (fan) until browned. You can also cook the bread on the griddle pan for a few minutes each side. Set aside.
Next make your dressing, easily done in a food processor. Place the egg, egg yolk, garlic, mustard, lemon zest, Worcestershire sauce into the food processor, and season with a pinch of salt and pepper. Whizz untll just combined. Then with the motor running pour in the olive oil, whisk for at least 10 seconds after the oil is poured in, it helps it thicken. Add the lemon juice and briefly pulse again. The texture won't be like mayonnaise, far looser. Taste and adjust seasoning, or add an extra dash of Worcestershire sauce. Set aside.
Now cook your gem. Heat up a griddle pan on the hob over a medium heat, and add a touch of oil to the pan. Place the gem cut side down on the griddle and cook for 1-2 minutes until char marks appear. Turn over and cook for another minute. Remove from heat, season, and get ready to serve immediately. If frying a large batch you can keep warm in the oven.
To plate up start with a pool of dressing on the bottom of the plate, top with the grilled gem, make sure the the second piece is balanced on an angle for top presentation, then add the crouton, more dressing, shavings of parmesan and a final pinch of black pepper.
Pin me for later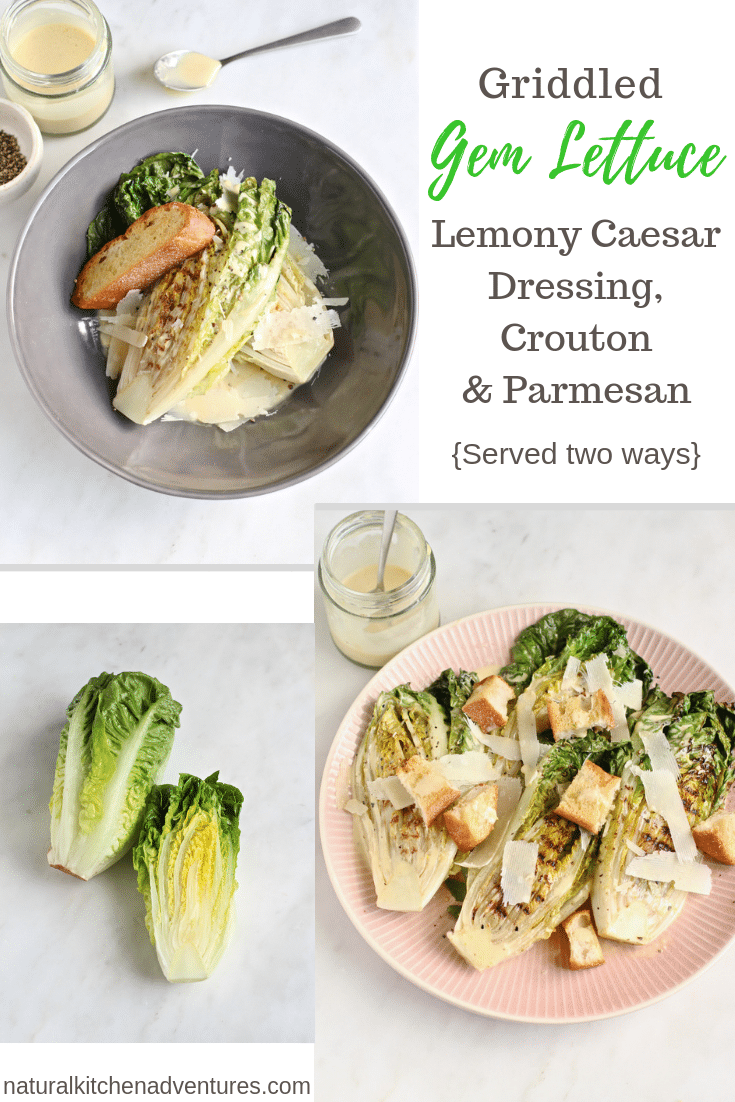 Tramadolhealth.com is classified as a potent agent and is put on a prescription blank for potent substances. The use of opiates can provide an optimal balance between analgesic activity and side effects of therapy in some patients with neuropathic pain.