Griddled courgette, butter bean puree and broad beans is a delicious topping for toast. It also works as a beautiful starter, and can be adapted throughout the year to suit the seasons.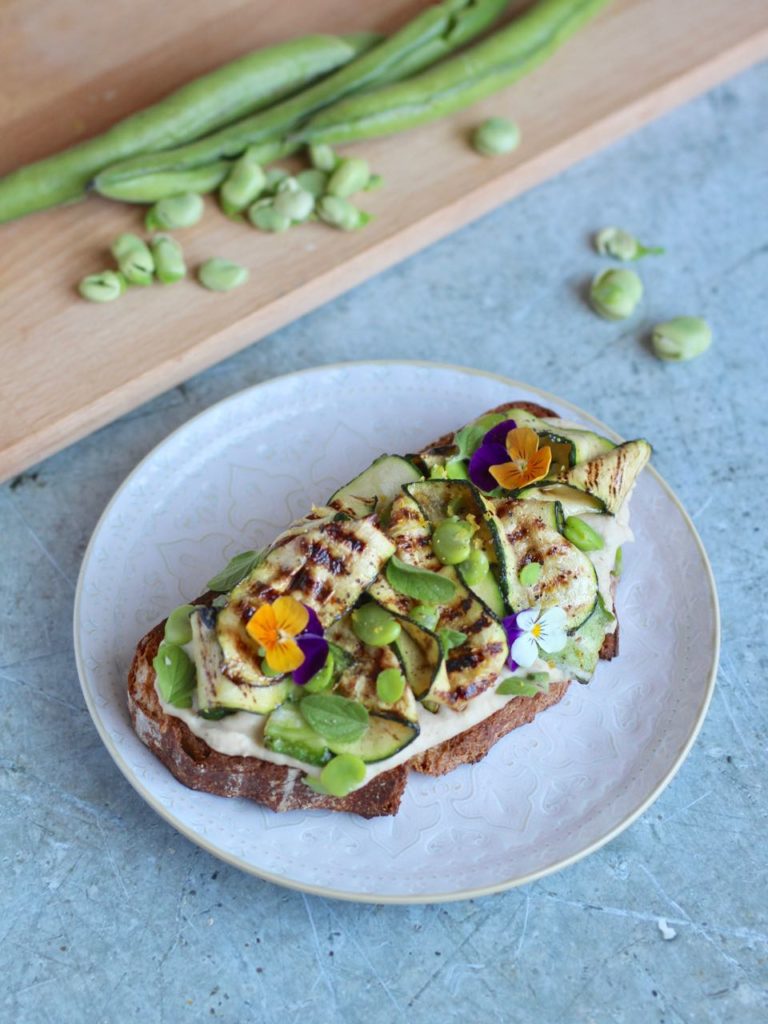 I was meant to be taking the rest of August away from the blog to work out exactly what I want to share on it in the not too distant future,  but I guess the need to share something on here right now in the moment was stronger than I thought. Blogging is a funny old world. You pour your heart into sharing something, simply because you want to share it, but then you get caught up in the stress of trying to make people read it (and then cook it), and then that feels a bit like not really why you created it in the first place. It's all a bit confusing really.  I'm really trying to tap into the why, and less of the stress!
I really want to share this recipe because it has served me so well this summer; from a demo at RHS Tatton to a yoga retreat, supper club and cheeky lunch at home. It's an utterly delicious way to combine these summery ingredients; and whilst I have already blogged about courgettes and broad beans this summer perhaps it doesn't really matter at all that I'm breaking my own 'no repeat' rules. It's going to be so useful for me having it written up here for evermore, and maybe you'll find it useful too?
I actually served a version of this dish earlier this month at the summer edition of my supper club series 'The Seasonal Suppers'.  On a warm summers evening at Stepney City Farm it it was served up for starter topped with nasturtium pesto and a fresh nasturtium flower.  The yellow courgettes and nasturtiums were grown on the farm which was just a wonderful thing to incorporate into the supper.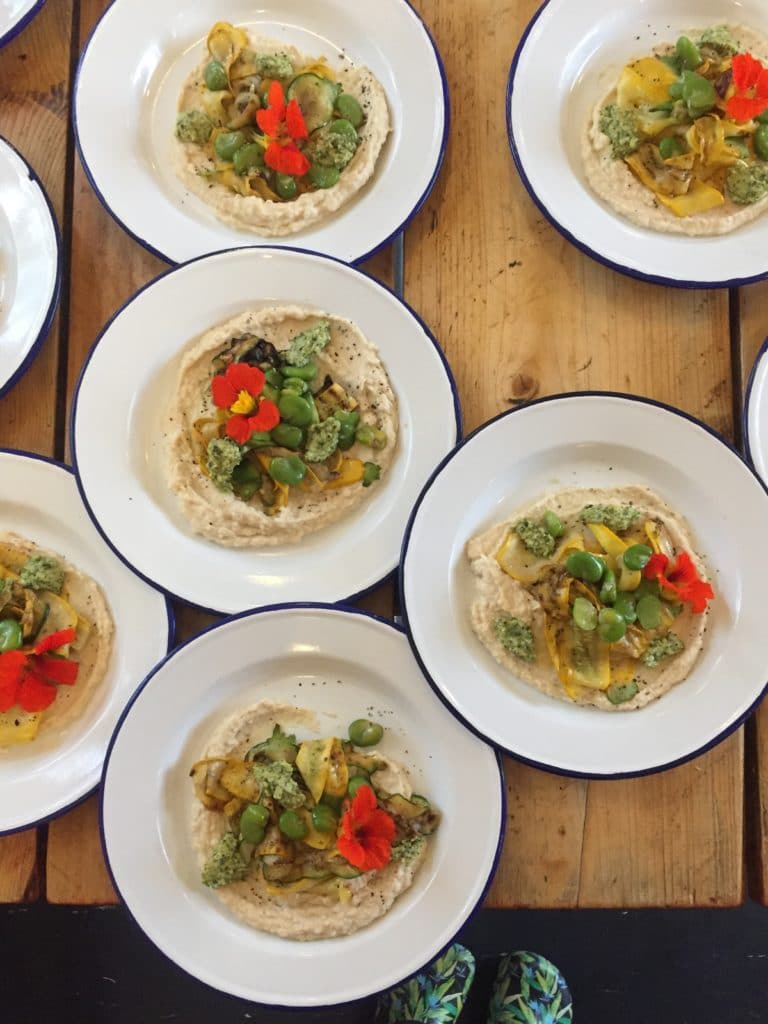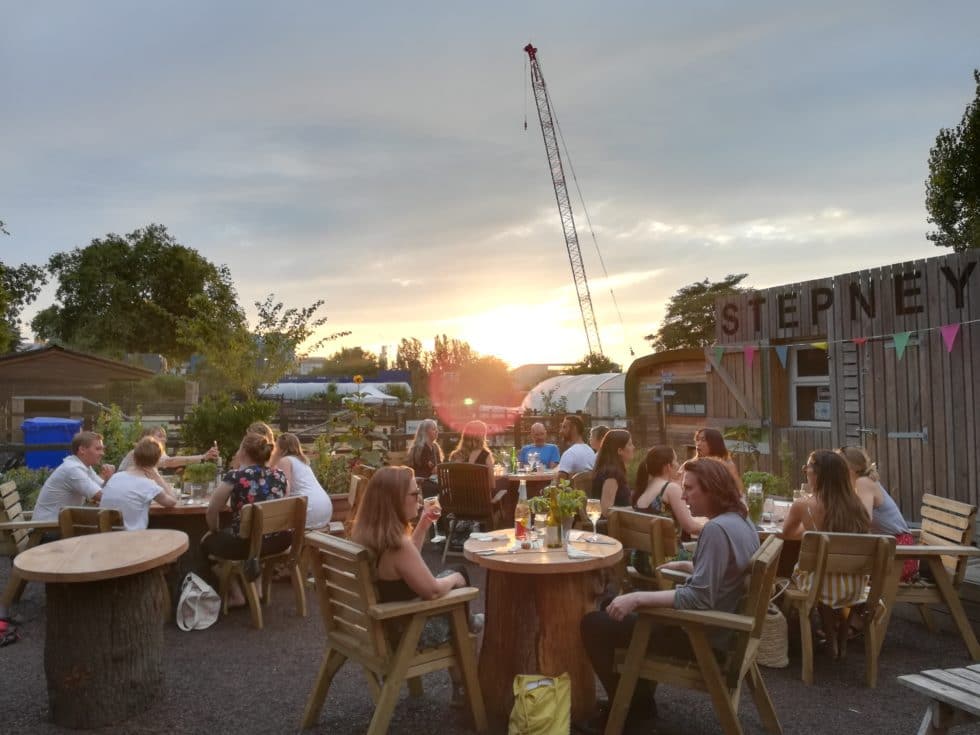 It was stunningly warm summer evening and I couldn't have hoped for anything better. So grateful for everyone that came along to eat my food and also to those who helped me behind the scenes.  It was just a little bit warm in the kitchen!
Plans for my autumn event are starting to take shape behind the scenes and all will be announced soon – get Friday 9th November in your diary!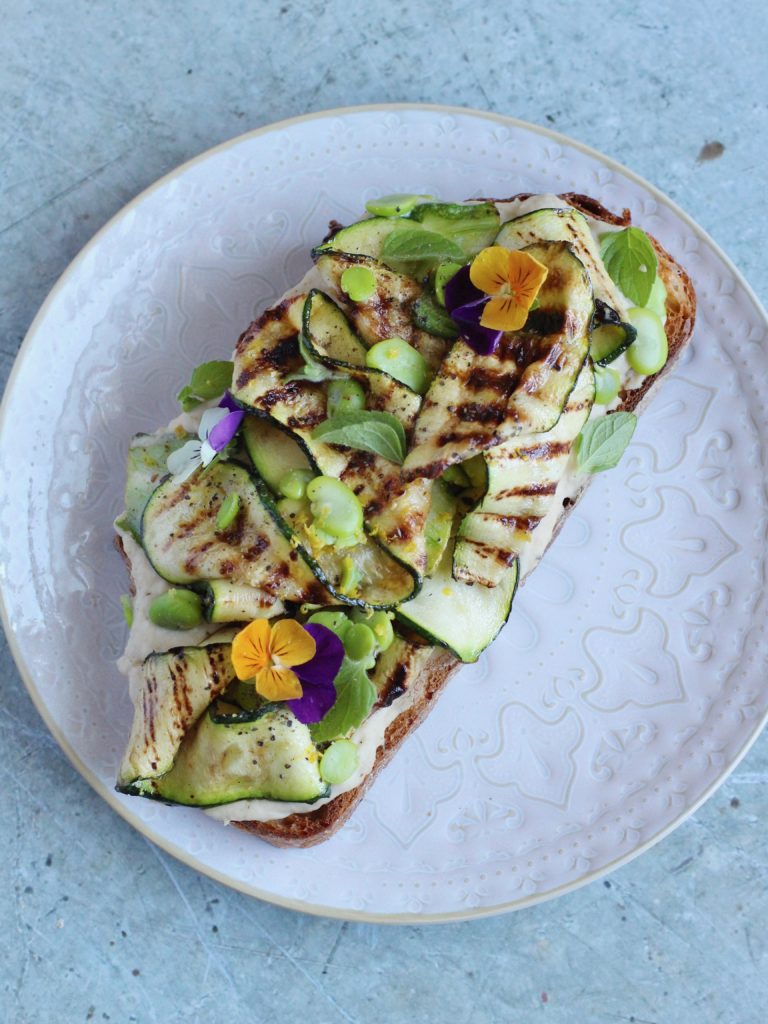 So, that gives you two ways to enjoy this dish.  Arranged prettily on a plate or piled high on toast – you can call it a tartine if you want to elevate its place on a menu. I think I enjoy both in equal measures, though have to confess to rather enjoying the toast version.  The ooze of the creamy melted butter that slides through the classic warm toasted sourdough holes (yeah I'm a butter and topping kind of girl) against the creamy butter bean topping and olive oil rich ribbons of chargrilled courgettes is just bloody magnificent.
To adapt this for autumn, try adding slices of chargrilled butternut or roasted cauliflower with kale pesto on top of the butter bean puree, in winter sautéed leeks or roasted sprout chips, and spring chargrilled asparagus with watercress.  Versatility at its best.
—
Griddled courgette, butter bean puree and broad beans
Griddled courgette, butter bean puree and broad beans
Griddled courgettes with butter bean puree and broad beans is a delicious topping for toast. It also works as a beautiful starter, and can be adapted throughout the year to suit the seasons.
Ingredients
2 slices of sourdough bread (if using)
butter
For the topping
1 courgette, sliced into ribbons using a mandolin, peeler or sharp knife
6 broad bean pods, you will need 6-7 beans per person
mint leaves or edible flowers such as viola or nasturtium
For the butter bean puree
400g can, butter beans, drained (reserve 2 tablespoons of the can water to add to the processor)
1 tablespoon tahini
1 lemon, juice and zest
1 tablespoon olive oil
salt and pepper, to taste
Instructions
First of all prepare your butter bean puree. Put all of the ingredients into a food processor, and blend until the beans are broken down and everything is well combined. Add season to taste, blitz again then scrape into a bowl until your ready to plate up. You will make more puree than you need and you can save this for another meal, it should keep for 3 days in an airtight container in the fridge.
Next cook your broad beans. Blanch the beans in a saucepan of boiling water for 4-5 minutes, drain, cool under cold water and then slip off the skins. Set aside.
Finally cook your courgettes. If you have one a cast iron griddle pan is best for this. Use a little bit of oil on the pan, but not too much as the courgettes will get soggy. When the pan is hot enough the courgettes will take a minute either side, and don't be tempted to move them around. Tongs are helpful in this instance.
When you're ready to plate up and serve, toast your bread, spread with a smidge of butter then top with a good smoosh of the puree, followed by ribbons of courgette, the broad beans, and if you like (as I did), garnish with a few mint leaves, edible flowers like violas or nasturitums, a grating of lemon zest and a pinch or cracked black pepper.
On toast or dip toast in?  What would you choose??
Pin me for later