HOW TO CONFIDENTLY PLAN, COOK AND PRESENT 10 SENSATIONAL SUPPERS
My seasonal suppers ebook contains 10 of my favourite spring and supper recipes, and are how I like to cook; putting vegetables at the centre of every dish.
Example recipes include;
Mediterranean stuffed Romano peppers, courgette fritters, whipped feta, charred asparagus, parsley gremolata (front cover recipe)
Yakitori chicken skewers, miso aubergine purée, black rice, radish & pea salad with sesame-miso dressing
Chermoula roasted aubergine, sweet potato purée, crispy spiced chickpeas, vine roasted tomatoes, balsamic glaze
The ebook is jam-packed full of information. Along with recipes I've included tips on how to plan your time, season to taste, present your food, and how to make the most of leftovers.
This is a resource I wished I'd had access to a long time ago, instead I've spent the last 7 years of my professional chef career developing my own style and recipes whilst cooking for retreats and supper clubs. A world pandemic finally gave me the time to put everything down on paper.
The last few months have also given me the opportunity to host online cooking classes where I've coached over 50 people through these very recipes. I've purposefully created a resource that I wanted to be equivalent to working with me in a cooking class, so that you can confidently recreate these dishes in your own time.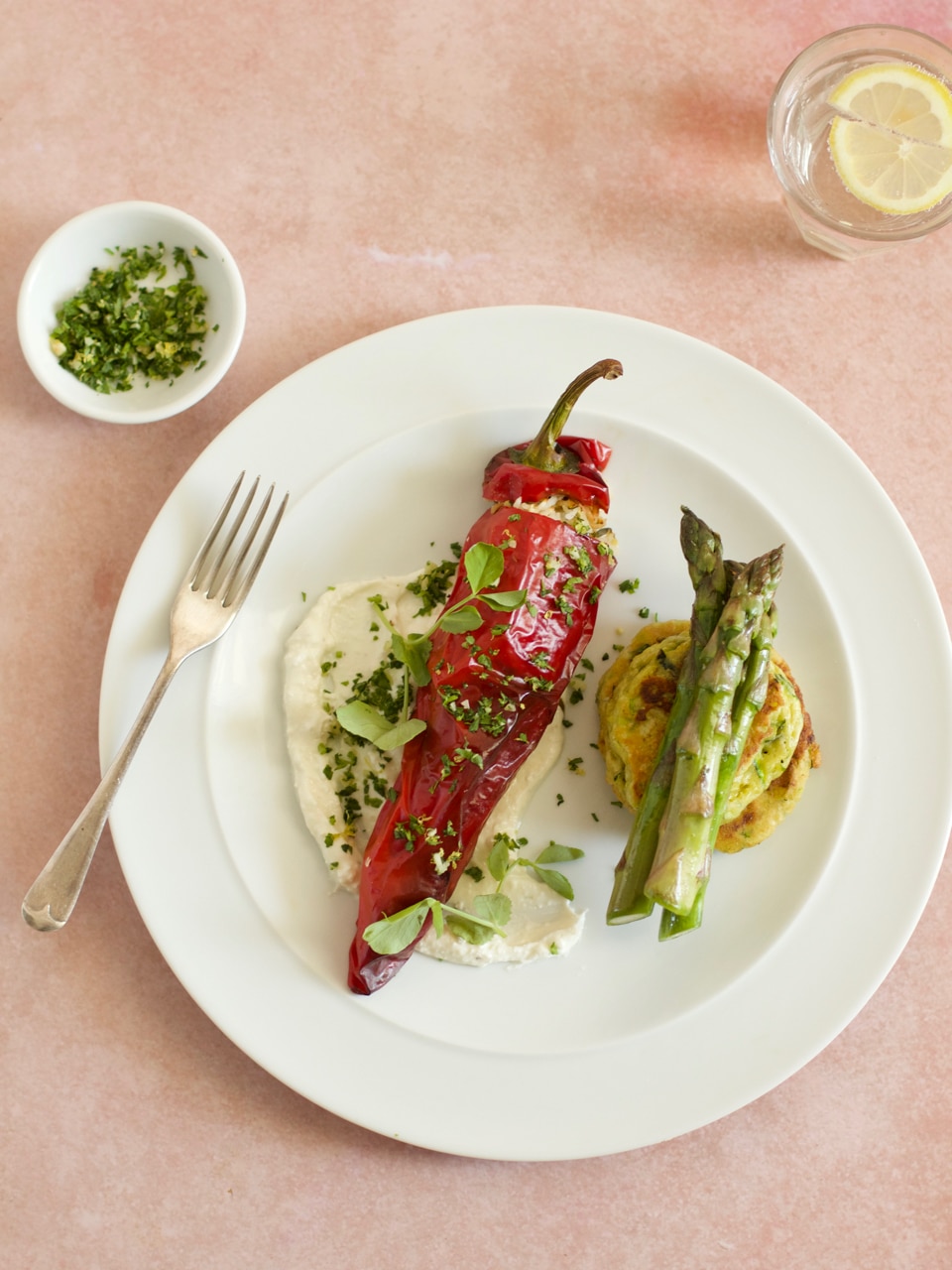 For less than the cost of one cooking class with me you will have access to material covered in 10 classes including;
*Over 60 pages of information and 40 recipes
*10 main dishes, in categories covering chicken, fish & seafood, vegan & vegetarian and additional sides
*Recipes are purposefully designed to cover a wide range of cooking techniques to give you confidence across the board
*Tips on how to set up your kitchen
*Presentation guides
*Tips on seasoning to taste and how to balance flavours
*Each dish contains its own detailed guide including how to plan your time, how to plate up and what to do with leftovers
*Full colour photography of each dish
*Glossary for unusual ingredients
*Additional meal suggestions mixing and matching the 40 recipes in the book for ultimate flexibility and creativity
Hi, I'm Ceri, a Food Educator and Chef
I coach people to become confident cooks through my online cooking classes, foolproof recipes, and tip videos.
Whether you're a novice or confident cook you are most welcome here. I can help you achieve your goal of trying new dishes, honing your skills and technique, and for you to have fun with presentation.
My business is delivered with over 7 years of professional experience working with food, and a passion for creative seasonal cooking.