A roasted cauliflower buckwheat salad inspired by olive tapenade.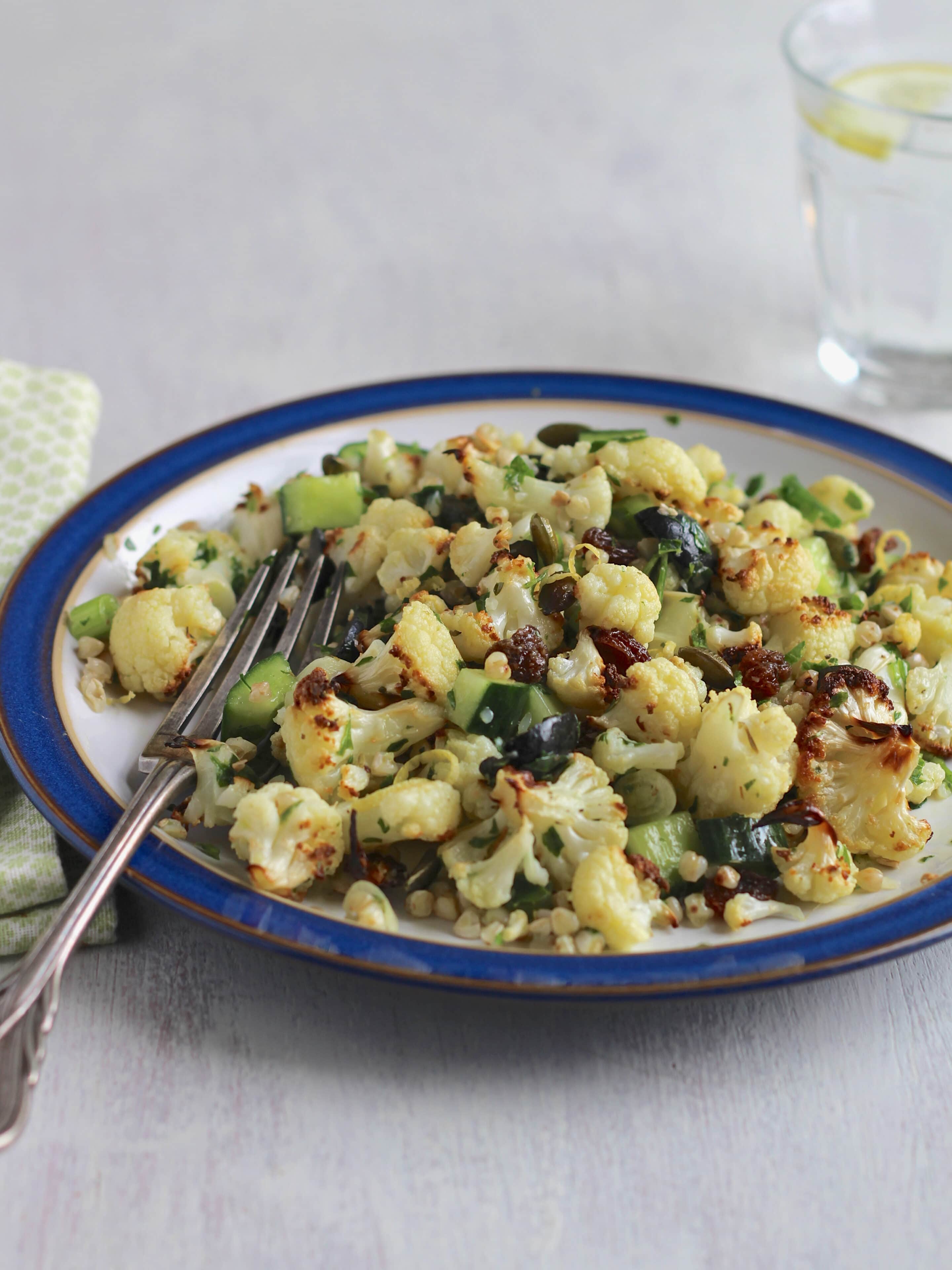 Another opportunity for me to sing the praises of humble old buckwheat.  Buckwheat also goes by the name of kasha, and you may have seen it called sarrasin in France (used often in galettes) or grano saraceno in Italy – a useful tip for summer travel oui? It's also very popular in Asian cuisine but in the form of noodles rather than as the plain groats. I'm eating more of it in real life than this blog would lead you to believe so thought I'd  share with you another of my recent favourite recipes.
In today's recipe I am using buckwheat in a cold marinated salad where a larger grain (or pseudograin, since buckwheat isn't technically a grain) works best. In the salad the buckwheat groats retain their shape as individual grains and are similar in size to Israeli/giant cous cous. A smaller grain such as quinoa would of course work here too, but may become more mushy as the grains are much smaller and softer.
I find the combination of olive, capers, lemon and parsley irresistible. Usually found in a rich tapenade, to me it screams summer and in this recipe is used to tie buckwheat and cauliflower together to great affect.  I wonder who the first chef to roast a cauliflower and plonk it in a salad was? Each time I enjoy the joys of scorched, sweet florets I am delighted I no longer have to endure this valuable crucifer as a plainly steamed culinary bleugh.

Roasted Cauliflower Buckwheat Salad with Olives & Capers
An olive tapenade inspired salad with roasted cauliflower and nutty buckwheat groats.
Ingredients
Salad
2 cauliflower, broken into bite-sized florets
Tbs olive oil
pinch salt
150g raw buckwheat groats, rinsed
1 cucumber, cored and chopped into small pieces
20 or so black olives sliced
2 Tbs capers
2 Tbs sultanas (optional)
1 quantity of herby dressing (see below)
2 Tbs toasted pumpkin seeds
Lemon zest
Dressing
1 clove garlic
40g fresh parsley
90mls olive oil
2 Tbs lemon juice
½ tsp sea salt
Instructions
Pre-heat oven to 180 C. to roast your cauliflower.
Toss cauliflower in olive oil and salt, place on a parchment lined baking sheet and roast in the oven for 20 minutes, until crispy and charred. Cool and set aside
Meanwhile cook your buckwheat – we use the pasta method. Bring a medium saucepan of water to boil, tip in the buckwheat, and simmer for 15 minutes, until al dente. Drain, rinse and leave to cool.
Next make up your dressing. In a mini food processor blitz the garlic till finely chopped, then add the parsley, olive oil, lemon juice and salt. Blitz until you have a chunky pourable paste.
Toss the cooked cauliflower with the buckwheat, cucumber, olives, capers, sultanas, then stir through the dressing. Top with toasted seeds and some lemon zest for extra zing.
Notes
Sultanas are optional, I know some people have issues with sweet things in savoury, but I am not one of them!
Not sure what else you can do with buckwheat?  As well as being great in salads it works fabulously as a porridge for breakfast.  Here are some ideas;
Any top ideas you'd like to share?