Cheesy Feet Soup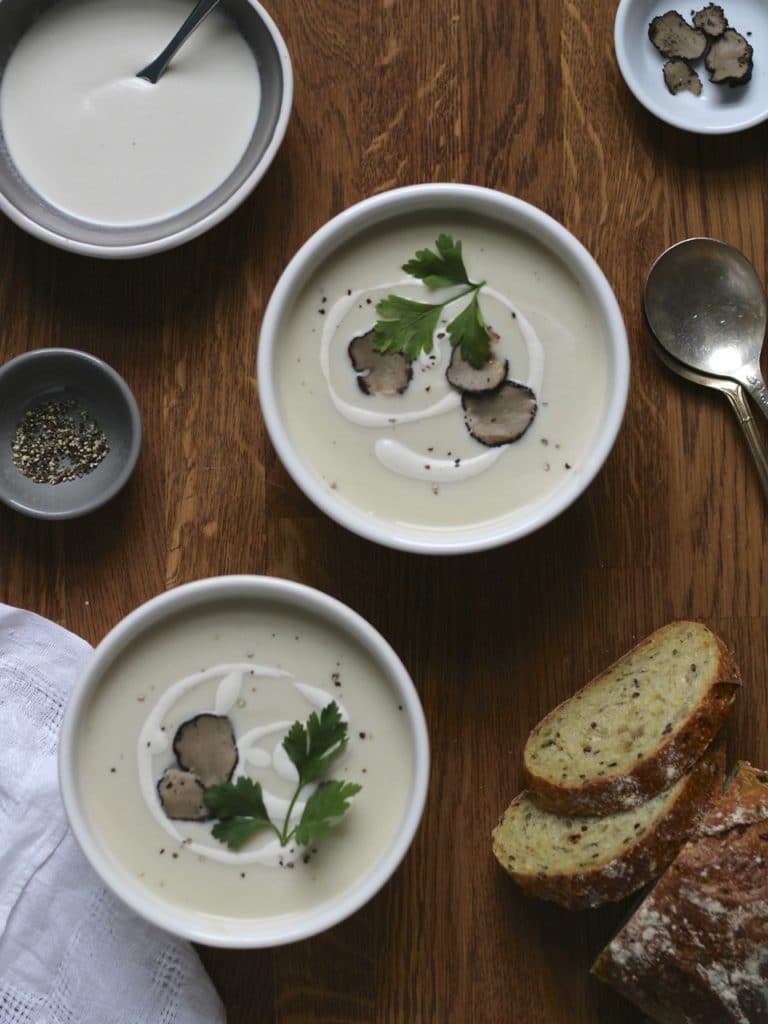 Cauliflower has had a bit of a resurgence of late.  When we all discovered only a few short years ago that it could be blitzed into a faux rice I am certain that cauliflower farmers starting jumping with glee.  Thing is I used to hate cauliflower, because it was only ever served boiled, which is kind of strange to me now as its one of the most popular ingredients on this blog.  As a child I was sometimes lucky enough to try it smothered under cheese (which I recently reminisced upon with a revamped cauliflower cheese), but these days I'm enjoy eating it all sorts of ways.  I've eaten it blitzed into rice for a fake sushi, toasted for a tabbouleh, pan-fried as a curry accompaniment, mashed in with other soft veg as a pie topping and I eat it roasted all the time.  I had previously thought roasting cauliflower was the best way of enjoying it, but am delighted to add another accolade to its list; Its blinking great in soup.
I was inspired to make this cashew cream cauliflower soup after trying My New Roots' Broccoli soup.  I haven't made that many changes to the recipe other than switching broccoli for cauliflower because its already such a wonderful recipe, as well as reducing the cream as the recipe makes far too much and nuts aren't cheap.  I've tried it with and without the nutritional yeast and have to confess that Sarah got this right.  The yeast is a great addition to the flavour.  What is it though?
Nutritional yeast is a yeast! Its often used in vegetarian and vegan diets as it is a source (all be it a trace source) of Bvitamins, particularly B12 usually only found in animal products.  On its own it is flakey and smells like cheesy feet, but It has performed a miracle and turned this soup into something I want to eat time and time again.  The soup tastes like a blended bowl of cauliflower cheese – no really it does!  Cheesy feet smell be gone!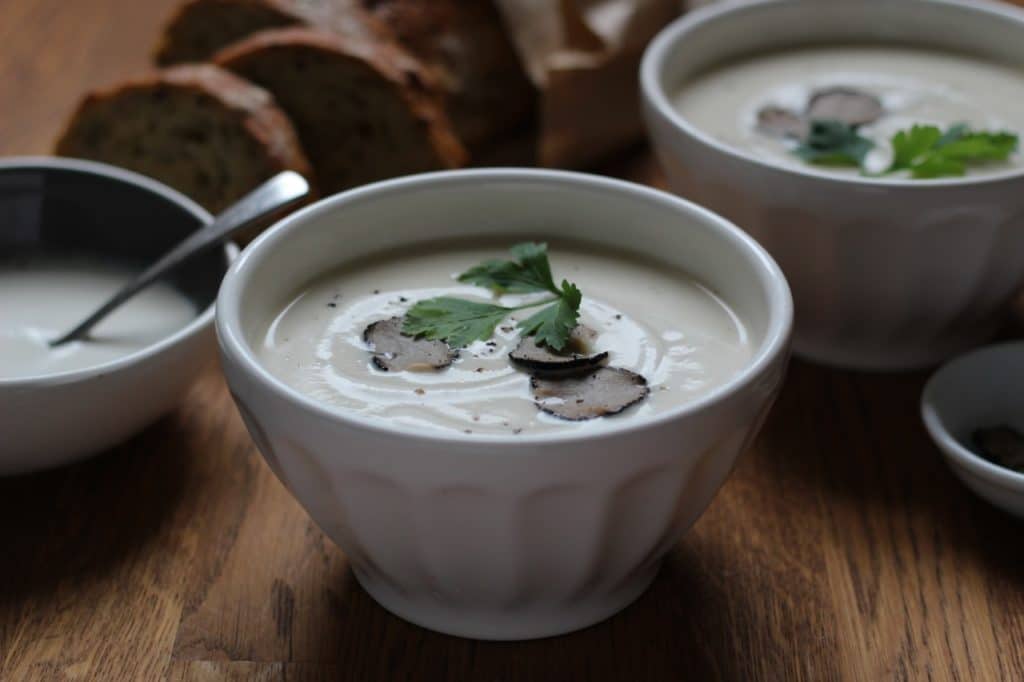 I've been serving this on retreats since the beginning of 2016 and it was the starer at Yin Yang Yum supper club this past weekend.  Thumbs up all round from 37 diners so far, and not one complaint or notice of cheesy feet.
I realise the truffles are an extravagant touch, but why not.  Cauliflower is such a humble and useful veg it deserves a bit of expensive sparkle.  If your budget is more modest try chilli flakes instead for a pop of red, or chop some herbs with oil and lemon juice for a fancy pistou.

Cashew Cream Cauliflower Soup
A rich velvety dairy free and vegan soup made from cashew cream, cauliflower with added nutritional yeast.
Ingredients
Cashew Cream
150g Cashews, soaked for 4 hours
600mls water
2 cloves garlic
2 tsp lemon juice
½ tsp sea salt
Soup
1 medium onion, finely diced
½ tbs coconut oil
½ tsp sea slat
4 cloves garlic, minced
2 litres vegetable stock
30g nutritional yeast flakes
2 cauliflower, chopped into florets
1 tbs lemon juice
sea salt to taste
To garnish
Truffles, and fresh parsley
Instructions
Drain cashews and and rinse thoroughly to get rid of any slimy residue.
Place cashews in a blender (I use my froothie), add the garlic, lemon juice and salt and blend on the highest setting until completely smooth. Pour into a bowl and set aside. No need to rinse the blender as you will be using it again shortly.
Heat a tbs of coconut oil in a large saucepan. Saute the onions with a pinch of salt for around 5 minutes until softened before adding the garlic for a further 30 seconds. Next add the stock, bring to a boil and then add all the cauliflower florets to the pan. Add a lid and allow to simmer for 5 minutes till they are fork tender.
Add the nutritional yeast to the pan then transfer the soup to the same blender you used for the cashews along with ⅔ of the cashew cream (you will need to do this in batches) and blend on the highest setting until velvety smooth. Pour back into the saucepan, then add the lemon juice. Taste and adjust seasoning if necessary. I always like more lemon juice in my soup to bring out flavour rather than adding salt.
To serve, pour the soup into bowl, and garnish with a drizzle of the left over cashew cream, some fresh truffle, cracked black pepper and parsley leaves.
I made this soup in my high powered
Optimum 9400 high speed blender
, which helps create such a wonderfully smooth texture.  If you don't have a high powered blender a hand held immersion blender will do, but won't be as silky smooth.  Any left over cashew cream can be used in place of single cream in your favourite recipes.  How about my
radicchio and walnut spaghetti
for starters?
Have you ever tried nutritional yeast?  Here are some other ways to try it; Dehydrated 'cheese' and onion kale chips, Tofu scramble (or put it with eggs, which is what I would do as I won't do tofu, incredible cauliflower mash.
Disclosure: I am now an ambassador for Froothie and some links in this article may be affiliate links. The above product reviews is, as always based on my honest opinion. If you'd like to know more about Froothie health products, or this machine in particular, please visit the Froothie Website for more details. Any purchases made through this/these link(s) are at no extra cost to you but give Natural Kitchen Adventures a small commission. Thanks!