This carrot pâté recipe is a great way to use up a glut of carrots. Spread on toast it makes a fantastic starter or light lunch.  Just add pomegranate for festivity, and a contrasting pop of colour. 
Well, why would you find yourself with a glut of carrots one might ask?  Maybe you're lucky enough to grown them in an allotment? Maybe you get them repeatedly in your veg box. Or maybe like me you sometimes have to do an online shop and end up buying a 1kg bag when you only actually need one for a recipe.  What to do with the rest, and what to do with them before they go off, because they've been lingering in the veg compartment of your fridge for some time now (no, not, me never?!!!))
I've made this carrot pâté quite a few times recently, and I actually developed it as a a root to shoot recipe for a cooking demo I did during London Food Link's Urban Food Fortnight.  For the event I paired it with a vegetarian version of my carrot top salsa verde.  Today I'm just smooshing it on toast with some pomegranate seeds, because I'm addicted to their sparkle. Second post in a row, sorry, not sorry.
The carrot pâté is a very simple adaptation of my butternut squash dip from way back when I didn't own a camera. I'm calling it a pâté this time, because I think its more spreadable than dippable.  It's super simple and a bit like hummus; minus the chickpeas and with roasted carrot puree instead.  I've stopped calling my spreads hummus when they don't contain chickpeas as I now know it's an incorrect use of the word hummus, and I do so like to do things properly.
I made this pate in my high powered Optimum 9400 high speed blender, which helps create such a wonderfully smooth texture.  If you don't have a high powered blender, try a food processor for a chunkier texture.
Cumin is a natural companion for carrots but coriander is too; here's to you carrot and coriander soup!  There is ground coriander and cumin in thepâté, but for an extra pzazz, whole seeds are toasted, roughly bashed with a pestle and mortar and sprinkled on top of the finished pâté.  I find you get more of their citrus notes this way.
Ideally pair the pâté with with lashings of sourdough toast.  Or, it also works on humble oat cakes.  What would you choose?

Carrot Pâté with Lime & Coriander Seed
This carrot pâté recipe is a great way to use up a glut of carrots. Spread on toast it makes a fantastic starter or light lunch. Just add pomegranate for festivity, and a contrasting pop of colour.
Ingredients
Carrot pate
750g carrots, topped and tailed, skin on and chopped into similar size chunks, roughly 2cm
1 clove garlic, minced
1 tablespoon tahini paste
2 tablespoon lime juice (roughly 1 lime)
1 teaspoon ground cumin
1 teaspoon ground coriander
Extra-virgin olive oil
Sea salt
To serve:
sourdough bread, toasted.
pomegranate seeds
coriander seed, toasted and lightly crushed with a pestle and mortar.
coriander leaf
Instructions
Pre-heat oven to 180°C (fan).
Toss the carrots with a tablespoon of olive oil, add a ½ teaspoon salt then roast in the oven for 40-45 minutes until tender. Allow to cool for 10 minutes, then transfer to a blender or food processor ready to make your hummus.
To the carrots, add 2 tablespoons water, the garlic, olive oil, tahini, lime juice, cumin, coriander and ½ teaspoon salt to the blender. Blitz until you have really smooth paste. If necessary you might need to add a couple more tablespoons of water to help the carrots break down.
Taste and adjust flavours as necessary. More salt or lime probably!
Scoop into a bowl and chill until ready to use. Just before serving top with pomegranate seeds and toasted, lightly crushed coriander seed
Pin me for later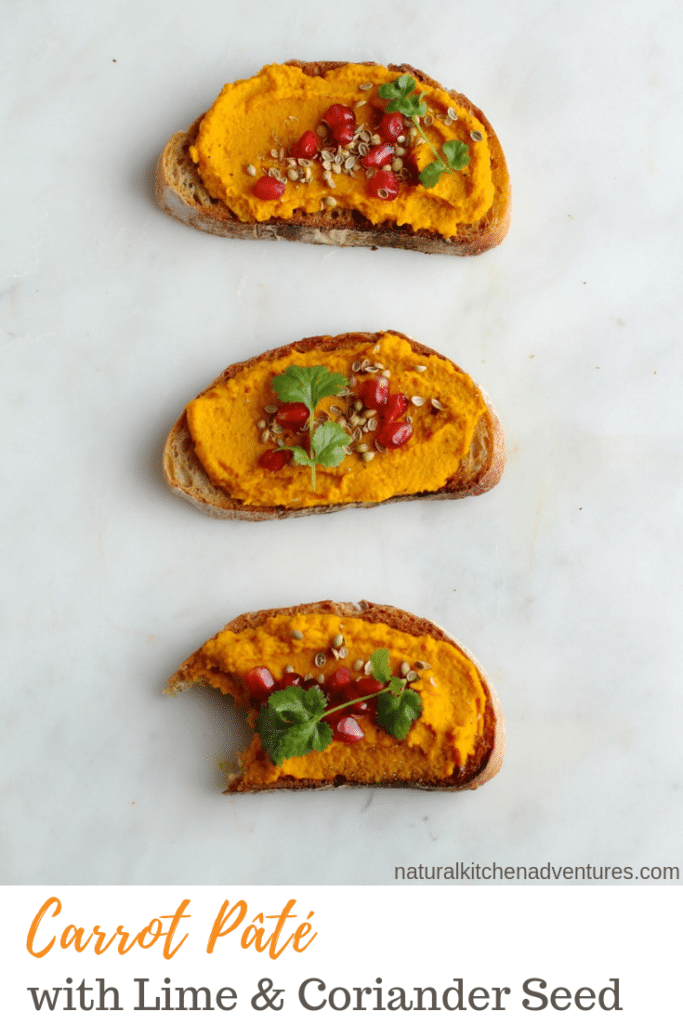 Disclosure: I am now an ambassador for Froothie and some links in this article may be affiliate links.  If you'd like to know more about Froothie health products, or this machine in particular, please visit the Froothie Website for more details. Any purchases made through this/these link(s) are at no extra cost to you but give Natural Kitchen Adventures a small commission. Thanks!