An incredibly light dairy free apricot mousse made by folding whipped egg whites through stewed and softened fruit puree. In my family, this dessert was best known as 'Chocolate Bubble Pudding'.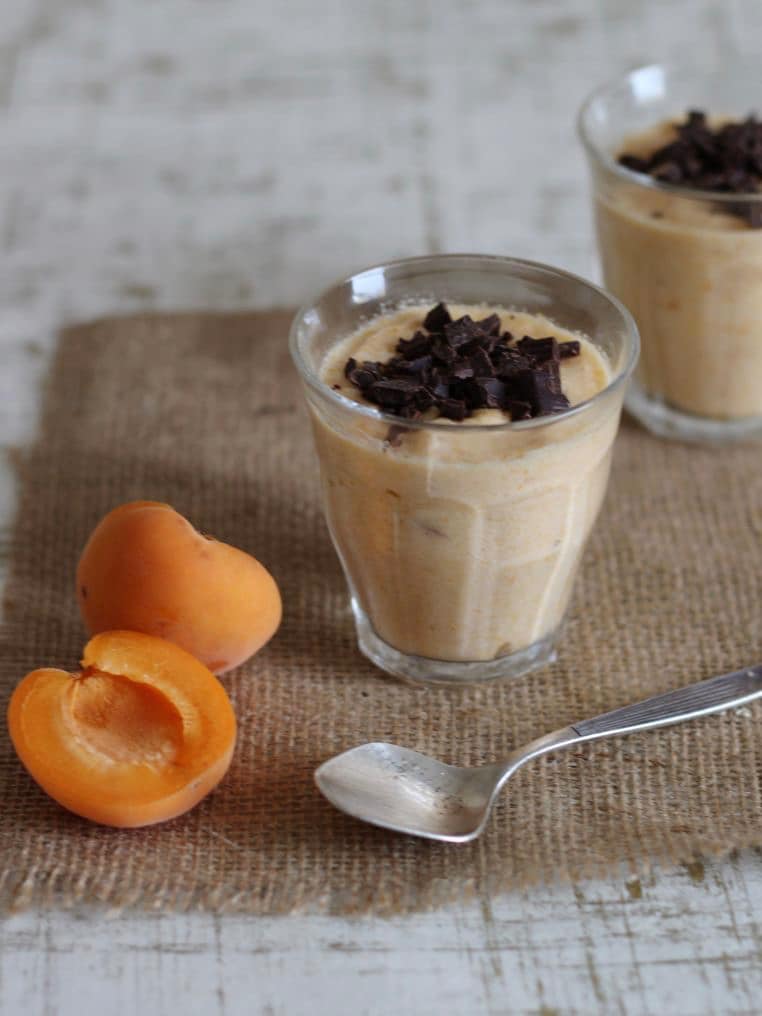 Apricots are one of my favourite summer fruits, and each year I get stupidly excited when they become available. They are so fragile and less popular than strawberries and raspberries. I can't help wonder if I love them so because few others do – backing the summer fruit underdog!
Apricots were one of my mother's favourite fruits. It's around this time of year we commemorate the anniversary of her passing, and I linger in this strong association of apricots and in fond happy thoughts of her.
It should come as no surprise, then, that this recipe for apricot mousse belongs to Mum. The original source probably Delia Smith but having looked through Mum's copies of her cookbooks, I can't locate it. Our family name for this is 'Chocolate Bubble Pudding', misleading perhaps for a mostly peachy coloured mousse, but try telling a child that they are eating apricot mousse. I'm not sure we even understood there were apricots in this, just the crumbled chocolate on top and the wonderfully 'bubbly' texture.
This mousse is as light as the air whipped into the egg whites, and smothered in chocolate shavings (a little heavy handed in the photo). Apricots and chocolate are great culinary companions, so thanks to Mum for putting them together here. I've adapted Mum's recipe a little by using dessert apples instead of Bramley cooking apples, to reduce the added sugar. I've also subbed Mum's milk chocolate for the 70% dark stuff.

Apricot Mousse
An incredibly light mousse made by folding whipped egg whites through stewed and softened fruit puree. No need for heavy cream, and very little sweetener
Ingredients
6 medium fresh apricots, stoned and chopped
2 dessert apples, peeled, cored and chopped
2 Tbs lemon juice
2 tsp powdered sugar (make yourself in a coffee grinder)
2 egg whites
40g chocolate, broken into shards (70% dark chocolate is best)
Instructions
Place the apricots and apples into a medium saucepan with the lemon juice. Simmer until softened, approximately 15 minutes. Add the sugar, stir well. Cool.
When fully cooled, blend the fruit to a smooth puree if it hasn't sufficiently disintegrated during cooking.
In a clean bowl whisk the egg whites until stiff, then gently fold in the cooled fruit puree.
Pour into serving dishes and chill.
Top with chocolate shards just before serving.
Best served on same day.
Notes
You can make this in a large bowl to set or as individual portions as in the photo. Both versions are equally bubbly
I have entered this post into Ren Behan's 
Simple & in Season June
link up. So much beautiful produce this time of year!  What would you do with fresh apricots?  Add to a smoothie, make a jam or put in a trifle?  This is exactly what these other food bloggers have done! Some great ideas.